Reminder: Senior and parent meeting with Miss Venable tonight at 6:30 at the high school--Large Lecture Hall! Please make plans to attend! Please share.

Reagan County ISD would like to invite community members to a question-and-answer session about the school bond that will be on the ballot in the upcoming election. We will be at the Big Lake Chamber of Commerce on Monday, September 26th at 6:00 PM. 120 N. Main Ave, Big Lake, TX 76932

Come out and support the Mighty Owl Band at the Santa Rita Marching festival this Saturday! The MOB marches at 4:30!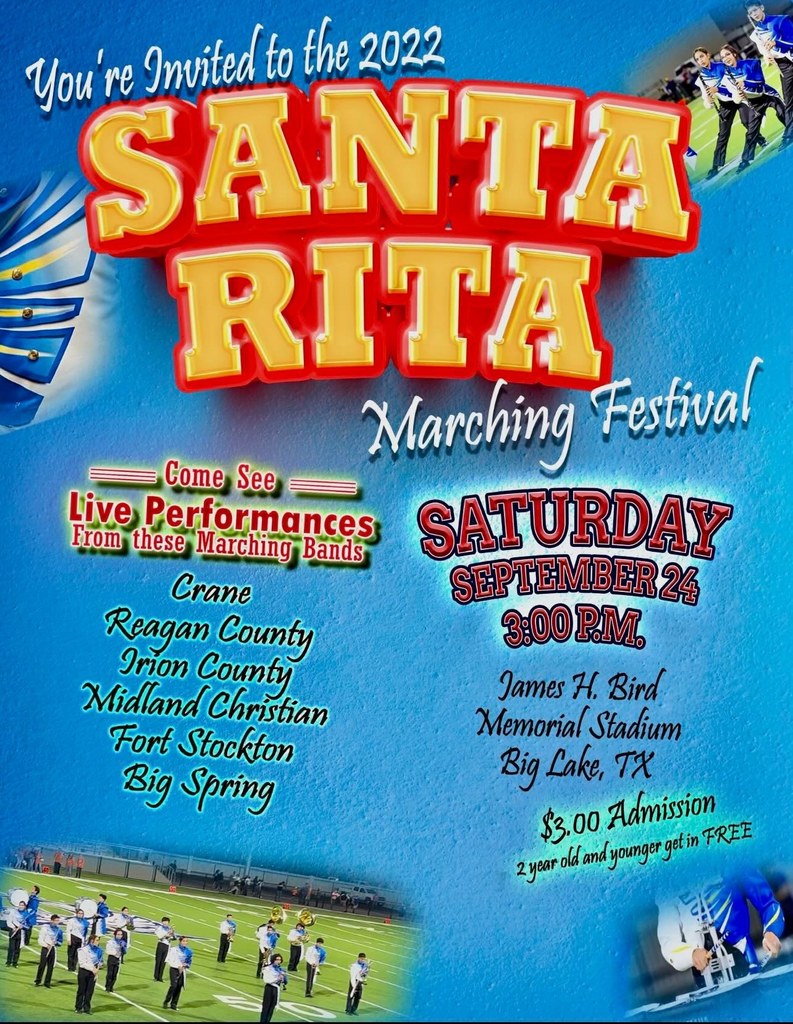 The September and October editions of Parents Make the Difference newsletters and activity calendars can be found on the Region 15 website.
https://www.esc15.net/domain/19
Las ediciones de septiembre y octubre de los boletines y calendarios de actividades de Los Padres Hacen la Diferencia se pueden encontrar en el sitio web de la Region 15.
https://www.esc15.net/domain/19

Parents/Guardians, please join us for our Annual Title I Parent Meeting. We will explain the requirements of Title I and provide a description of all services related to school and parent activities, including: Distributing and discussing the parental involvement policy, curriculum, assessments, and proficiency levels students are expected to attain; Informing you of the services available to eligible students and parents; Seeking suggestions for improving student academic achievement; and Explaining your right to be involved in the Title I program. This meeting will be offered in person on September 19, 2022, at Reagan Co. Elementary, at 10:00 A.M. and a Spanish only meeting will be offered at 11:00 A.M. You may also join us via Zoom on September 20, 2022, at 5:30 P.M.
https://us04web.zoom.us/j/79310550122?pwd=eq5HBUs2DQ3nILRmLGfjog2ypXcRWl.1
Meeting ID: 793 1055 0122 and Passcode: d1JUPB

Reagan County Middle school has had a student test positive for Covid 19. If we feel your student has been exposed you will receive another email. We will to continue to clean and follow safety protocol.

Good afternoon RCES parents, Due to the plumbing construction concerning our drainage system we will have to make a few changes to pick up and drop off points for a few grade levels. PK drop off will need to move to the circle drive on Texas street and we will have helpers escort the littles to their classrooms. Kinder pick up will now be at the cafeteria circle drive on 5th street. 1st grade pick up will now be on California street. Thank you for your patience with this situation. If you have any questions please contact the front office (325)-884-3741. -Mrs. Soto

We would like to invite our students and staff to wear maroon on Tuesday, September 6th to support Uvalde.

RCMS has had a student test positive for Covid 19, 9/31/2022. We will contact any parents that we feel their students were in contact. We will continue to clean and follow all safety procedures.


ATTENTION RCHS SENIORS 2023: If you have not joined Miss Venable's Google classroom, you need to do so. The code is: exz4at2. Also, you must join the senior Remind group:
https://www.remind.com/join/3cdg6k4
Do this today! We will use both to communicate this year!

RC High School students: In order to receive a service honor cord at graduation, you must have 48 hours of service during high school. Remember that you must have documentation turned in to the counselor's office in order to get credit. Any hours for this past summer must be documented and turned in by September 23rd, the end of the first six weeks. All service hours must be turned in during the six weeks they were earned and must be turned in by the student. It is your responsibility to keep up with and turn in your hours. Service hour forms can be found in the high school office.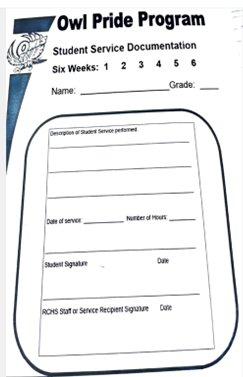 Cross Country Schedule!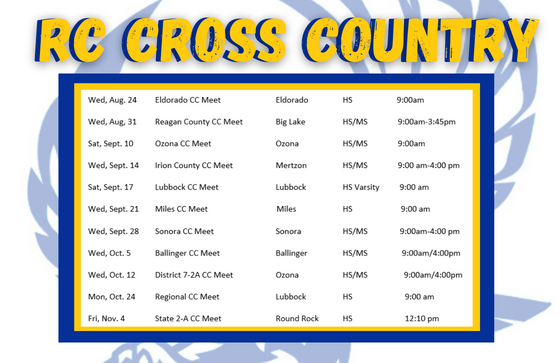 RCISD is proud to announce our district & campus ratings. We would like to congratulate the staff and students on a job well done! We look forward to the upcoming year and the continued growth of our district.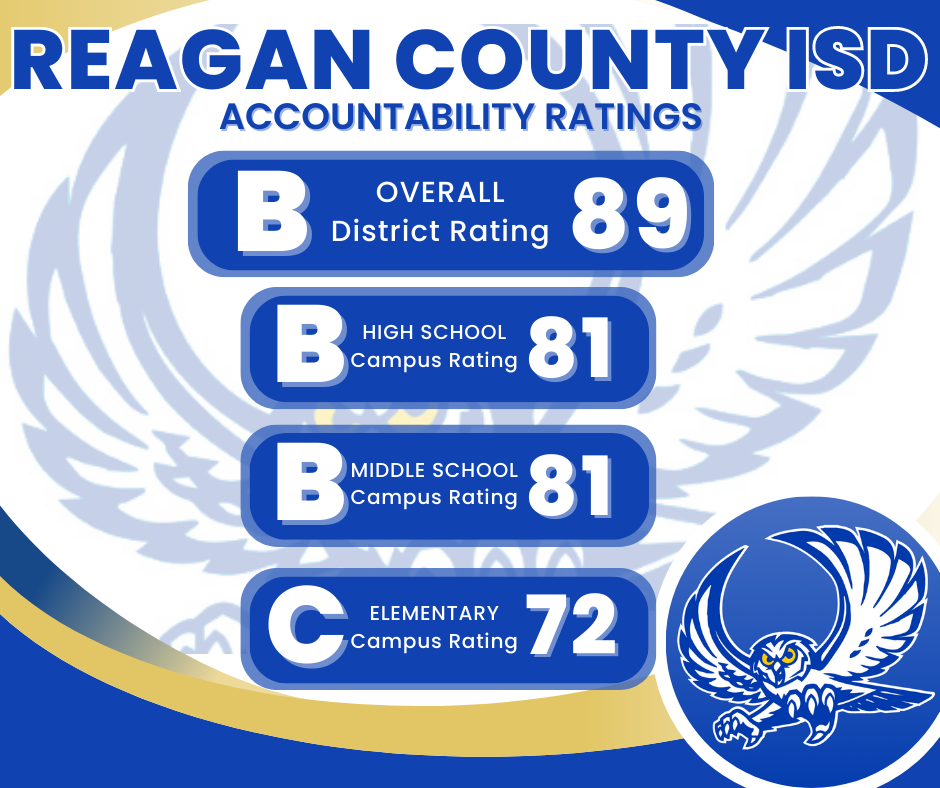 Due to Federal Free Lunches ending this school year, students will be charged meals this year unless you fill out a free/reduced lunch application and qualify. Prices will be: Elementary and Middle School - $2.75 for full pay and $.40 for reduced meals High School - $3.00 for full pay and $.40 for reduced meals Breakfast is Free for all students!

Middle School Meet the Teacher will be held Tuesday, August 16th 5:30 p.m.- 7:00 p.m. in the Middle school Mall area. I cant wait to see you all there. ITS A GREAT DAY TO BE AN OWL!!!

RC High School students--having issues with Skyward. Schedules probably won't be up until tomorrow.

Reagan County High School Students: You can find your class schedule today in Skyward Family Access. A copy will be mailed out tomorrow. All changes MUST be made by next Tuesday August 16th. Please see the letter with your printed schedule for more details.

RCISD will have another registration at the Elementary campus to assist those still needing to register their students (Elementary, Middle School and High School). If you need help registering your student or help with the Free/Reduced lunch application, please come tomorrow from 9:00-12:00 or 1:00-3:00. Thanks!