Reagan County Independent School District is auctioning various types and amounts of surplus equipment to the public. The highest bid will win the item. Bids must be turned in by Wednesday, May 31st, at 2:00 PM at the central office. Winners will be notified the following day. Winners should submit payment to the central office before picking up items. The last date to pick up items will be June 7th, 2023.
All bids must include the following information in a sealed envelope:
First Name:
Last Name:
Auction Number Item:
Item Name:
Bid Amount:
Phone Number:
DISCLAIMER:
The Equipment is being sold "AS IS," and buyers will bear all risk as to the fitness and condition of said Equipment and its removal from the District's premises. The District expressly disclaims any and all warranties. All items are sold "as is" There will be no reimbursements for any items.
The District reserves the right to accept or reject any and/or all offers
The items up for auction and can be viewed in person at 1111 12th Street Big Lake Tx, 76932 at the bus barn on the following date and time: May 19th at 9:00 AM – 11:00 AM.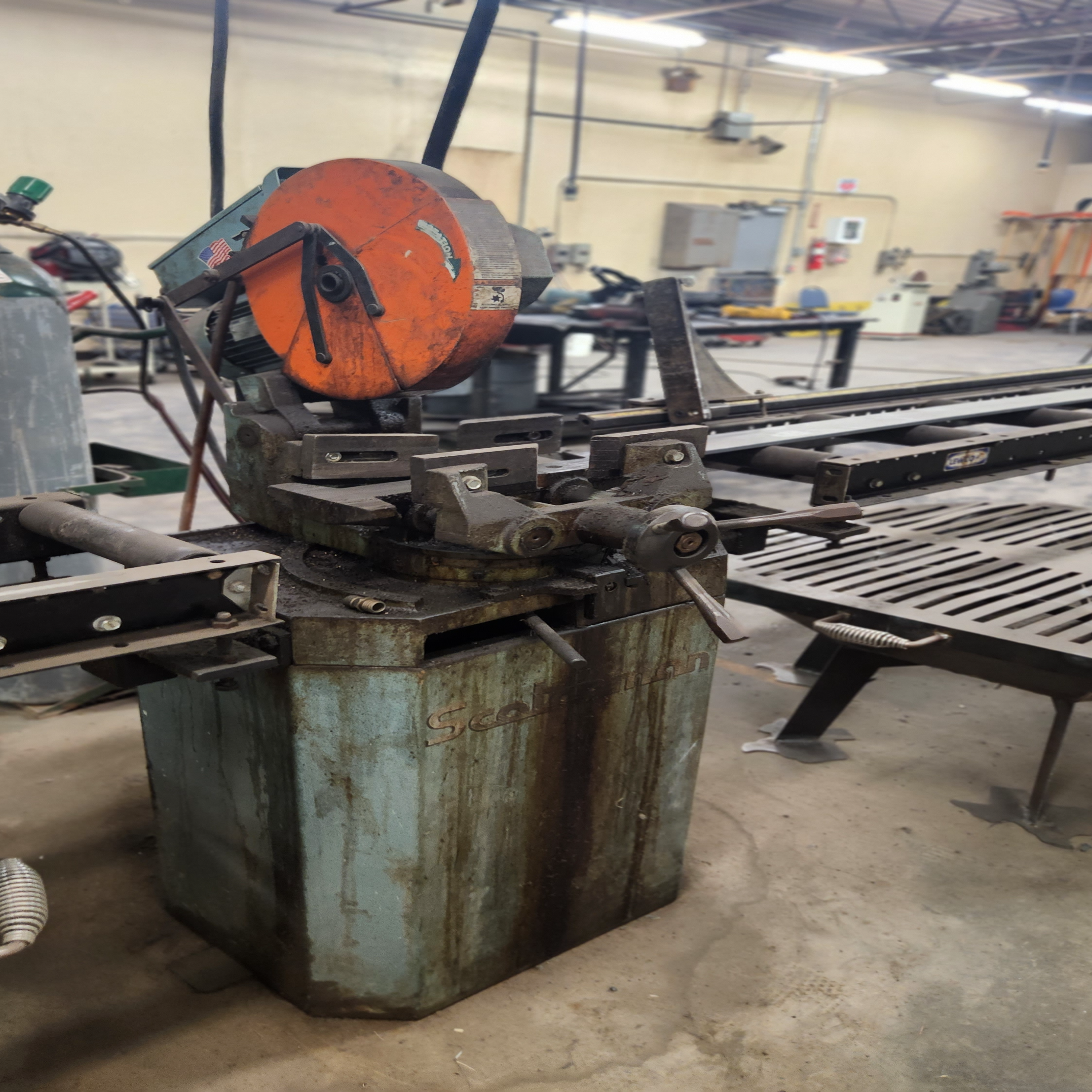 ITEM #: 1
SCOTCHMAN METAL SAW WITH EXTENSION ROLL GUIDES
Model #: CPO-350
Condition: Operational
STARTING BID: $2,500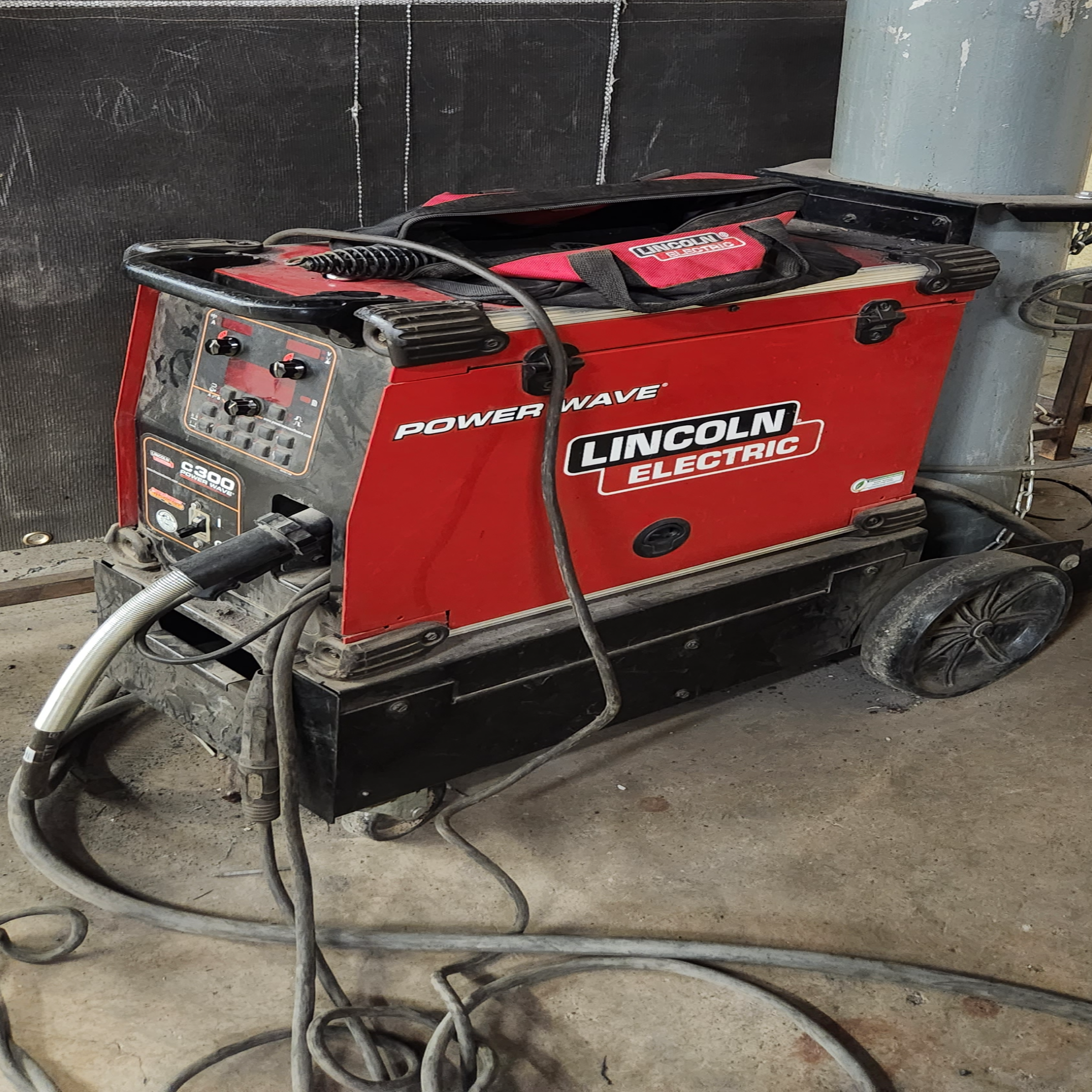 ITEM #: 2
POWER WAVE C300 MULTIPROCESS WELDERS
Model #: C300
Condition: Operational
STARTING BID: $4,750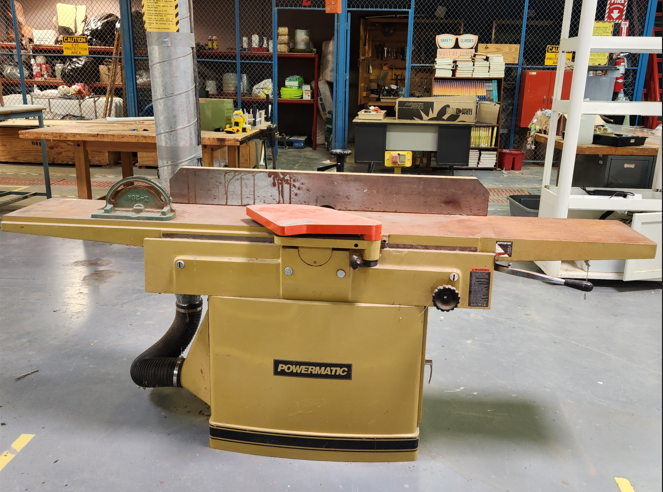 ITEM #: 3
POWERMATIC 12" JOINTER
Model #: 1285-3HD
Condition: Needs Repair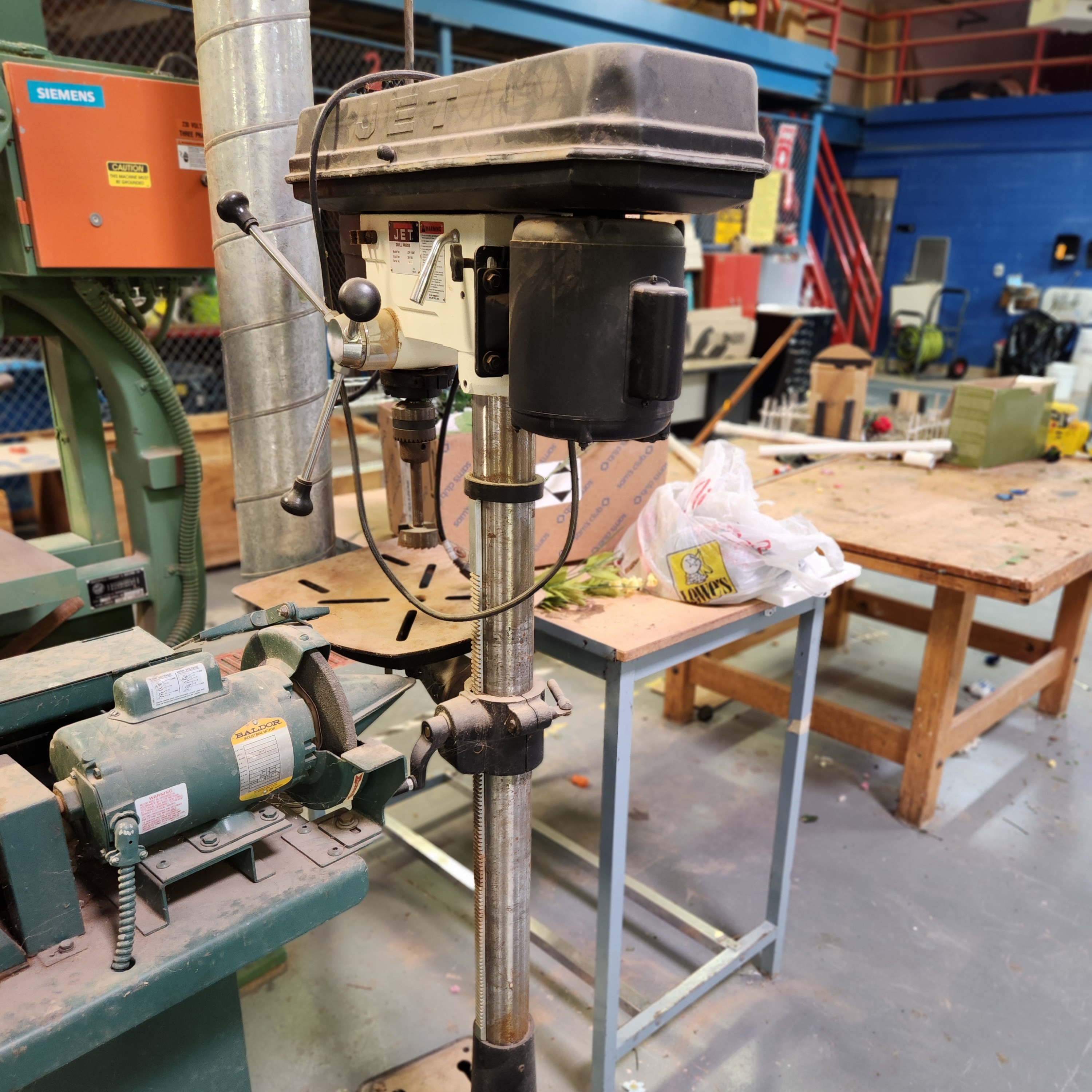 ITEM #: 4
JET DRILL PRESS
Model #: JDP-15MF
Condition: Unknown
STARTING BID: $100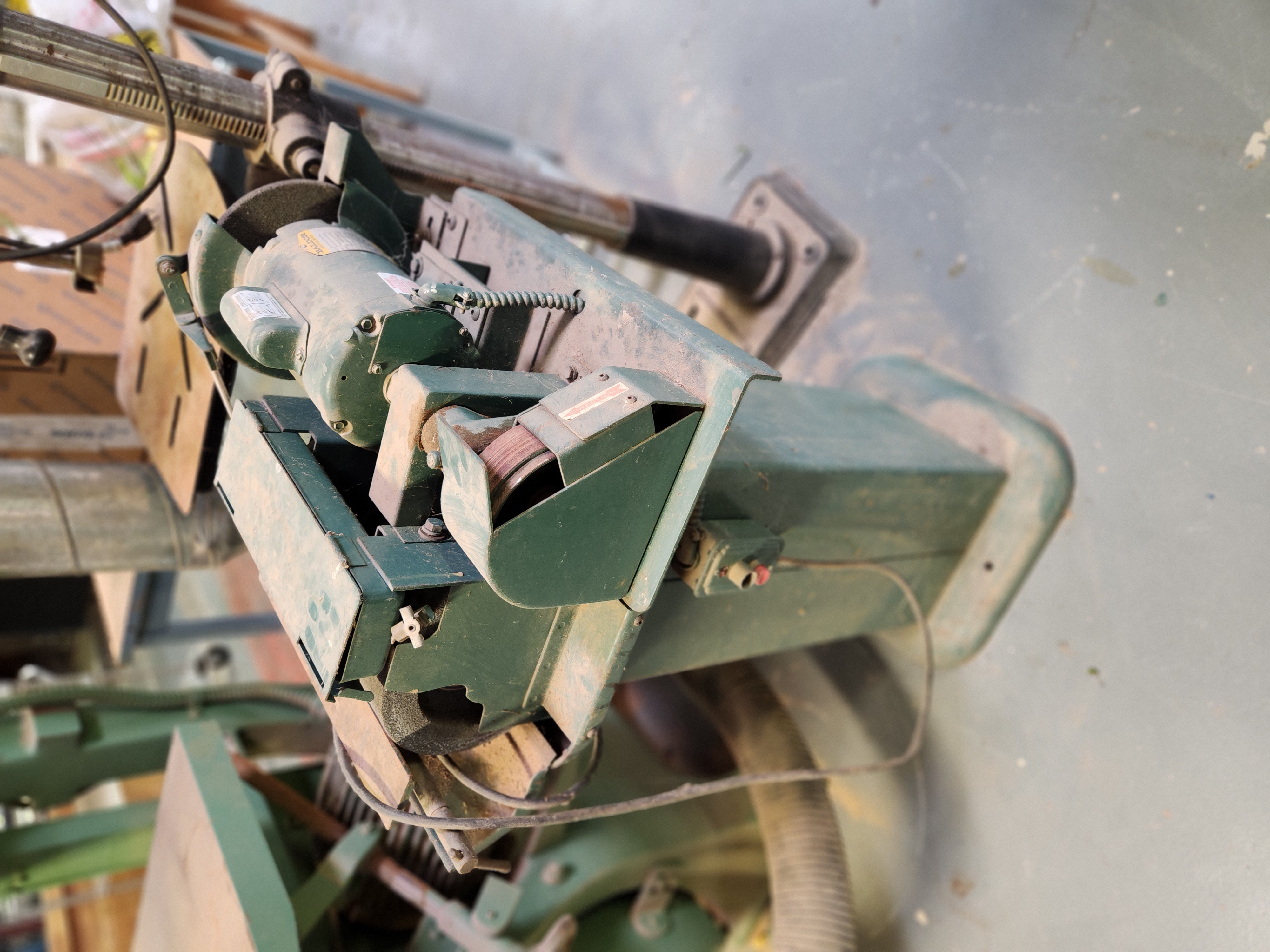 ITEM #: 5
BALDOR GRINDER
Condition: Unknown
STARTING BID: $100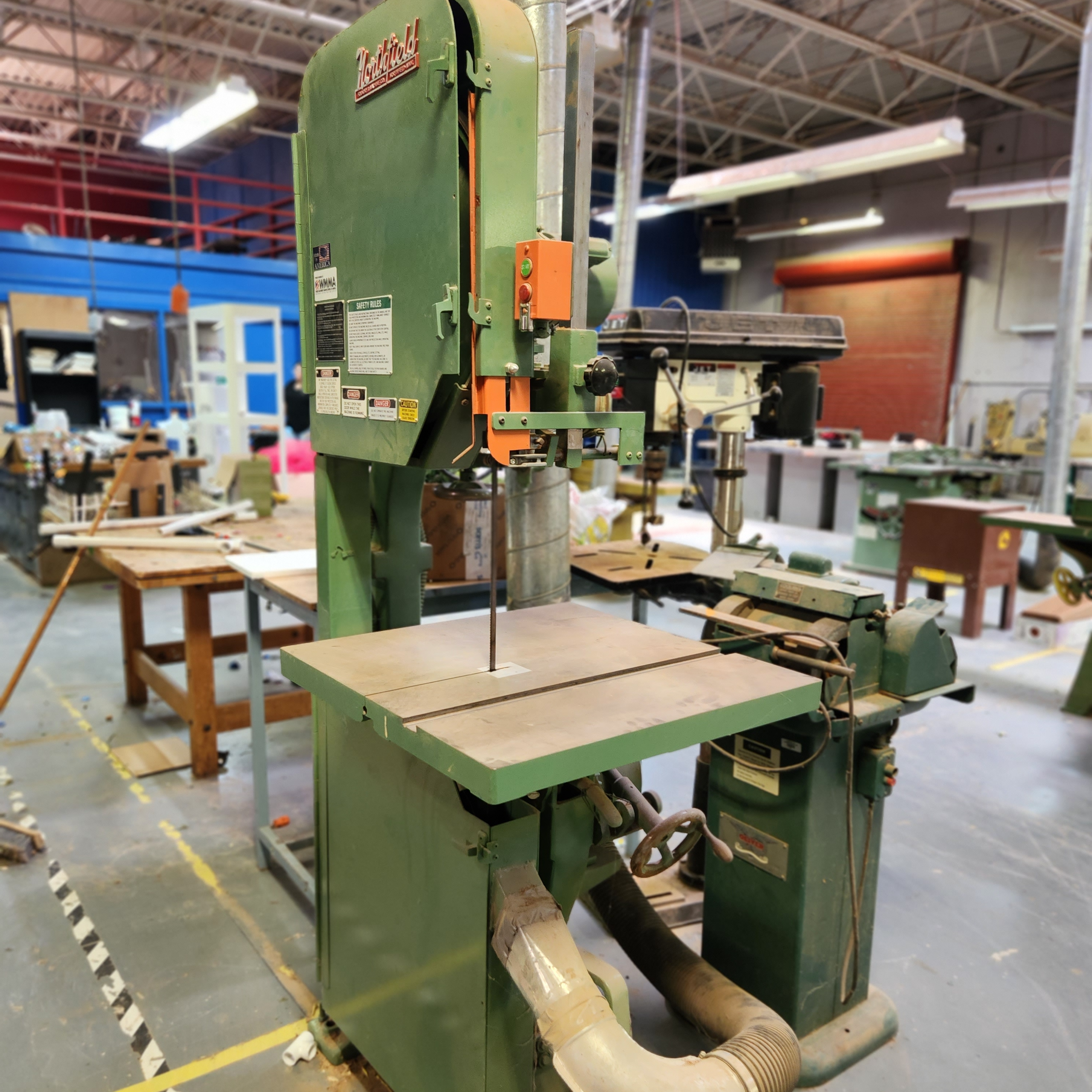 ITEM #: 6
NORTHFIELD 27" BAND SAW
Condition: Operational
STARTING BID: $1,000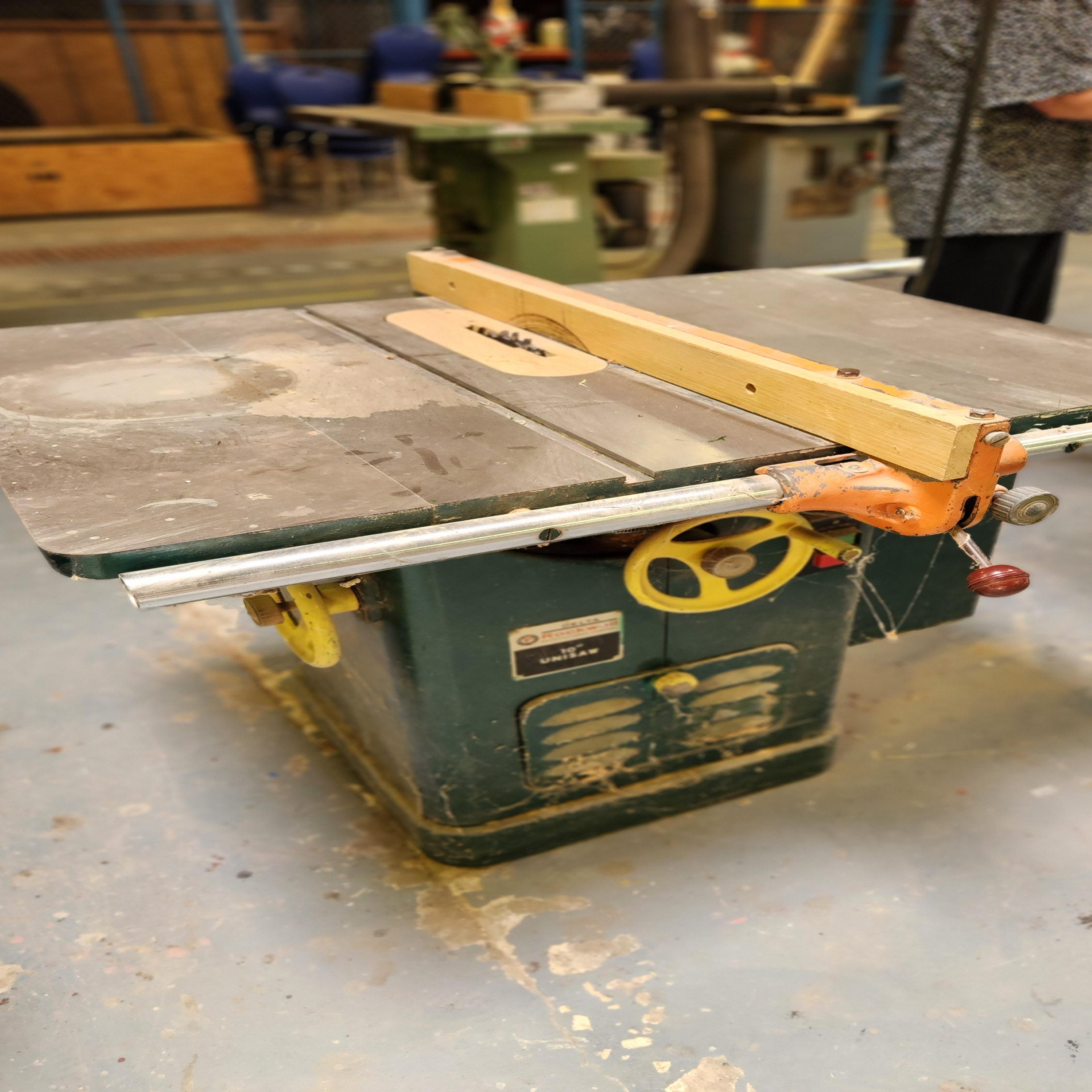 ITEM #: 7
DELTA 8" TABLE SAW
Condition: Operational
STARTING BID: $500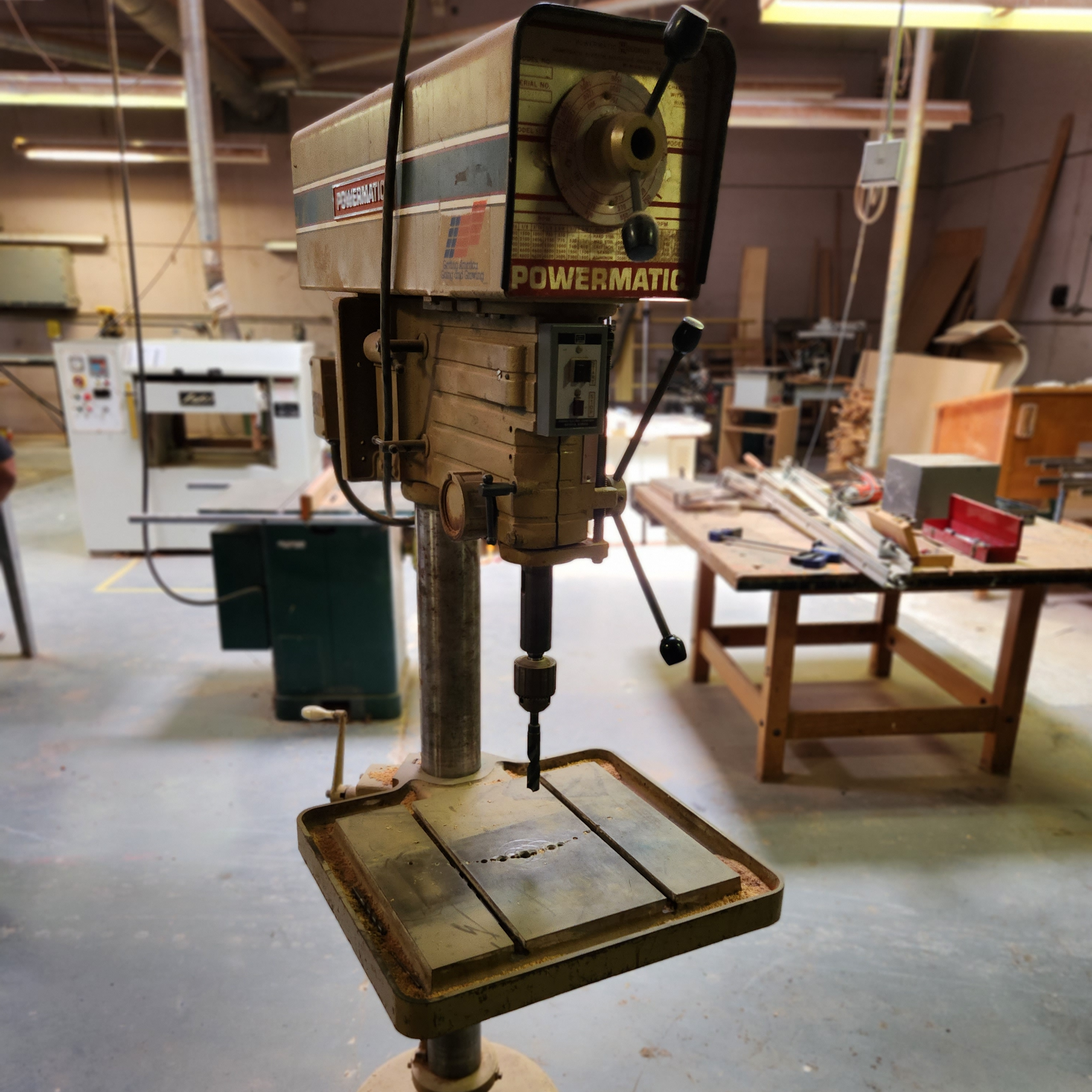 ITEM #: 8
POWERMATIC DRILL PRESS
Condition: Operational
STARTING BID: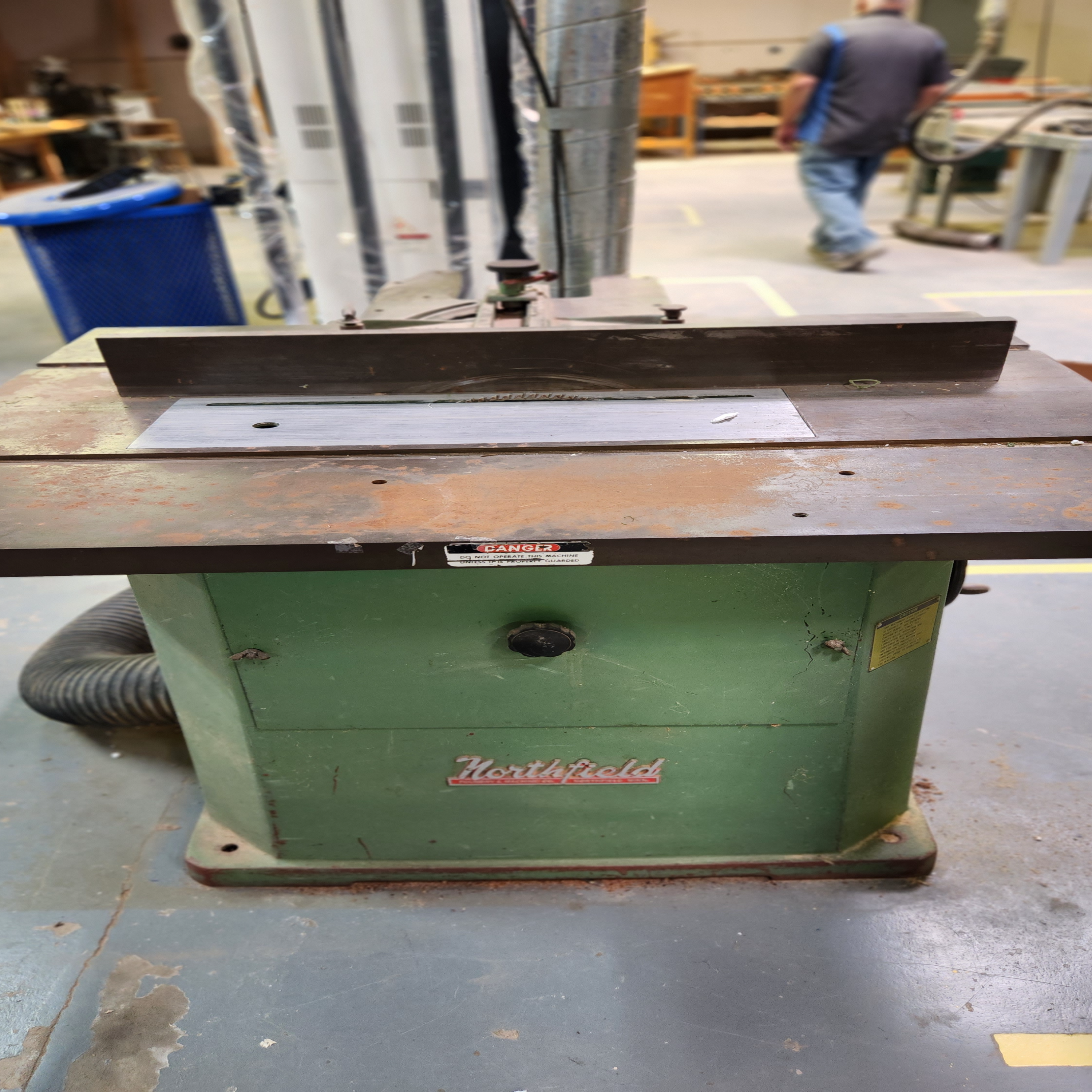 ITEM #: 9
NORTHFIELD 6" TABLE SAW
Condition: Operational
STARTING BID: $1,000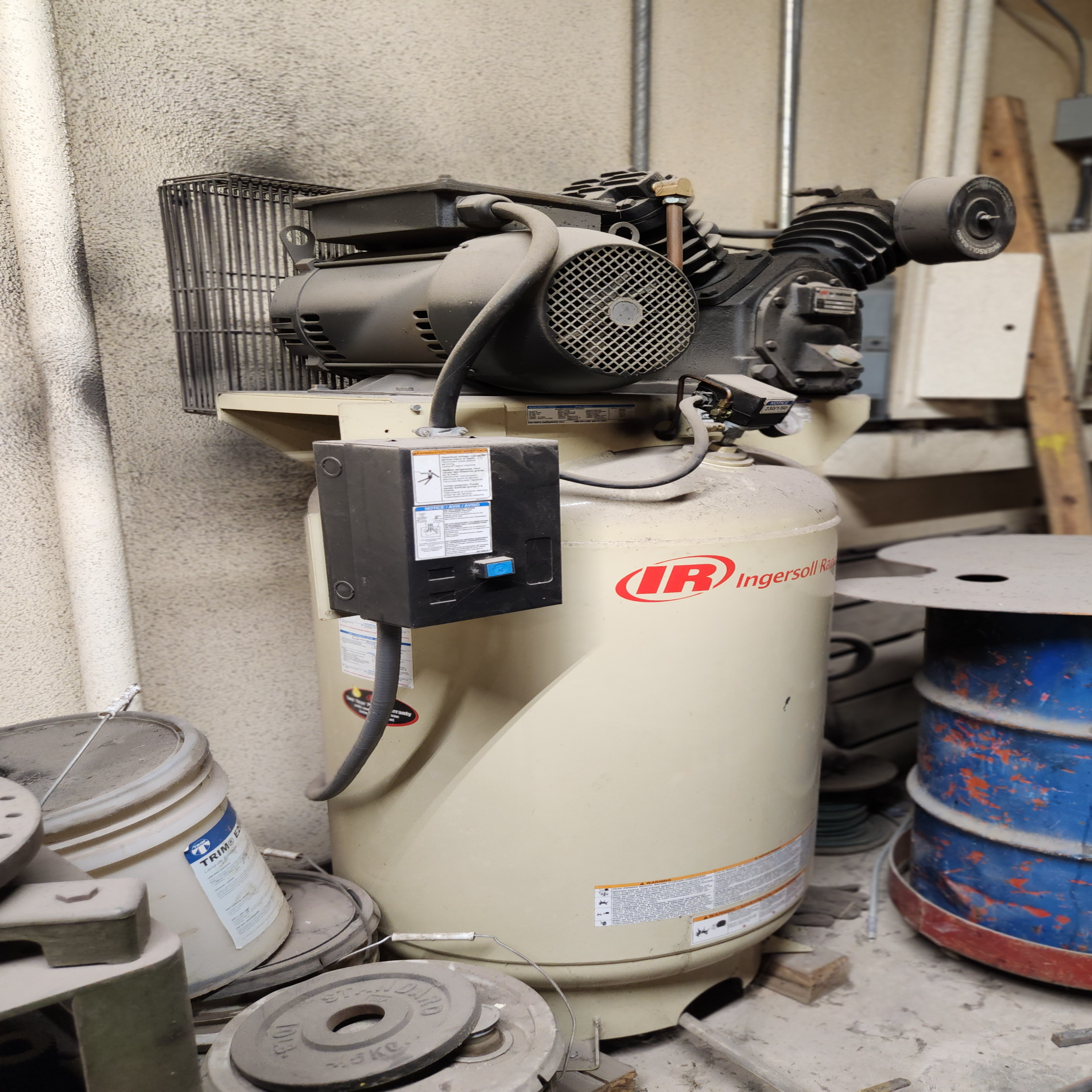 ITEM #: 10
INGERSALL RAND 80 GALLON AIR COMPRESSOR
Condition: Operational
STARTING BID: $500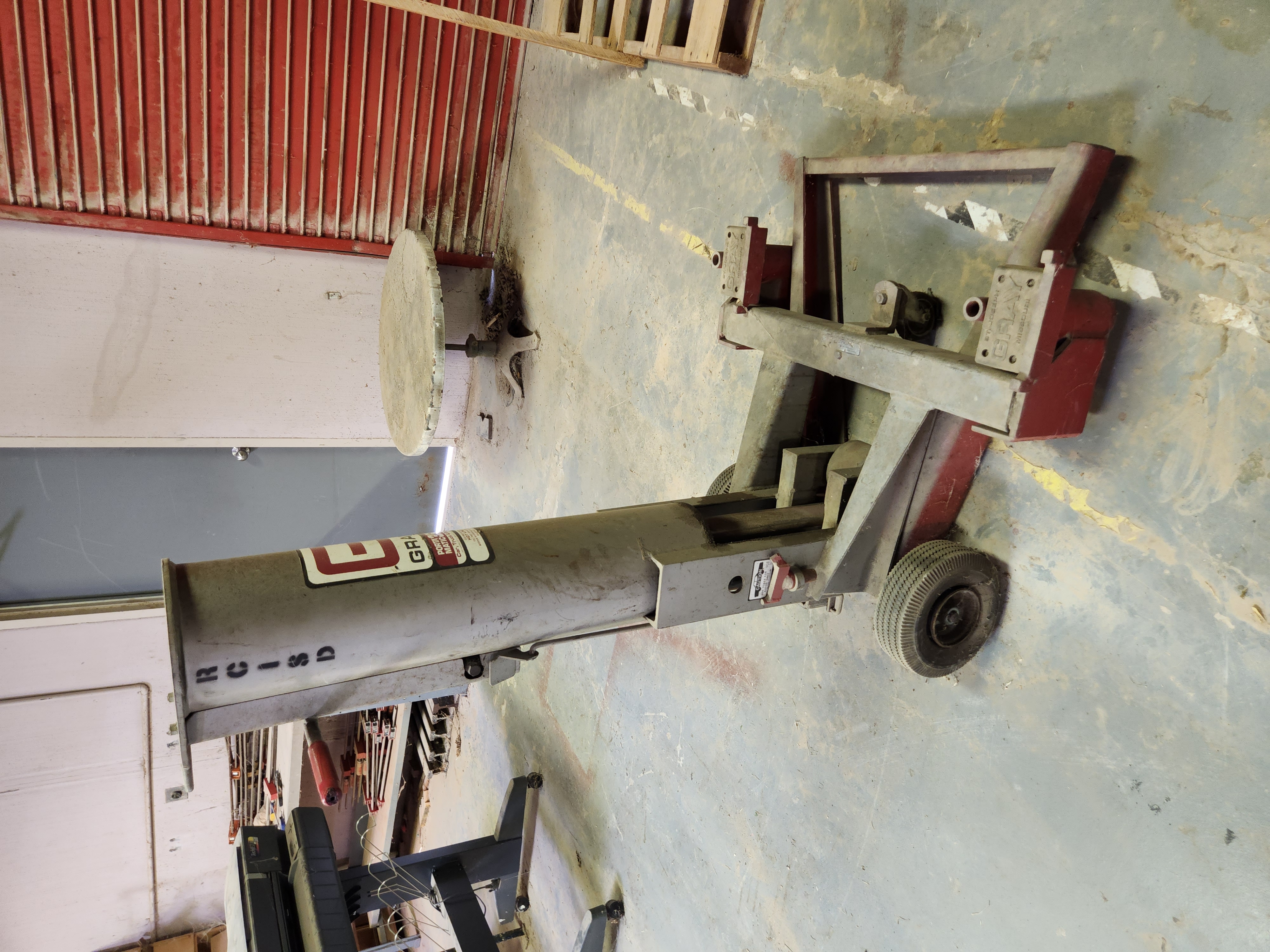 ITEM #: 11
GRAY PORTA MATIC AIR LIFT JACK
Model #: 350
Condition: Unknown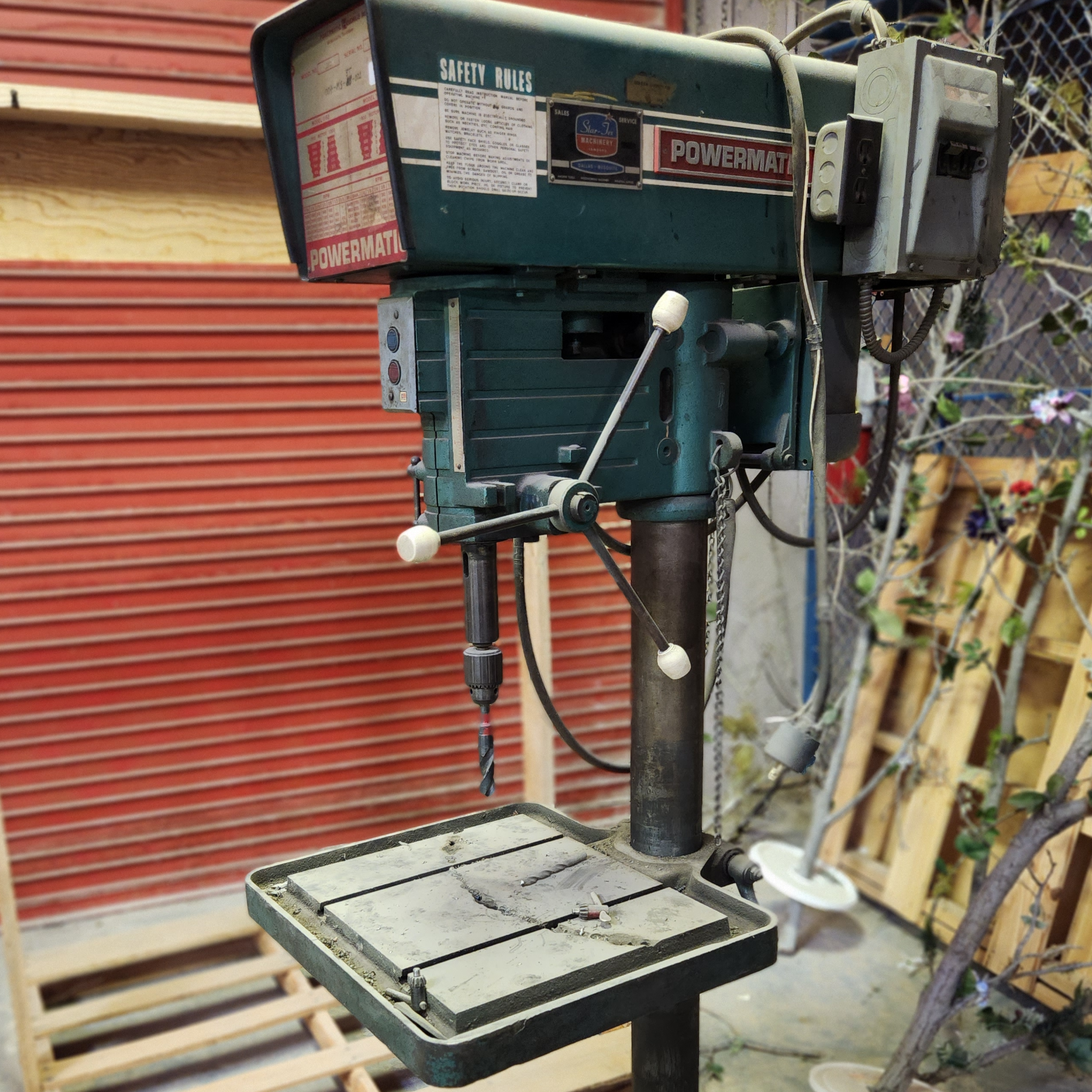 ITEM #: 12
POWERMATIC DRILL PRESS
Model #: 1200
Condition: Operational
STARTING BID: $500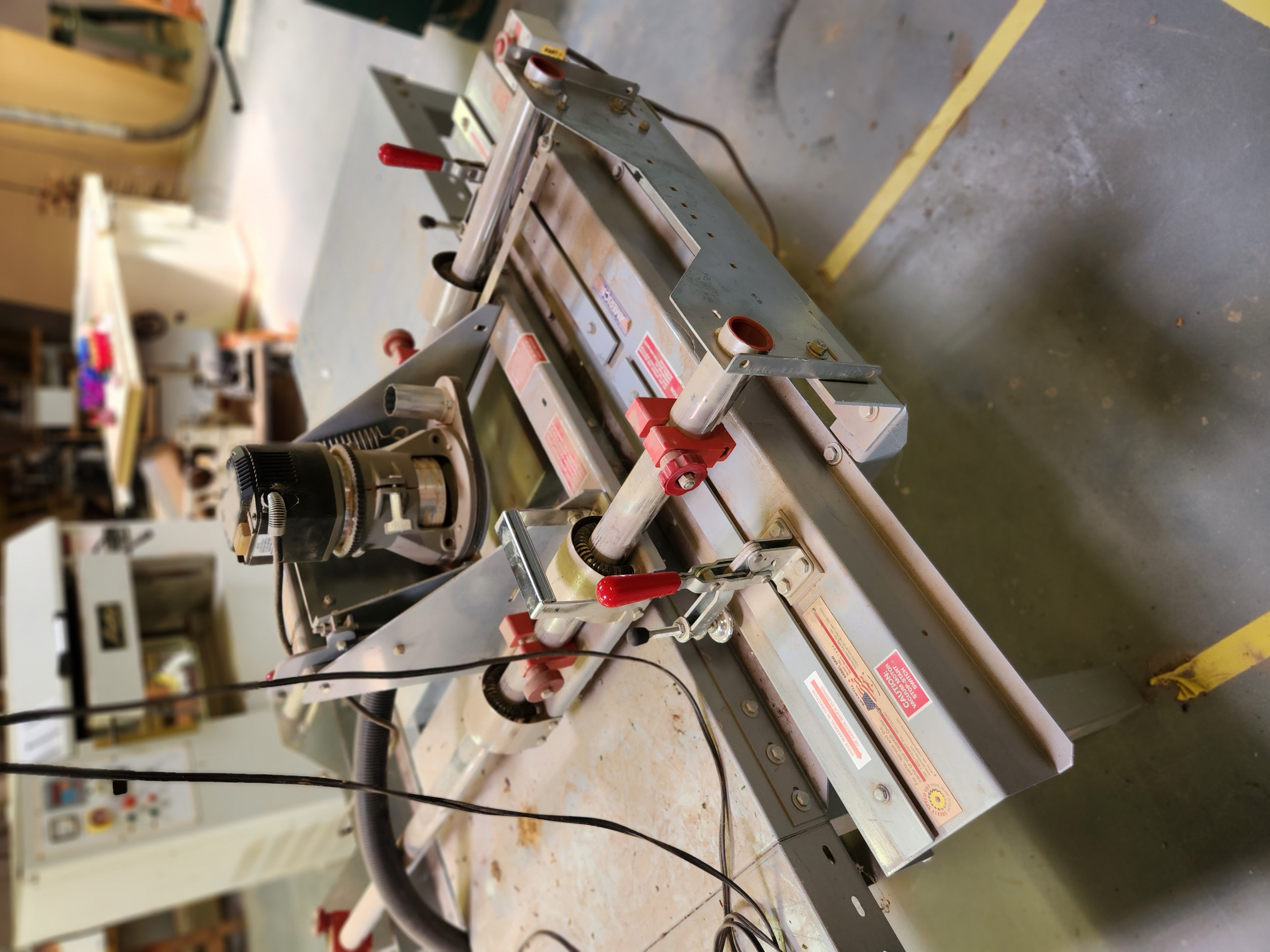 ITEM #: 13
AMERICAN PANEL ROUTER
Model #: TR2
Condition: Operational
STARTING BID: $300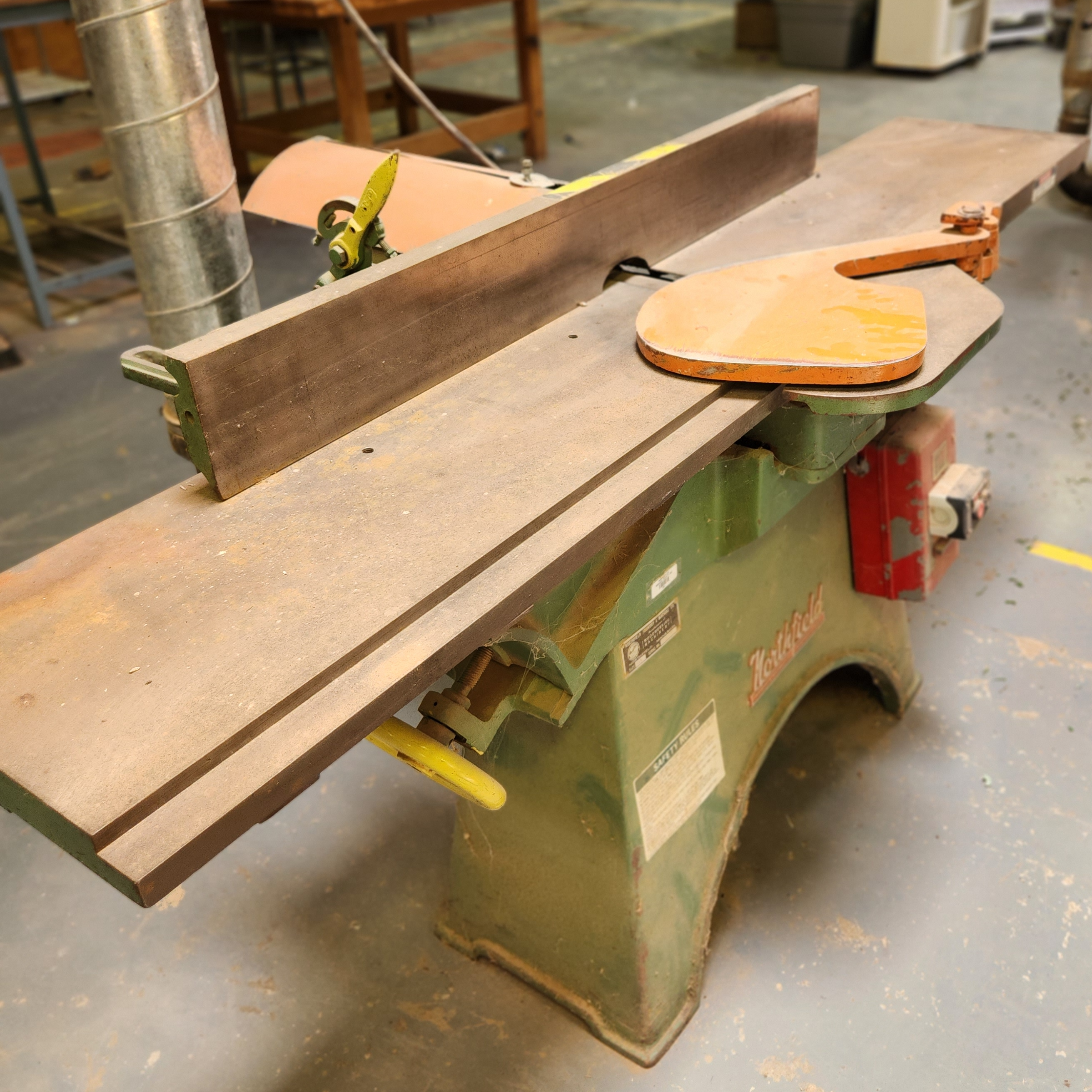 ITEM #: 14
NORTHFIELD 12" JOINTER
Condition: Needs Repair
STARTING BID: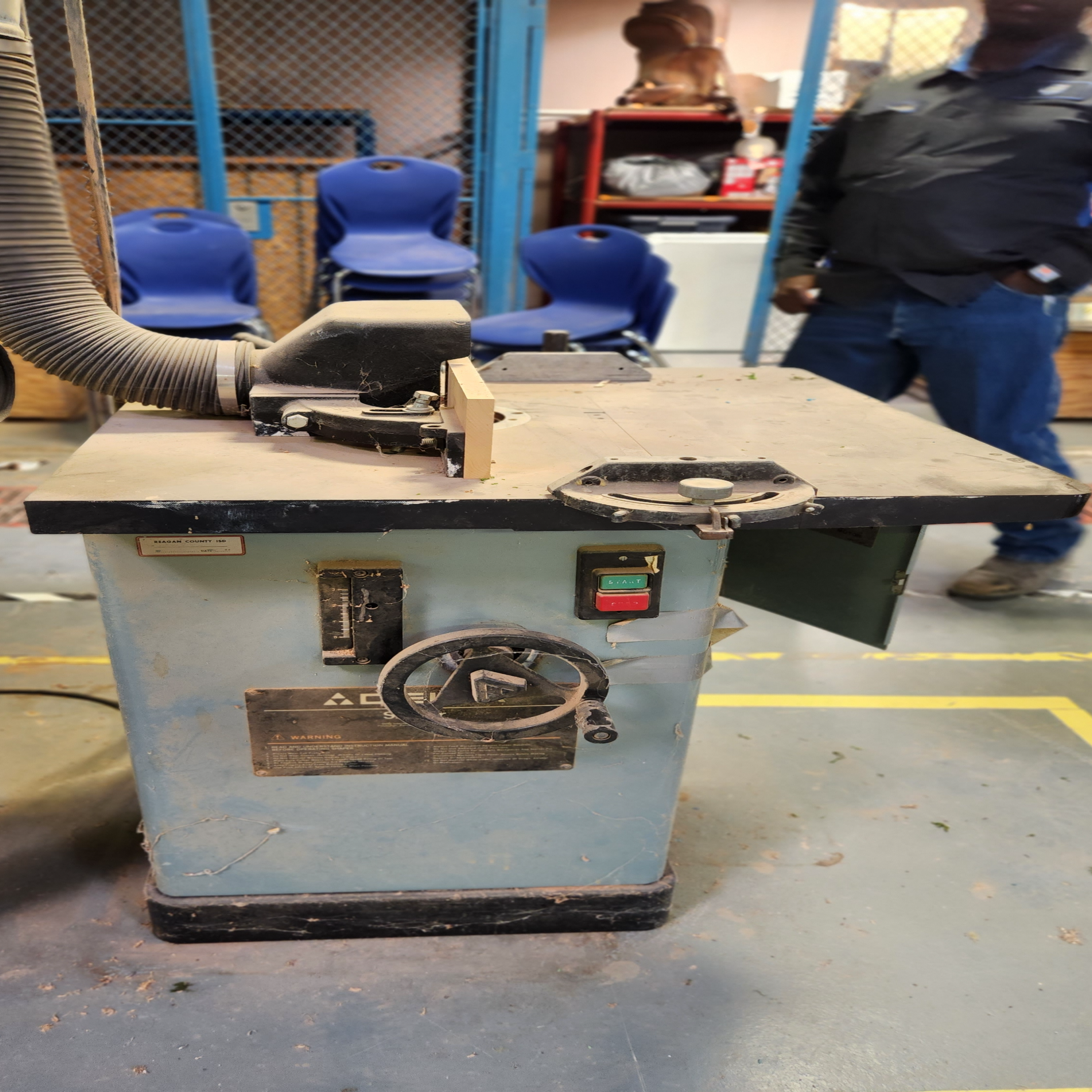 ITEM #: 15
DELTA WOOD SHAPER
Condition: Operational
STARTING BID: $500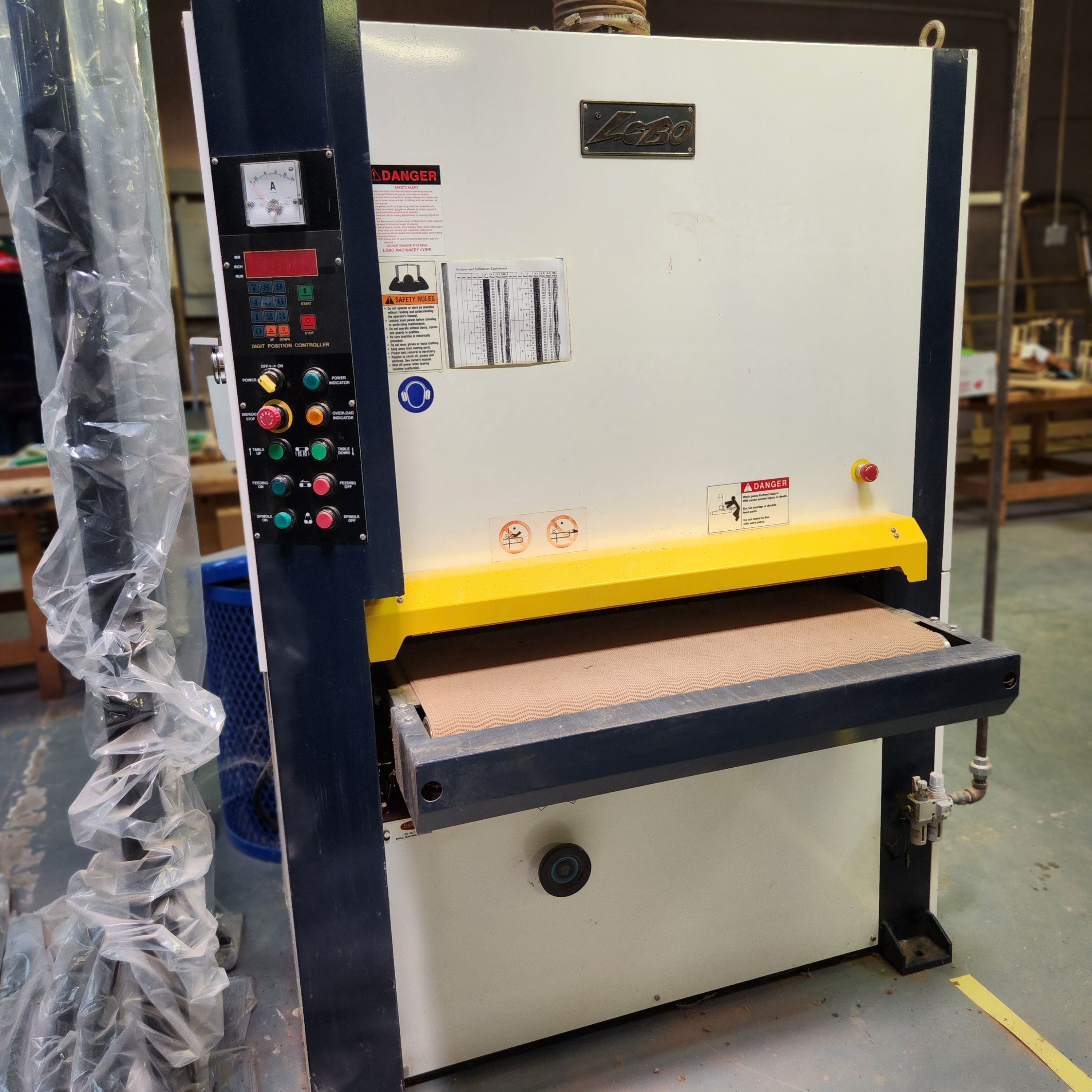 ITEM #: 16
LOBO 36" PLANER SANDER
Model #: A3775
Condition: Operational
STARTING BID: $7,000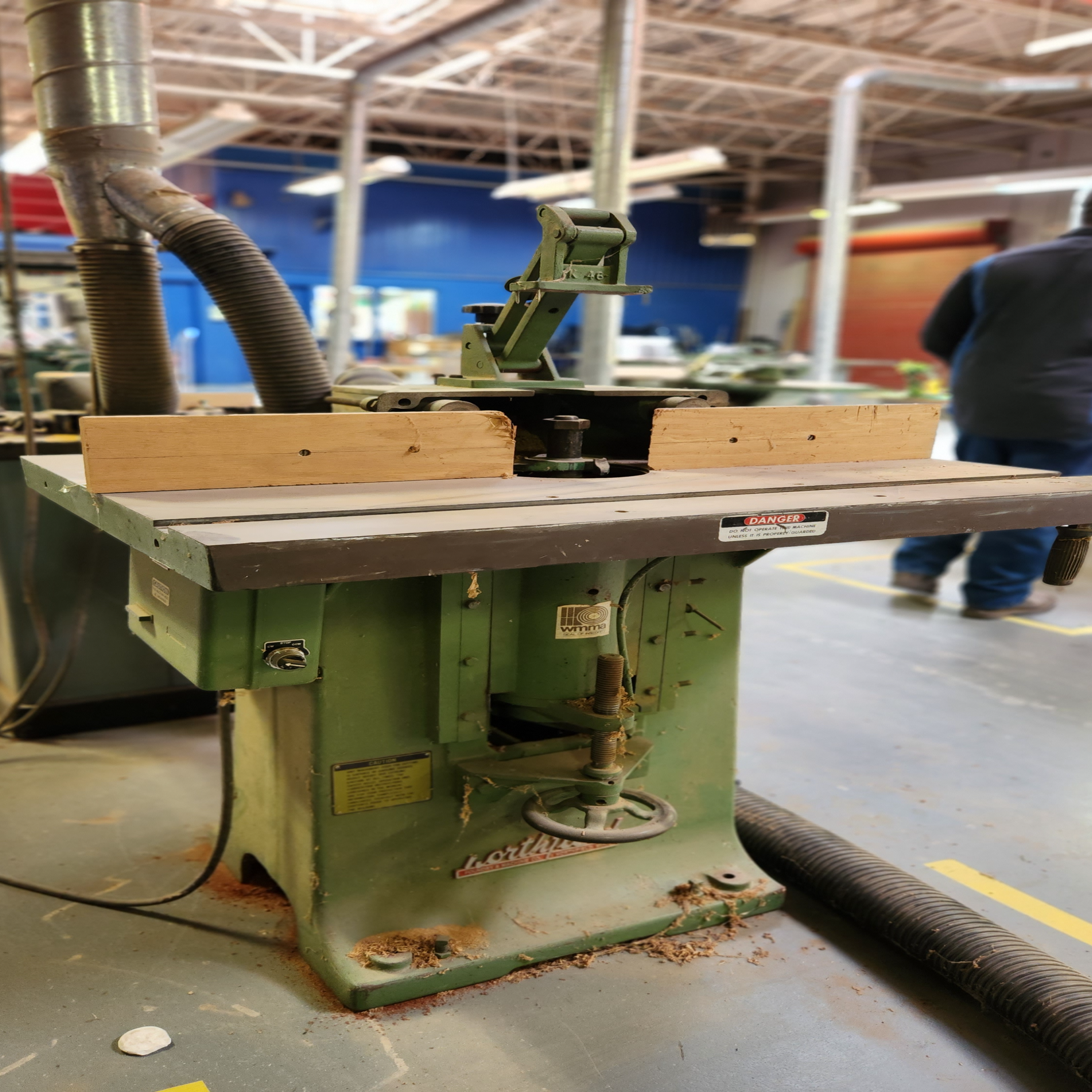 ITEM #: 17
NORTHFIELD WOOD SHAPER
Condition: Operational
STARTING BID: $1,000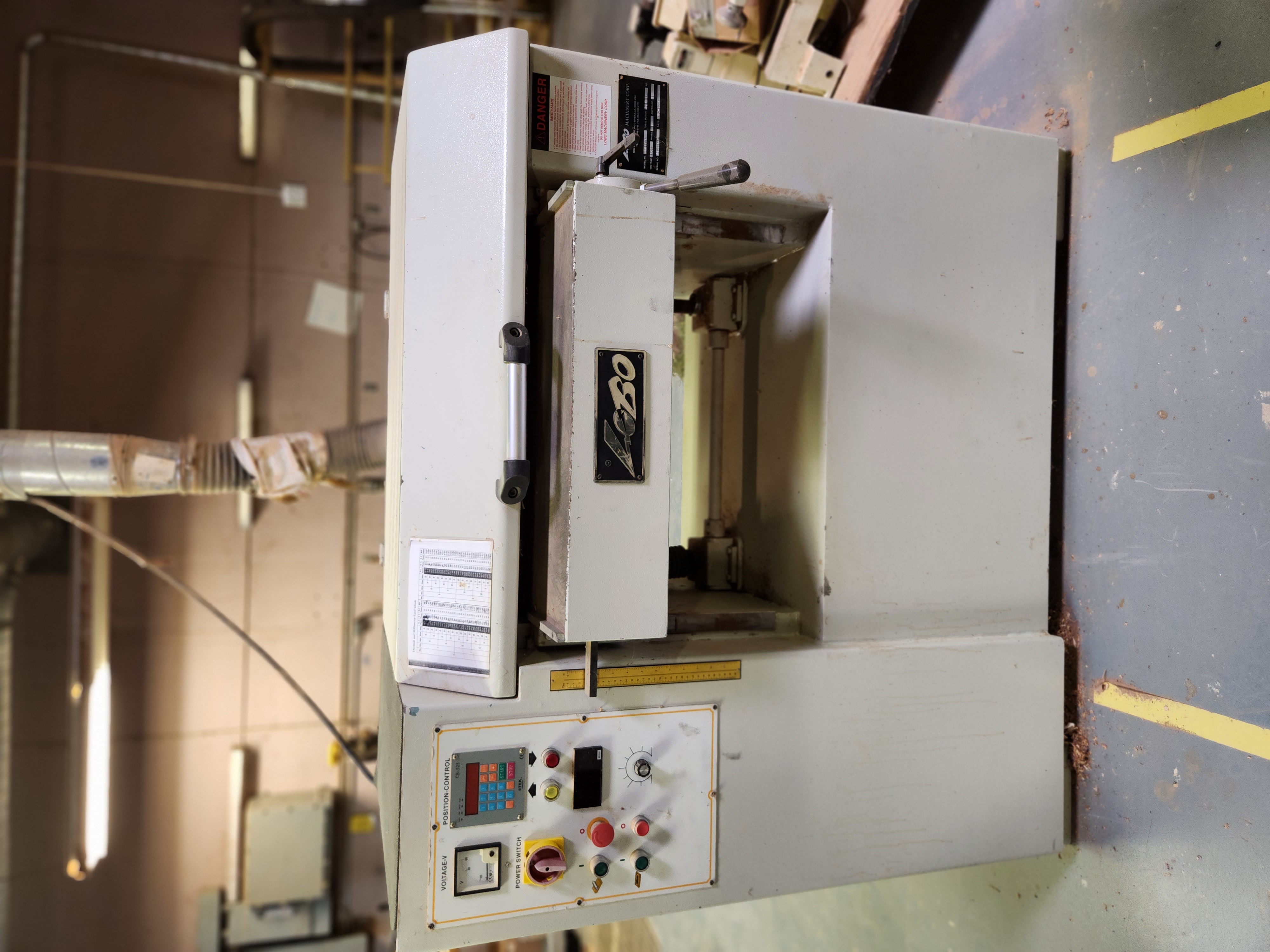 ITEM #: 18
LOBO 24" PLANER
Model #: WP-660A
Condition: Needs Repair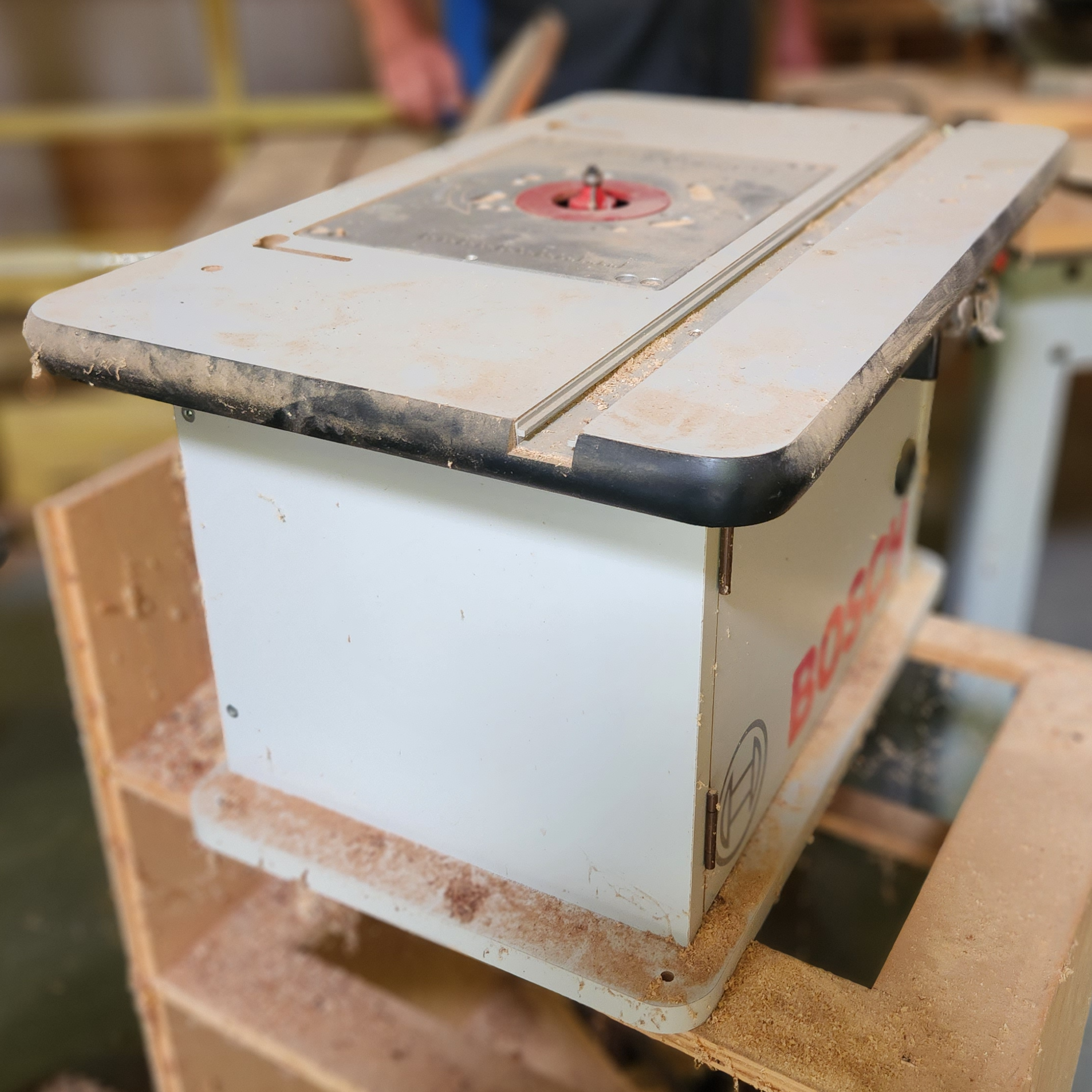 ITEM #: 19
BOSCH ROUTER TABLE
Model #: RA117
Condition: Operational
STARTING BID: $100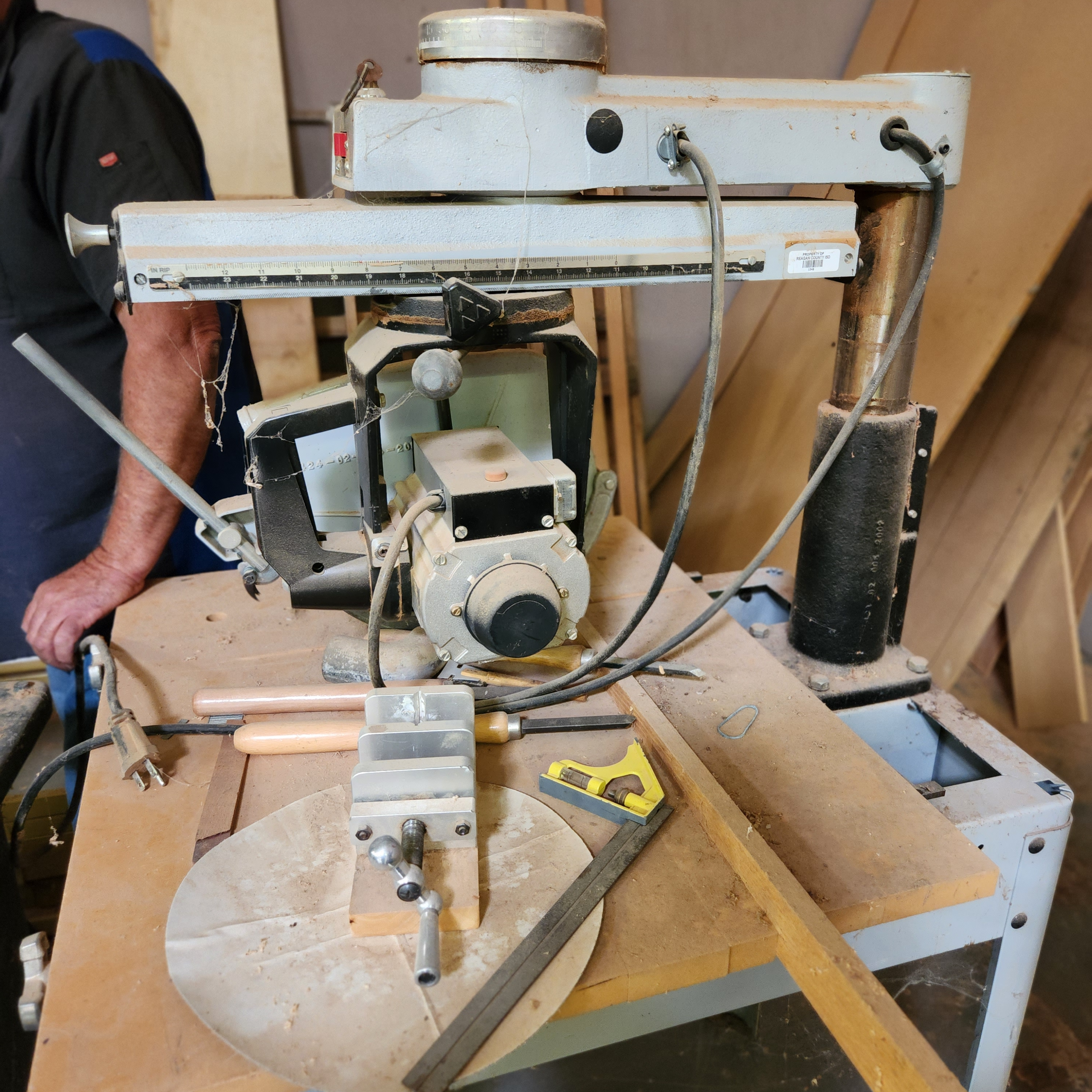 ITEM #: 20
DELTA 24" RADIAL ARM SAW
Model #: 33-895X
Condition: Operational
STARTING BID: $600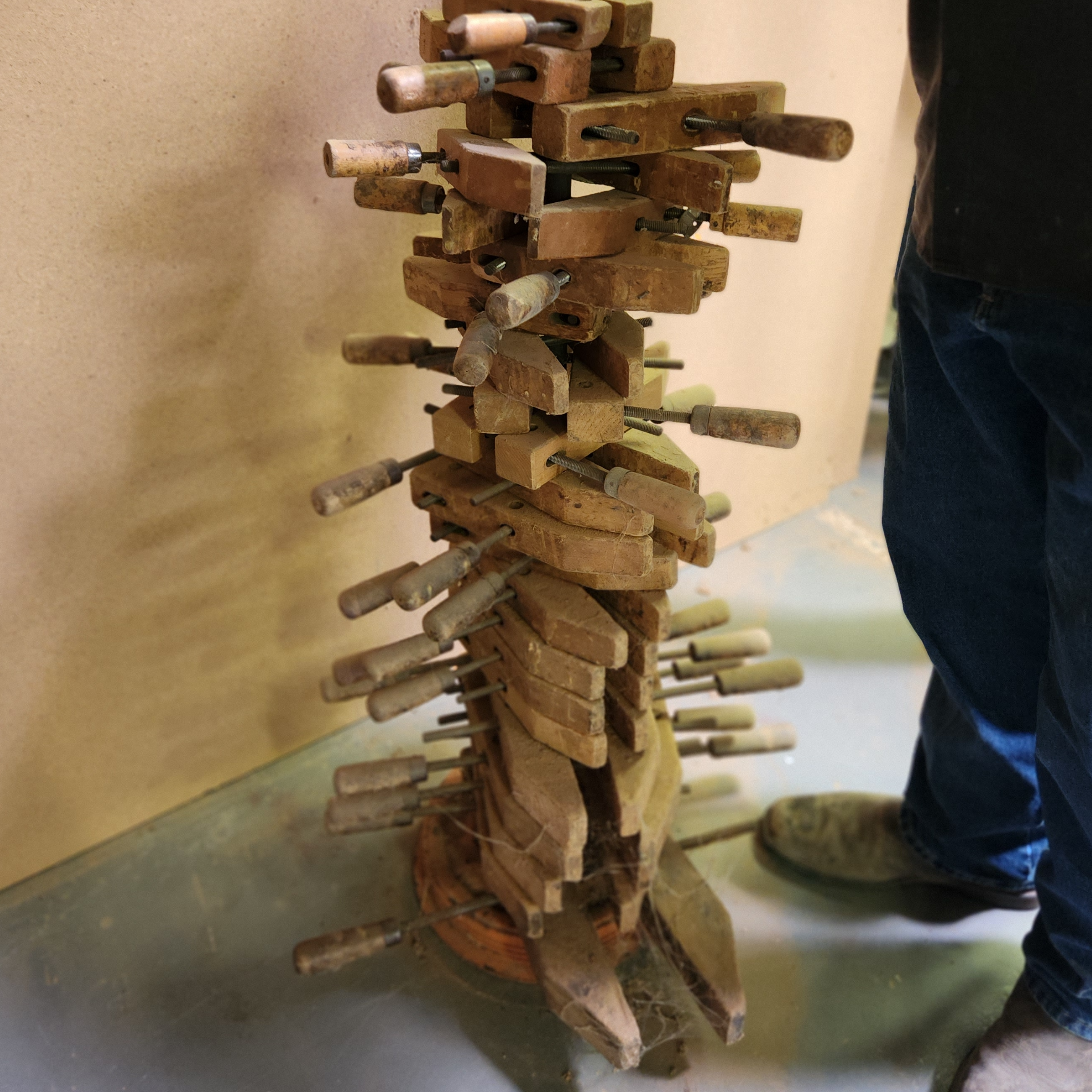 ITEM #: 21
VARIOUS WOODEN CLAMPS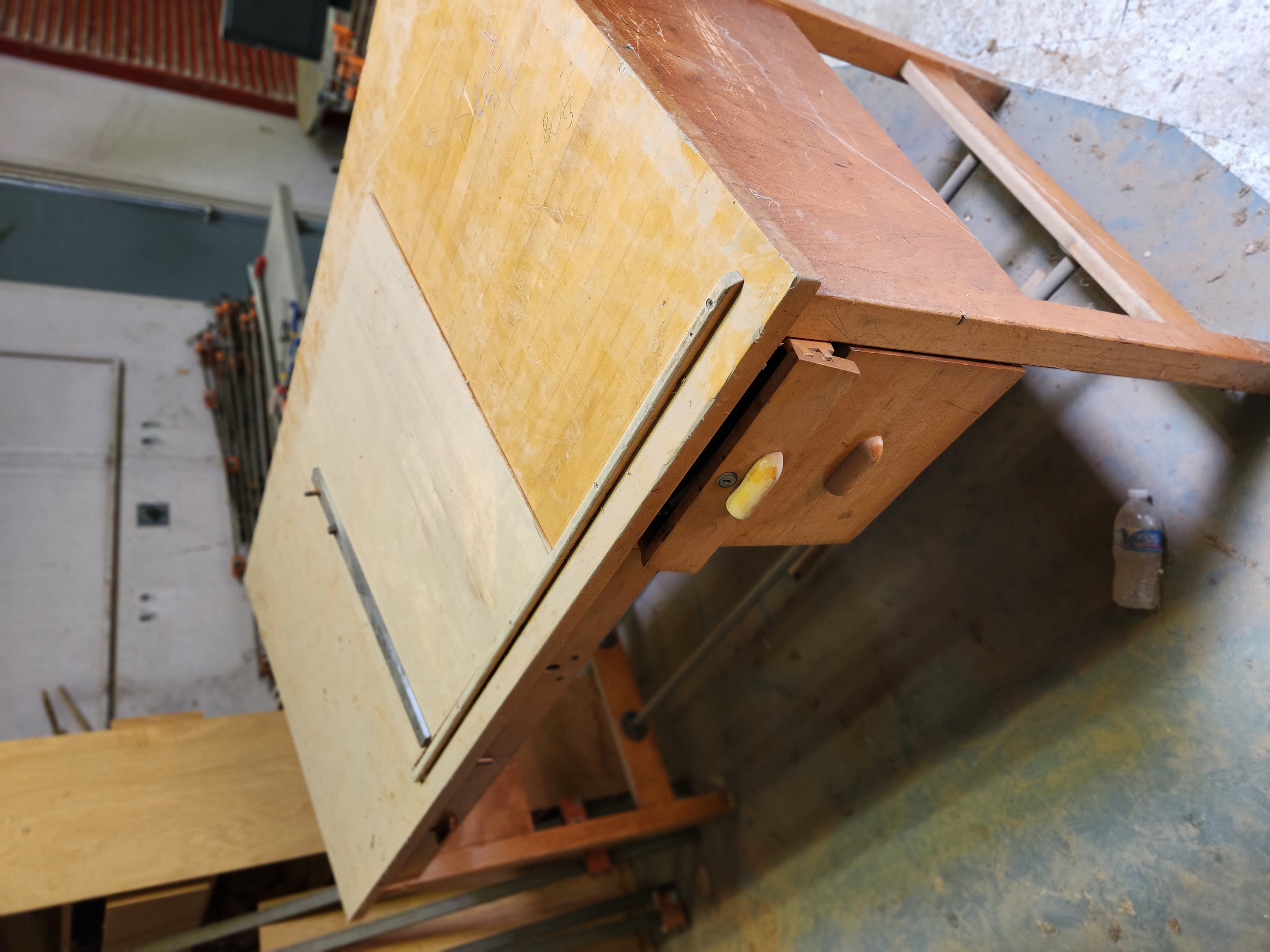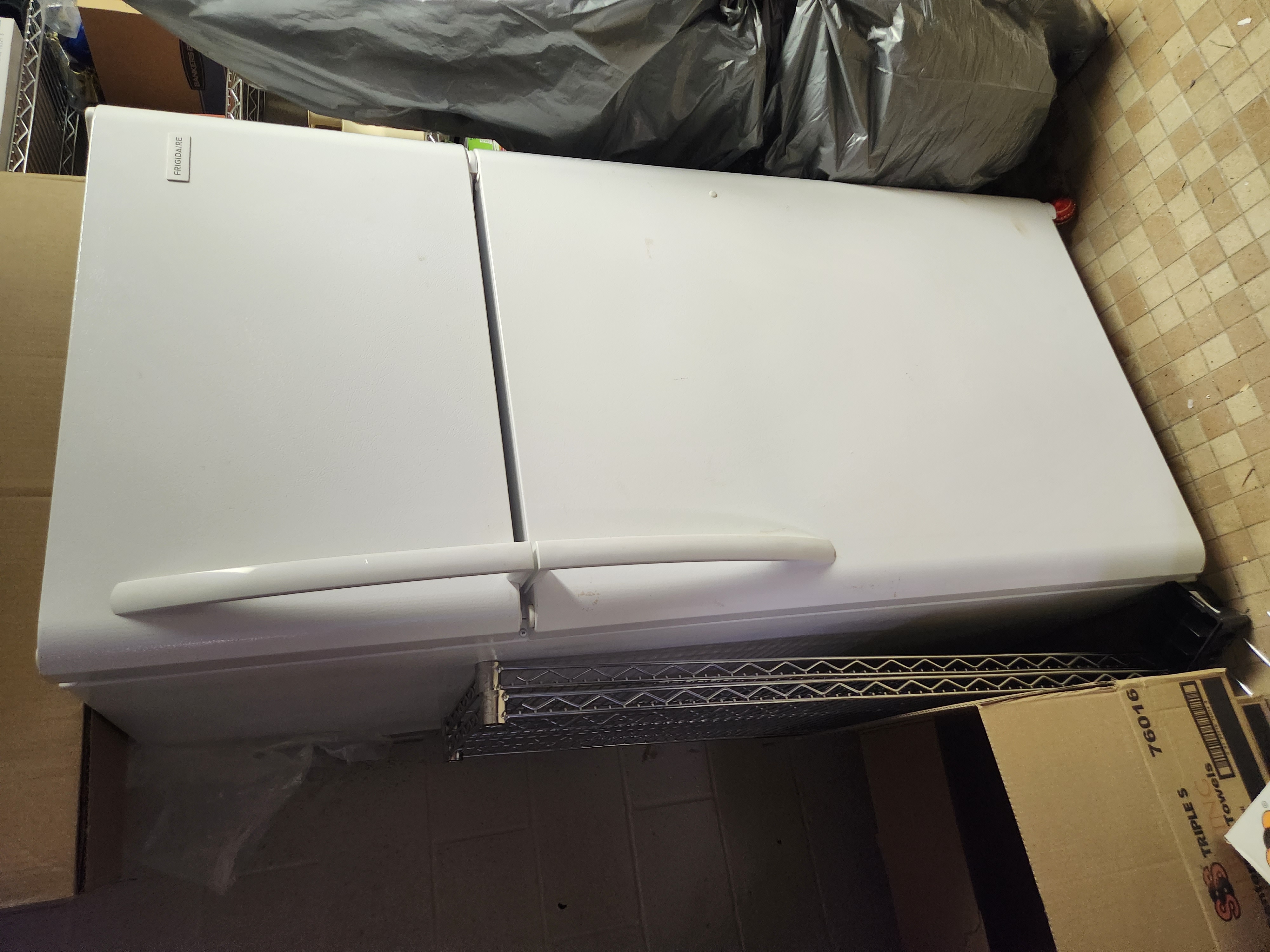 ITEM #: 23
FRIGIDAIRE REFRIGERATOR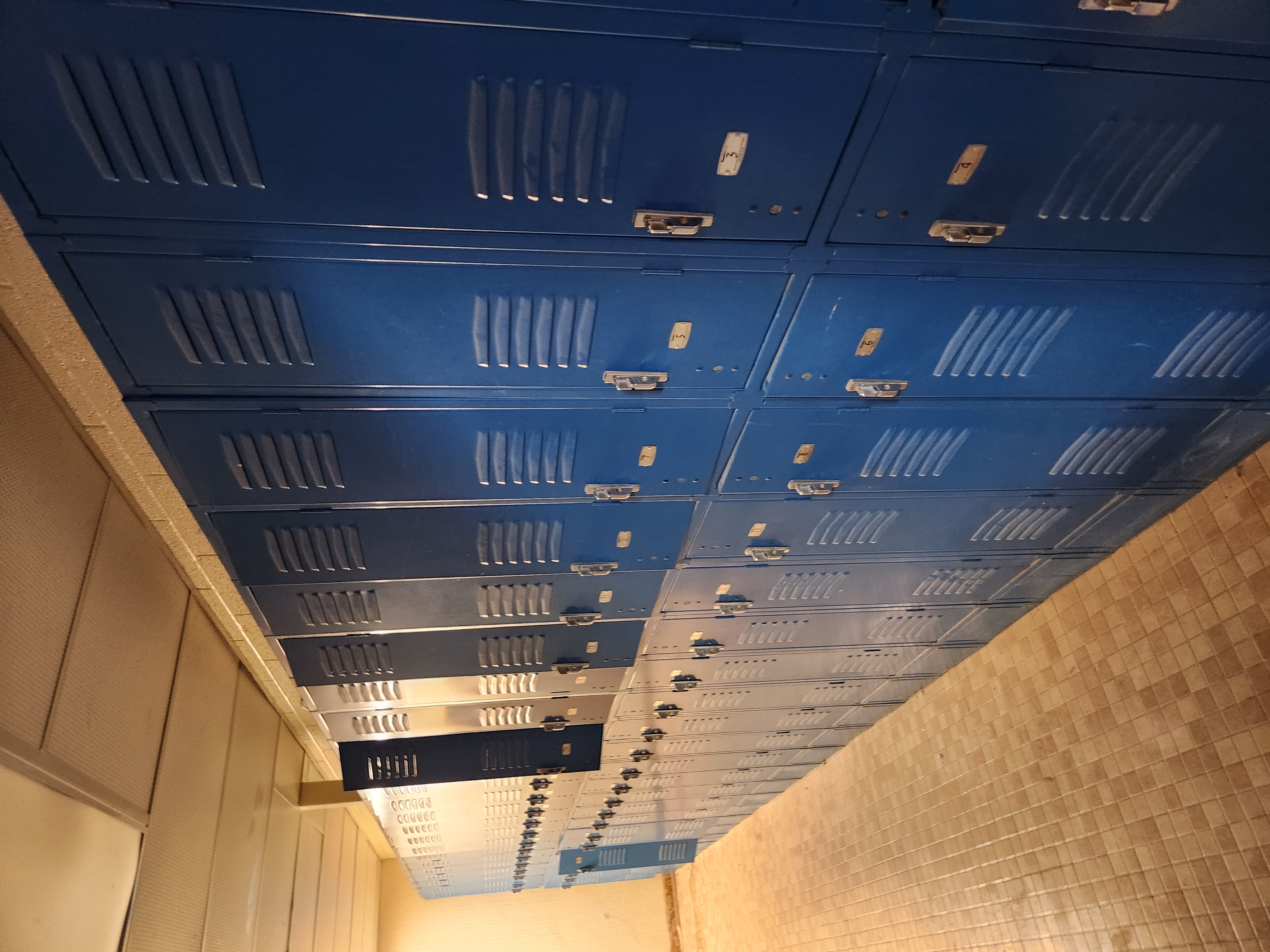 ITEM #: 24
SET OF LOCKERS #1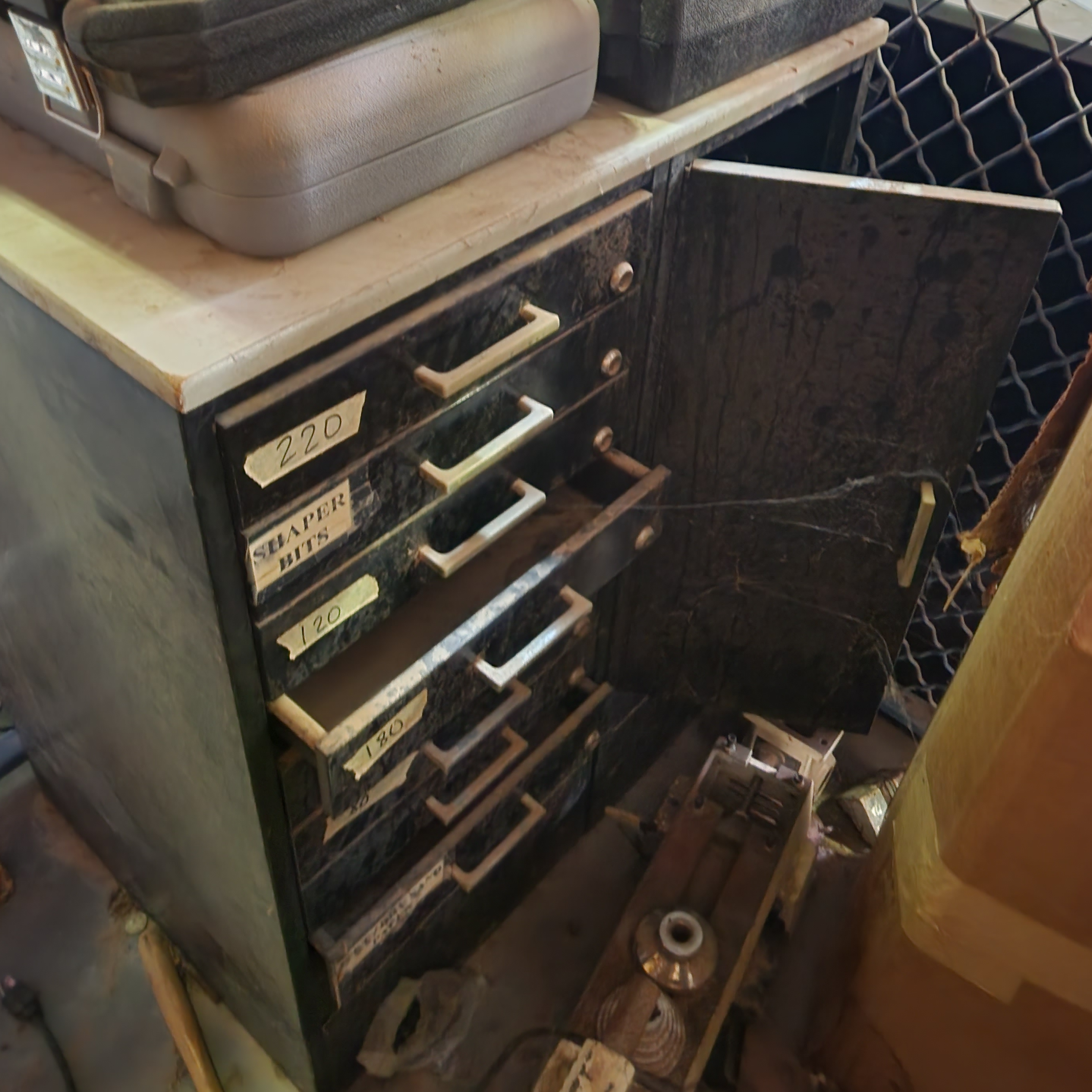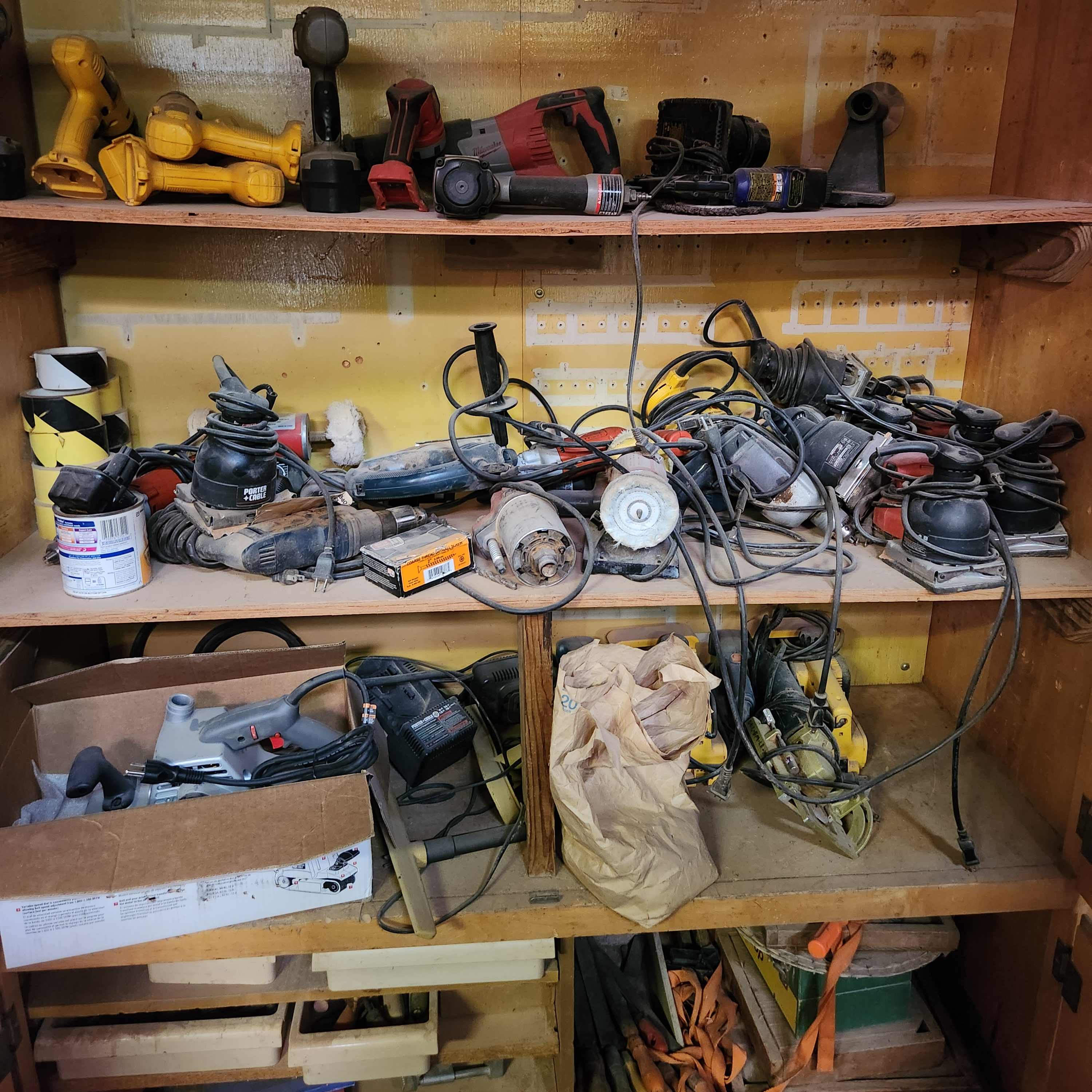 ITEM #: 26
MISCELLANEOUS HAND AND POWER TOOLS
Condition: Needs Repair
STARTING BID: $300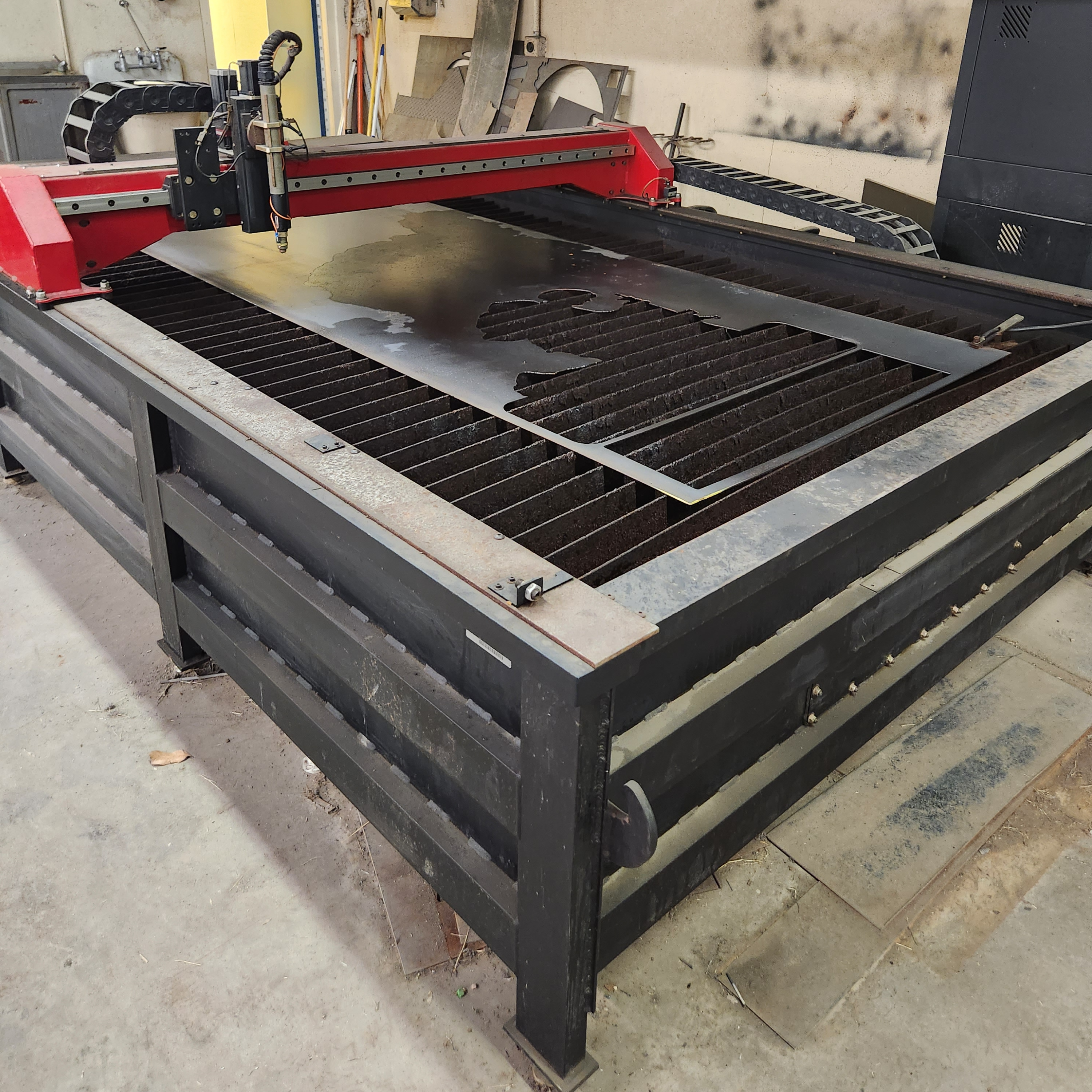 ITEM #: 27
PLASMA CUT TABLE
Condition: Operational
STARTING BID: $15,000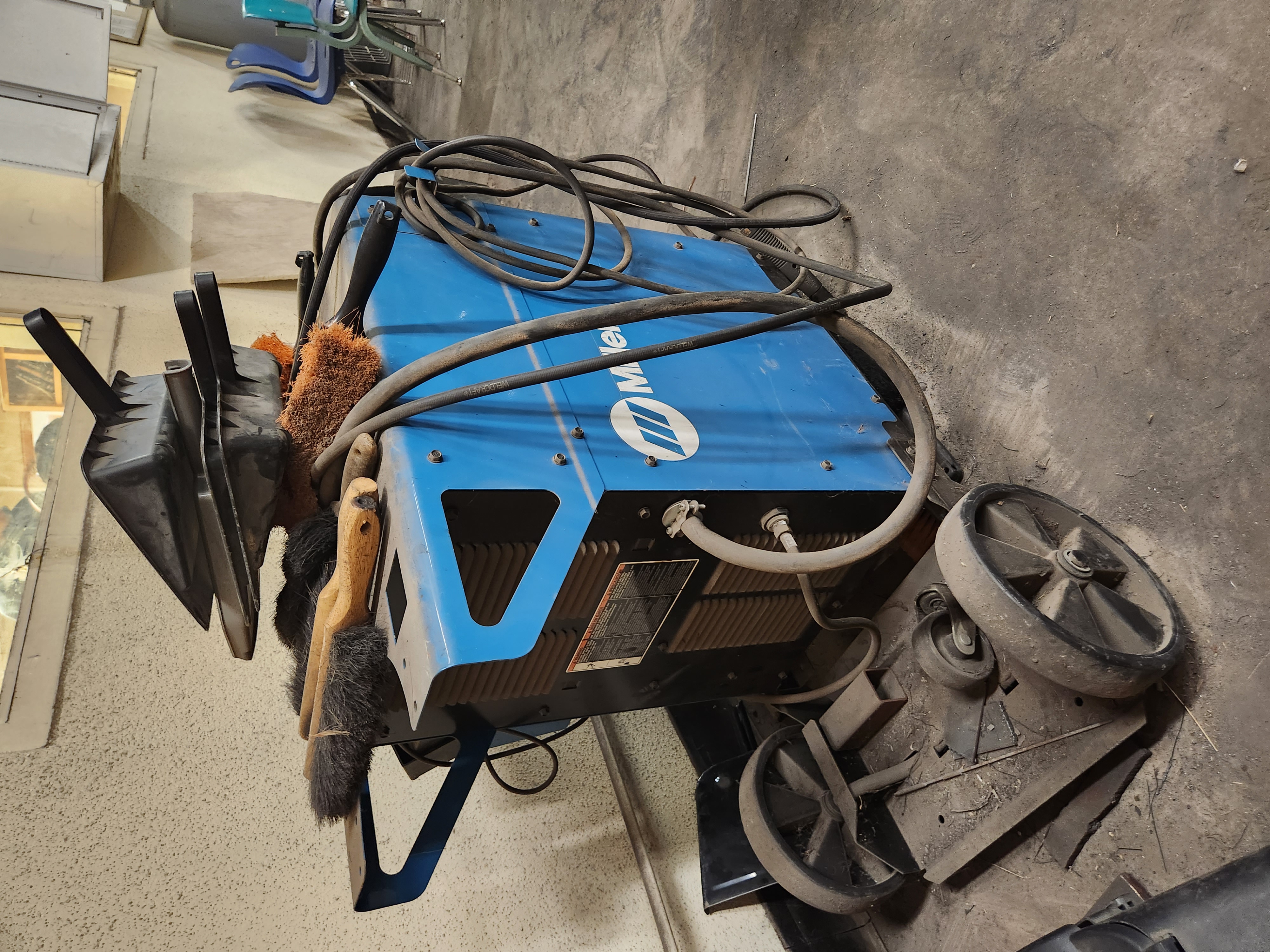 ITEM #: 28
MILLER MULTIPURPOSE WELDER
Condition: Operational
STARTING BID: $2,000
ITEM #: 29
FIREPIT/GRILL #1
Condition: Operational
STARTING BID: $100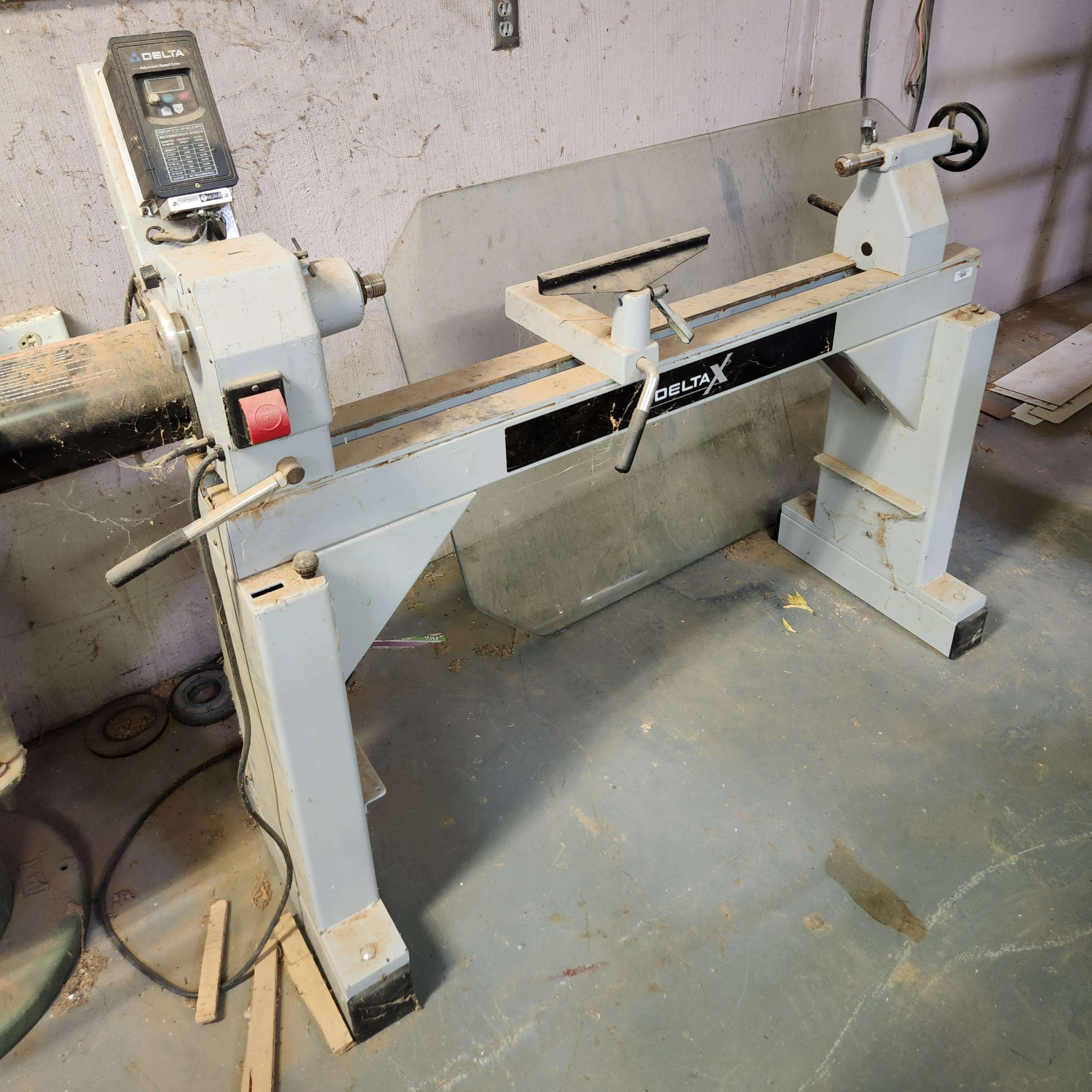 ITEM #: 31
DELTA 72" WOOD LATHE
Model #: 46-755X
Condition: Needs Repair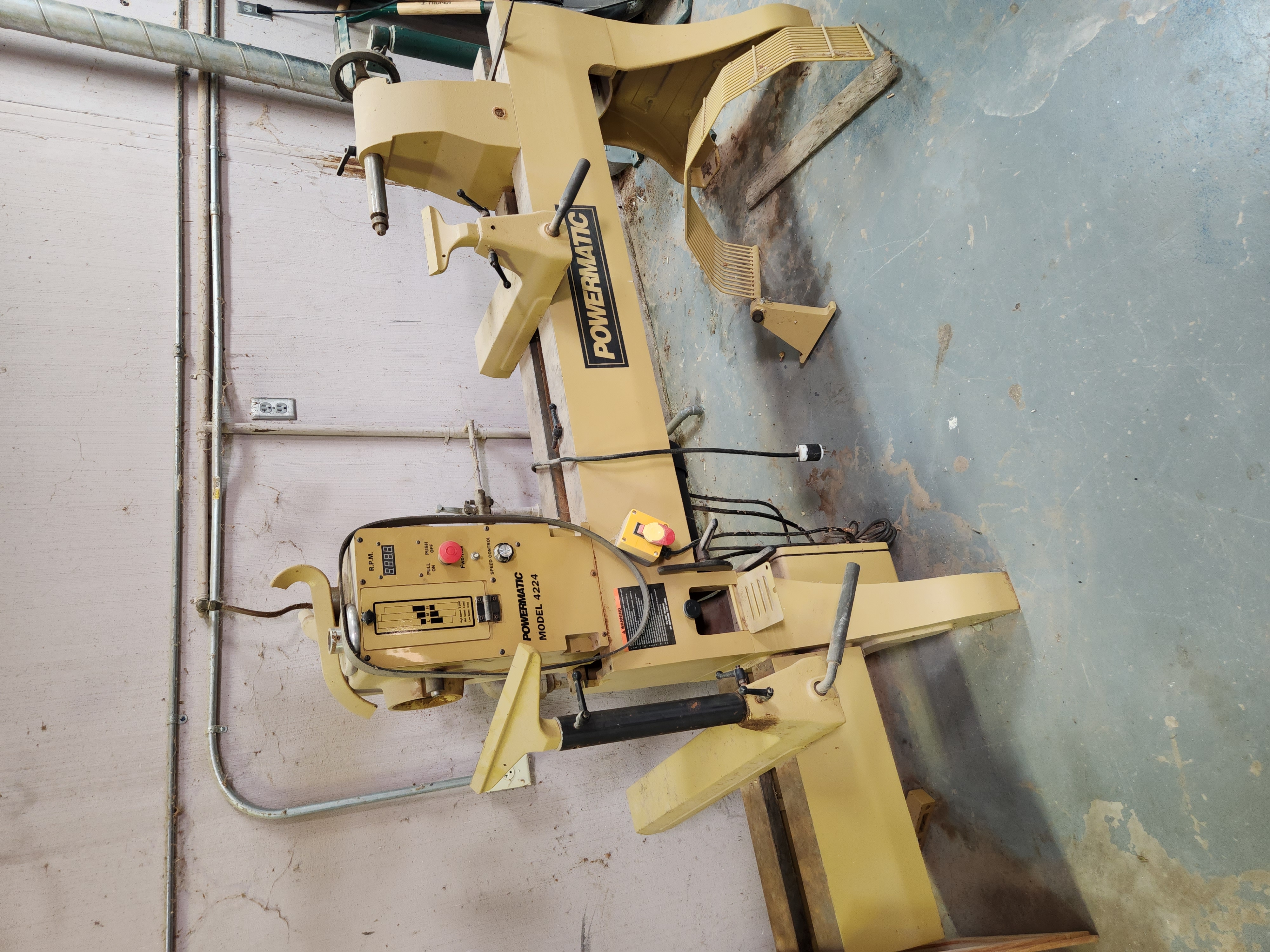 ITEM #: 33
POWERMATIC WOOD LATHE
Model #: 4224
Condition: Needs Repair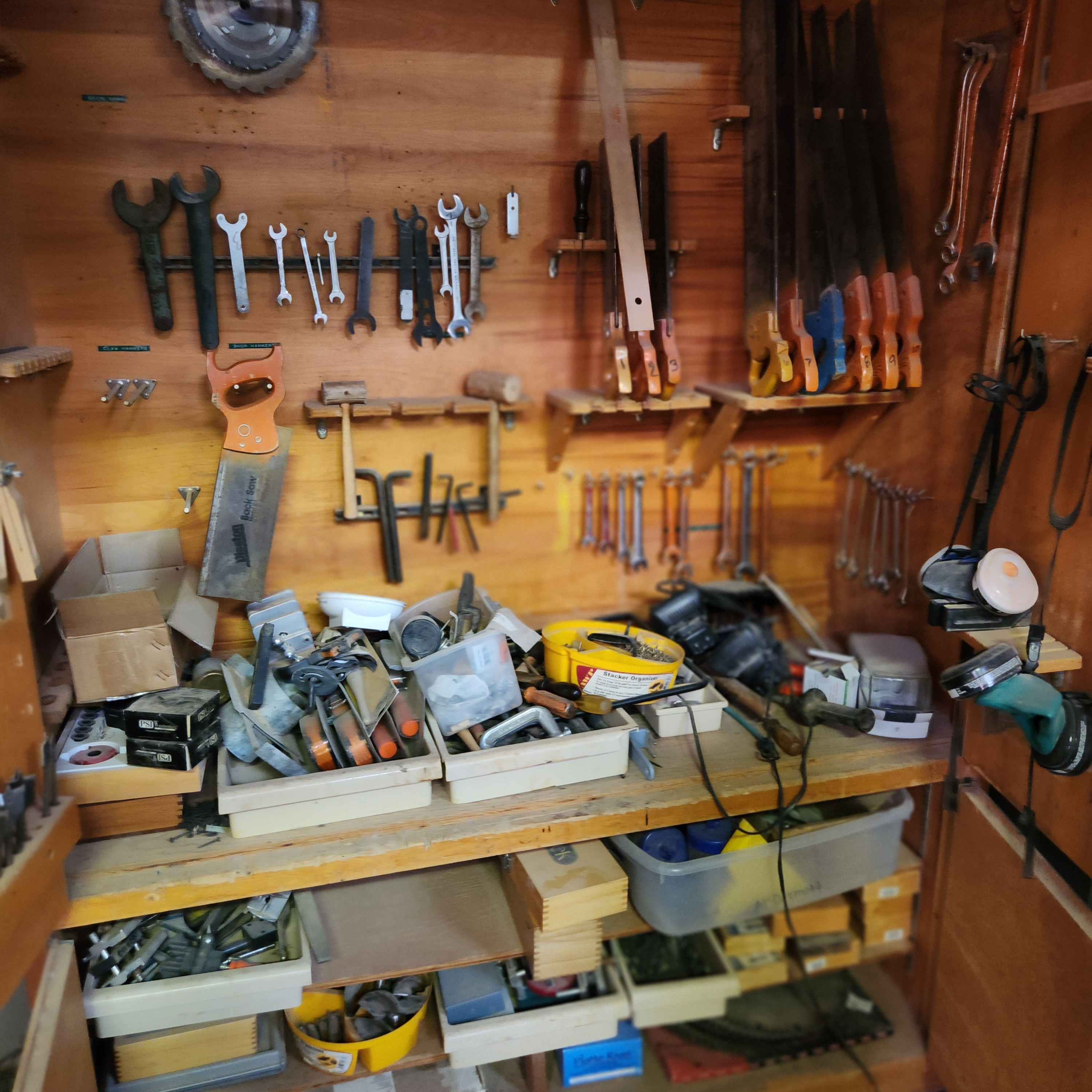 ITEM #: 34
MISCELLANEOUS HAND TOOLS
Condition: Operational
STARTING BID: $300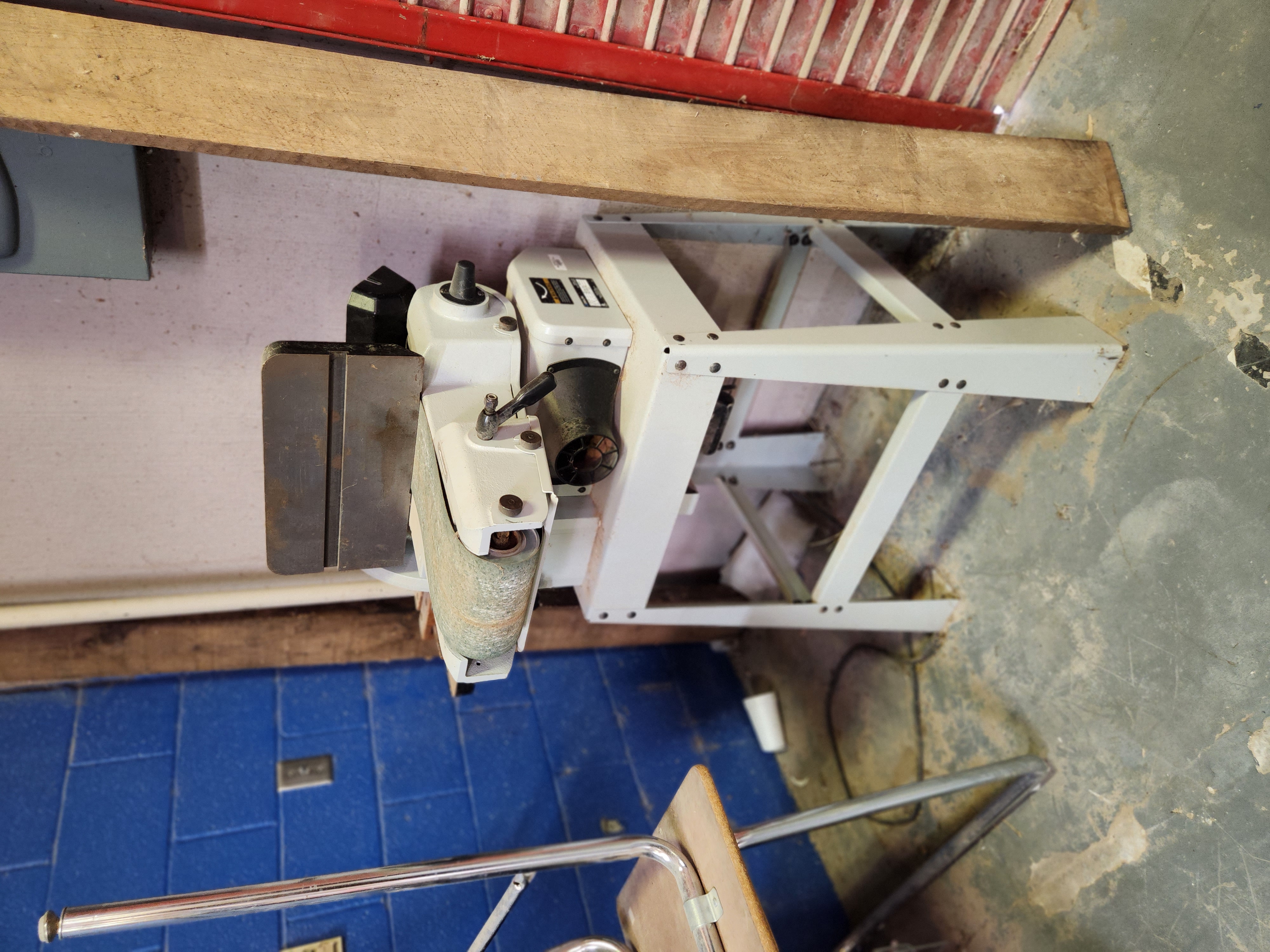 ITEM #: 35
DELTA BELT SANDER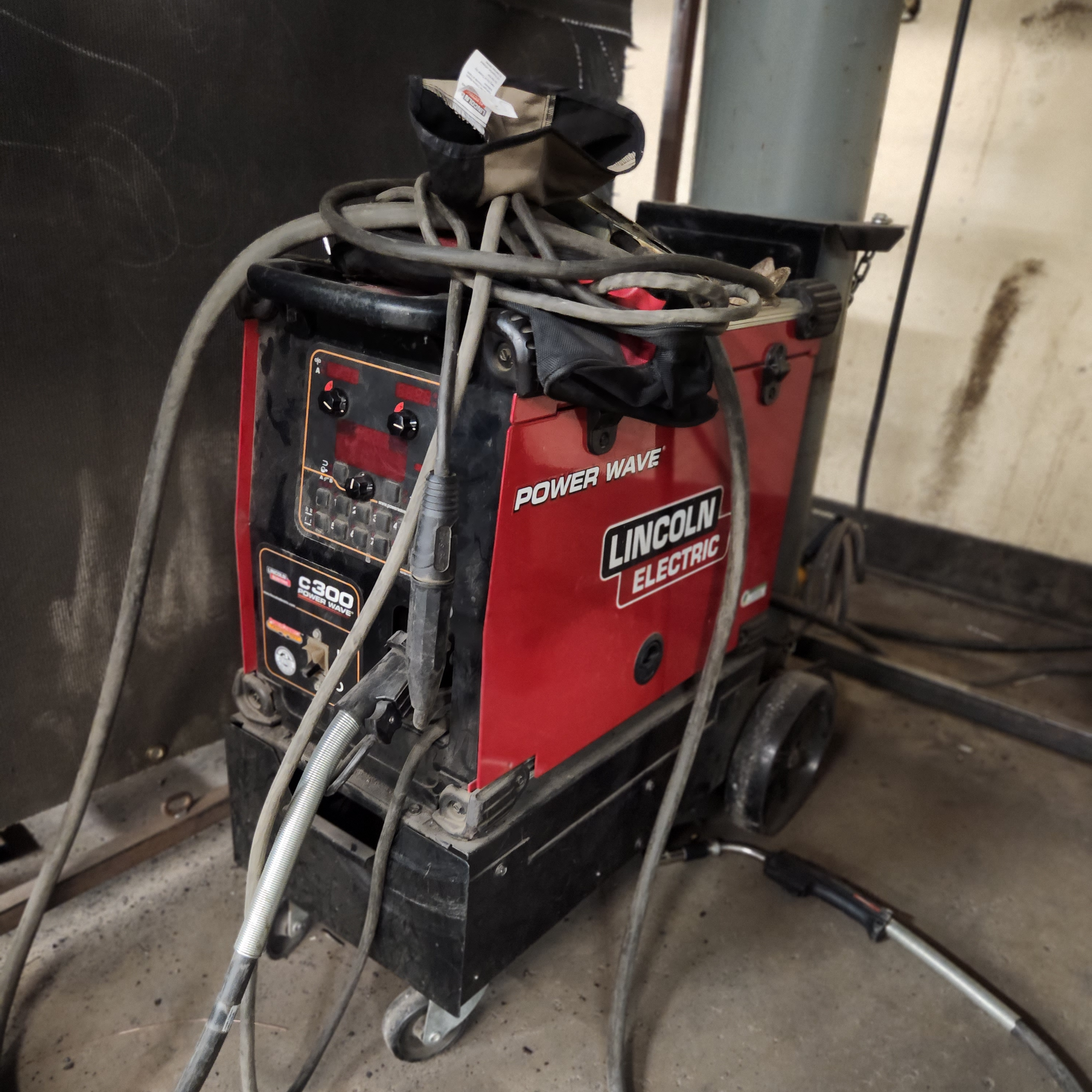 ITEM #: 36
POWERWAVE MULITPROCESS WELDER #2
Model #: C300
Condition: Operational
STARTING BID: $4,750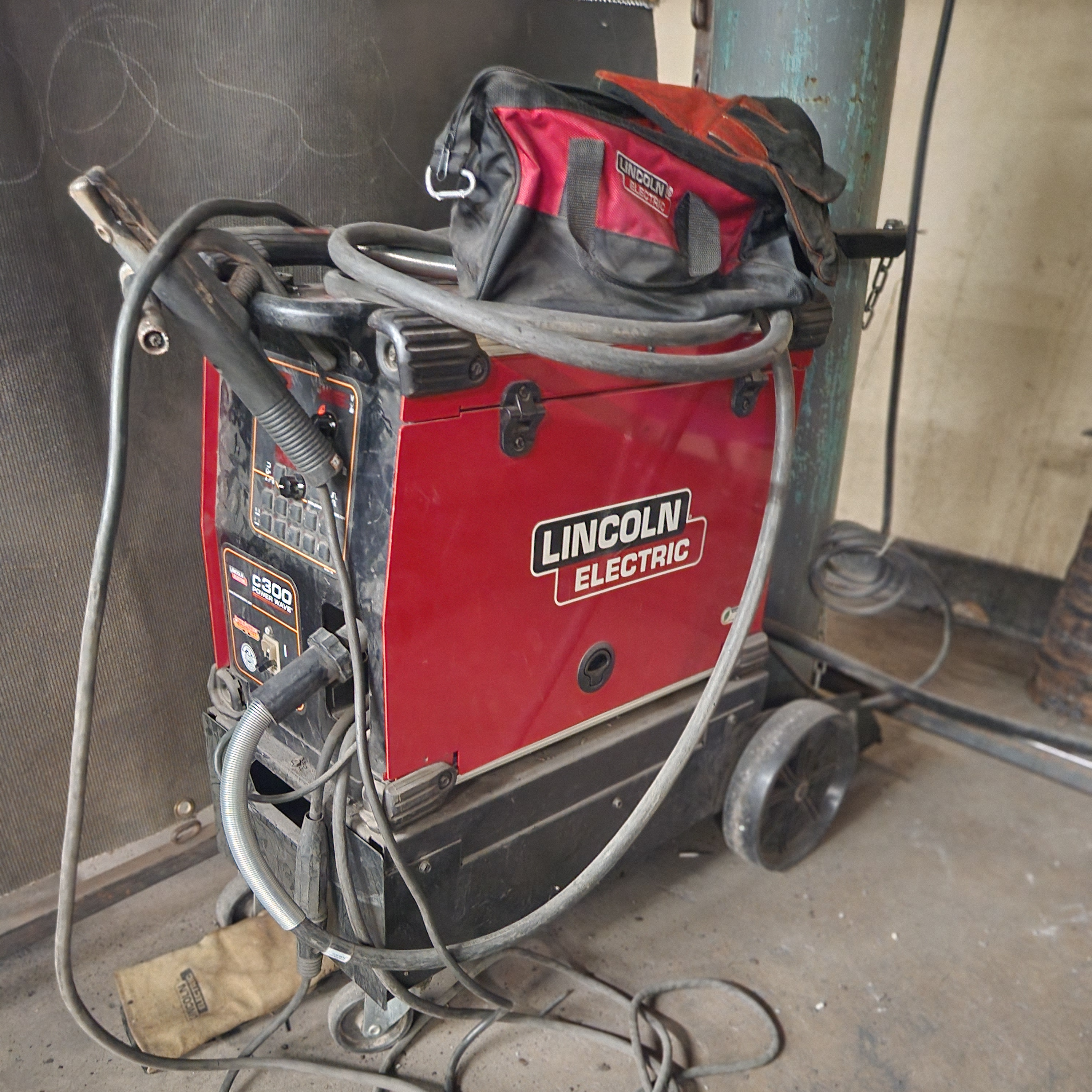 ITEM #: 37
POWERWAVE MULITPROCESS WELDER #3
Model #: C300
Condition: Operational
STARTING BID: $4,750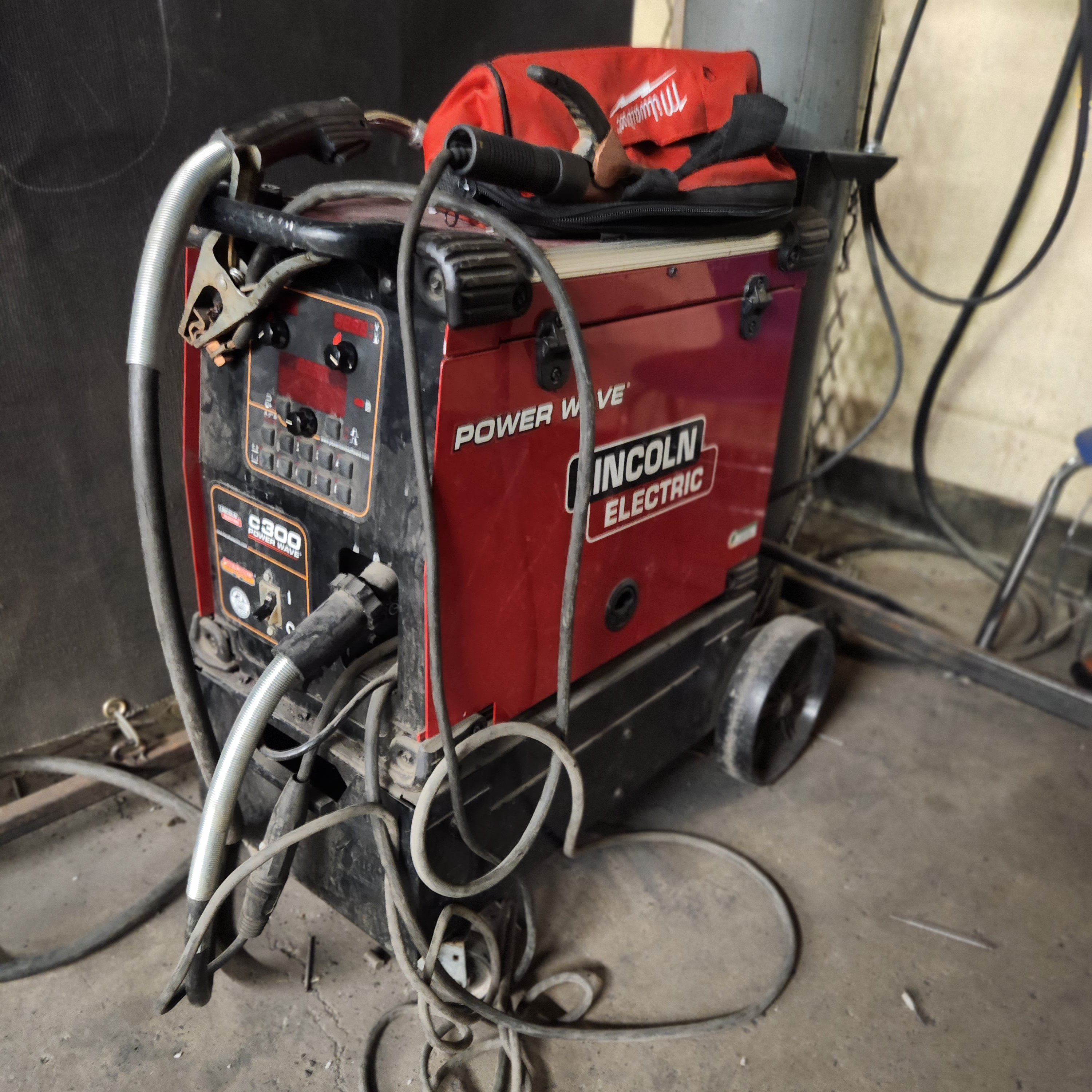 ITEM #: 38
POWERWAVE MULTIPROCESS WELDER #4
Model #: C300
Condition: Operational
STARTING BID: $4,750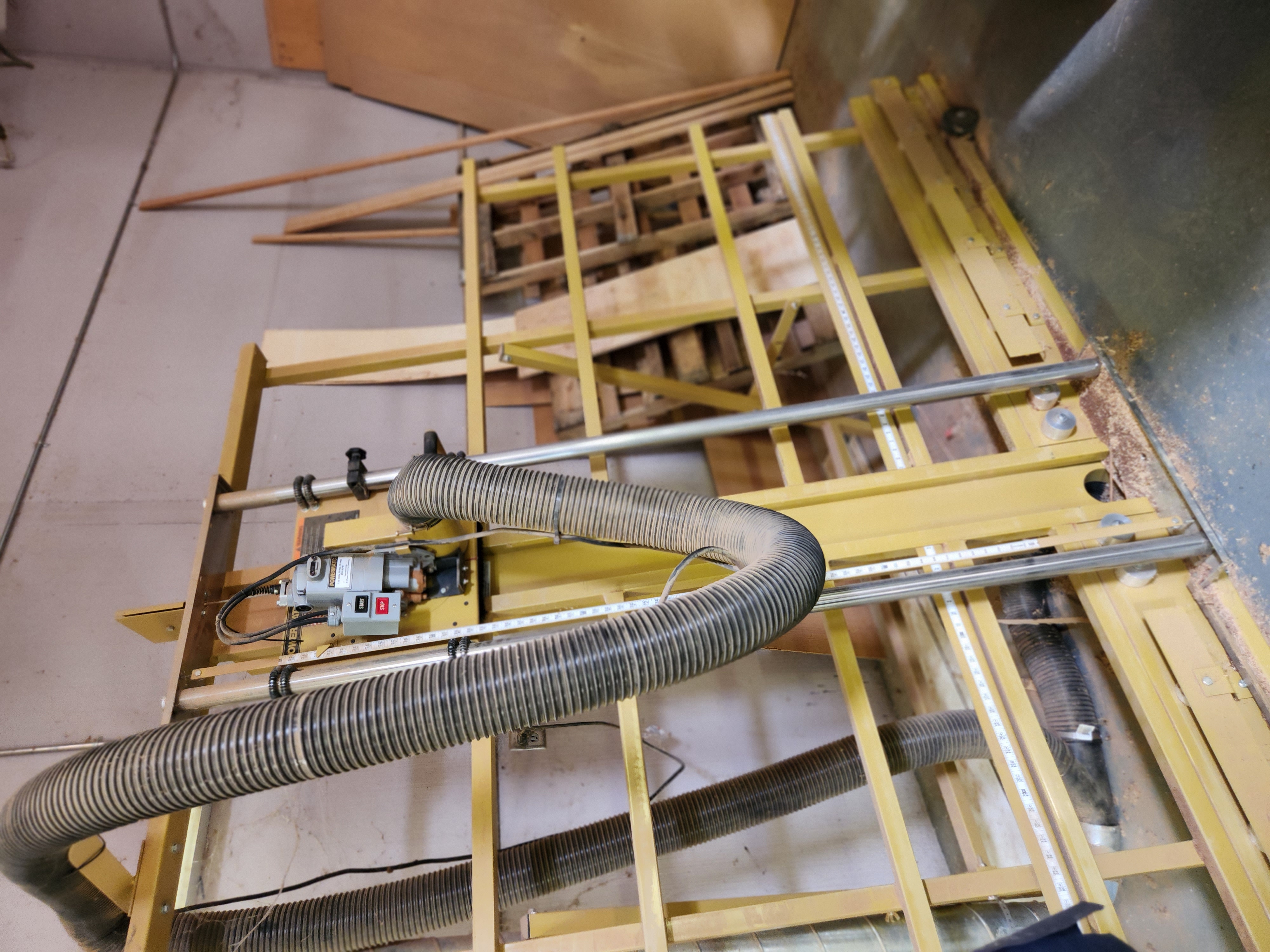 ITEM #: 39
POWERMATIC 6' PANEL SAW
Condition: Operational
STARTING BID: $900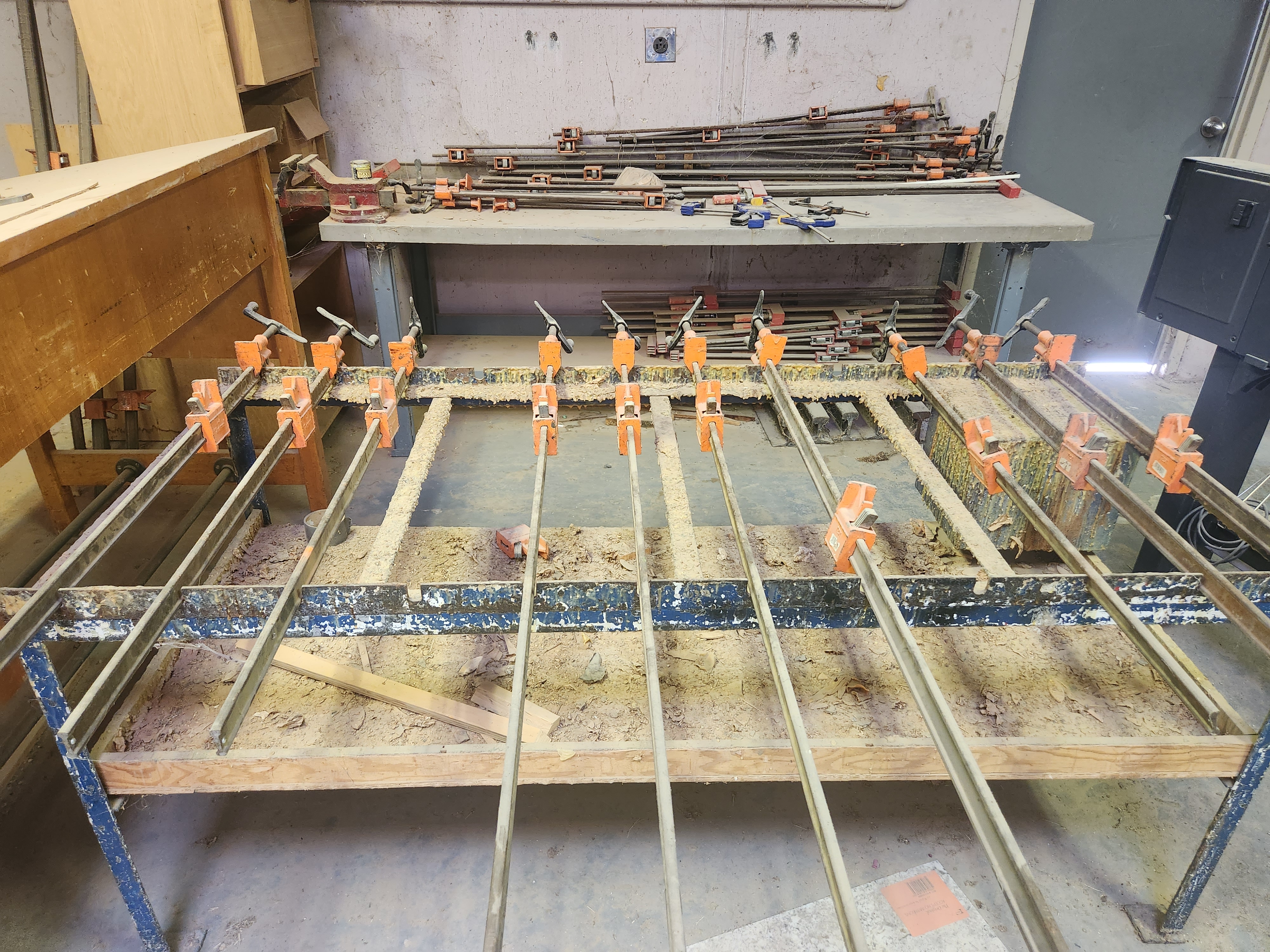 ITEM #: 40
VARIOUS LENGTH BAR CLAMPS
Condition: Operational
STARTING BID: $100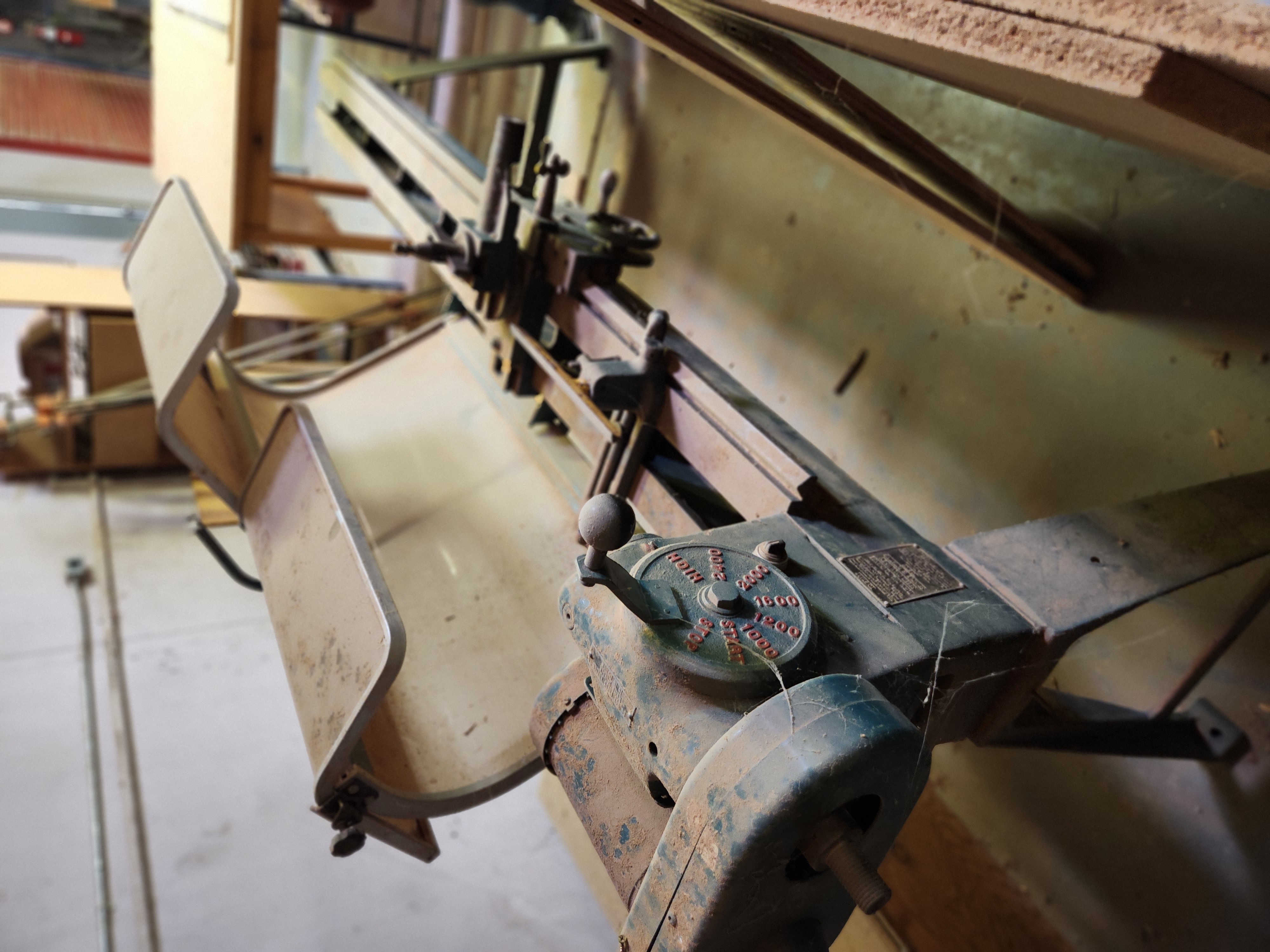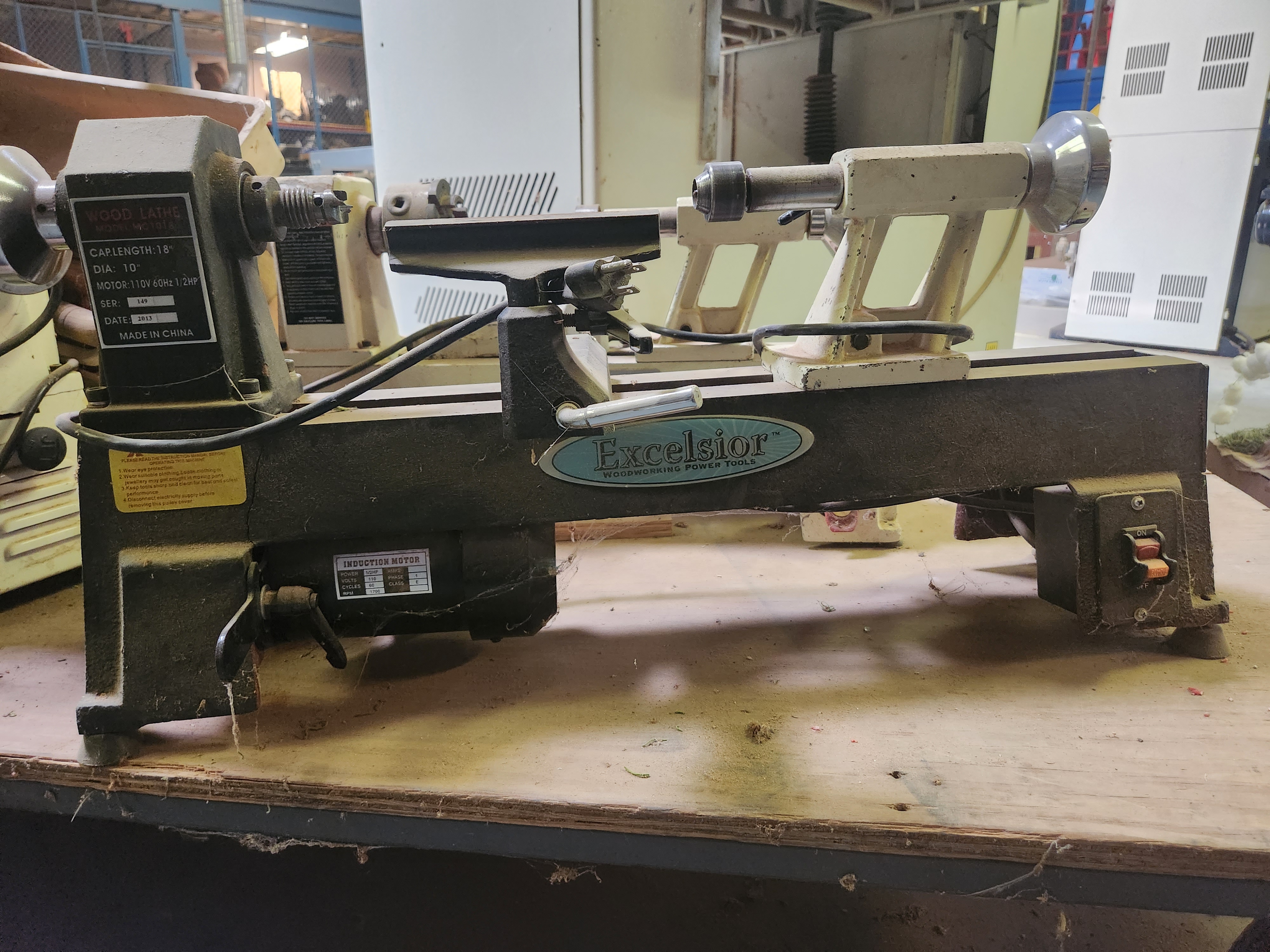 ITEM #: 42
EXCELSIOR LATHE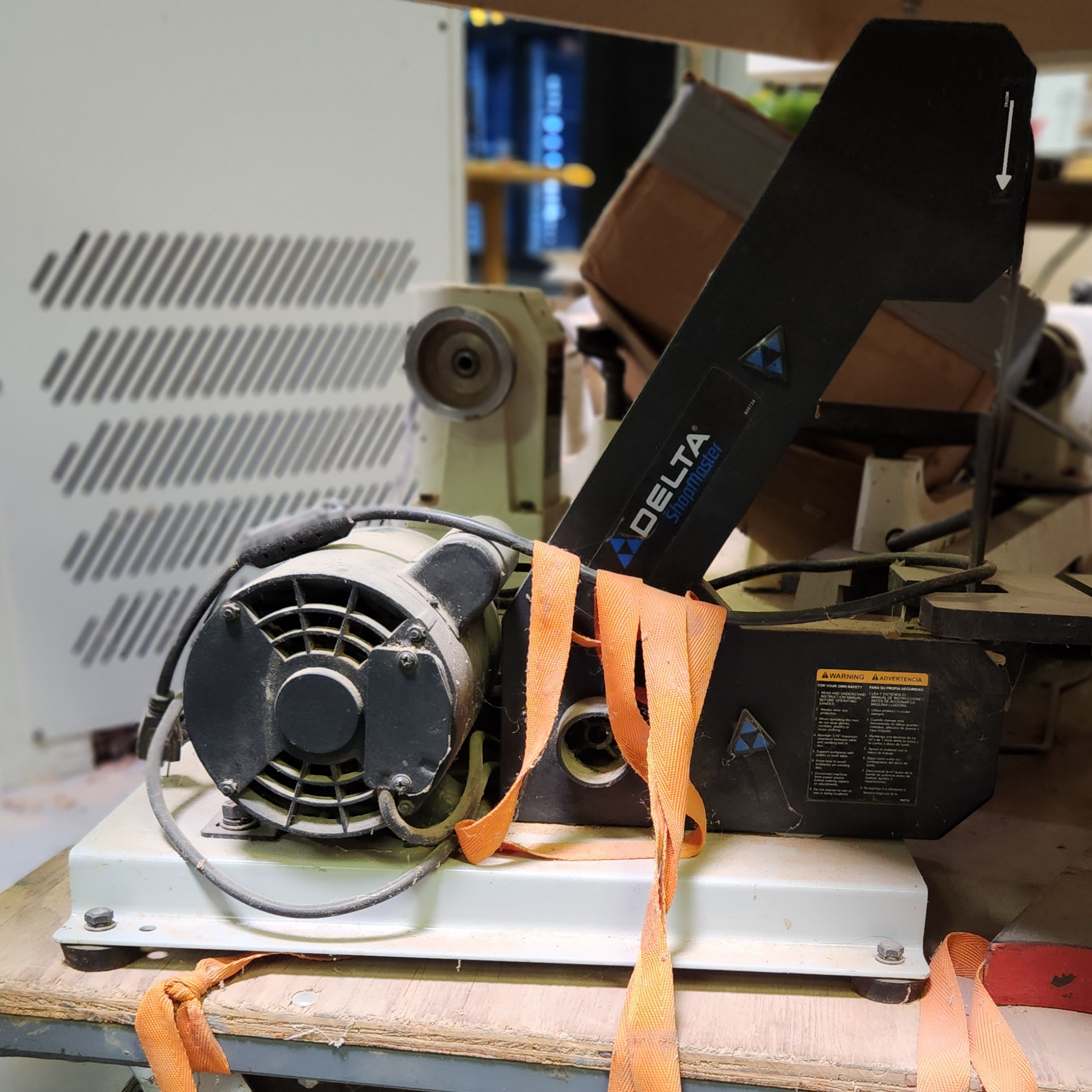 ITEM #: 43
DELTA SHOPMASTER 8" DISK SANDER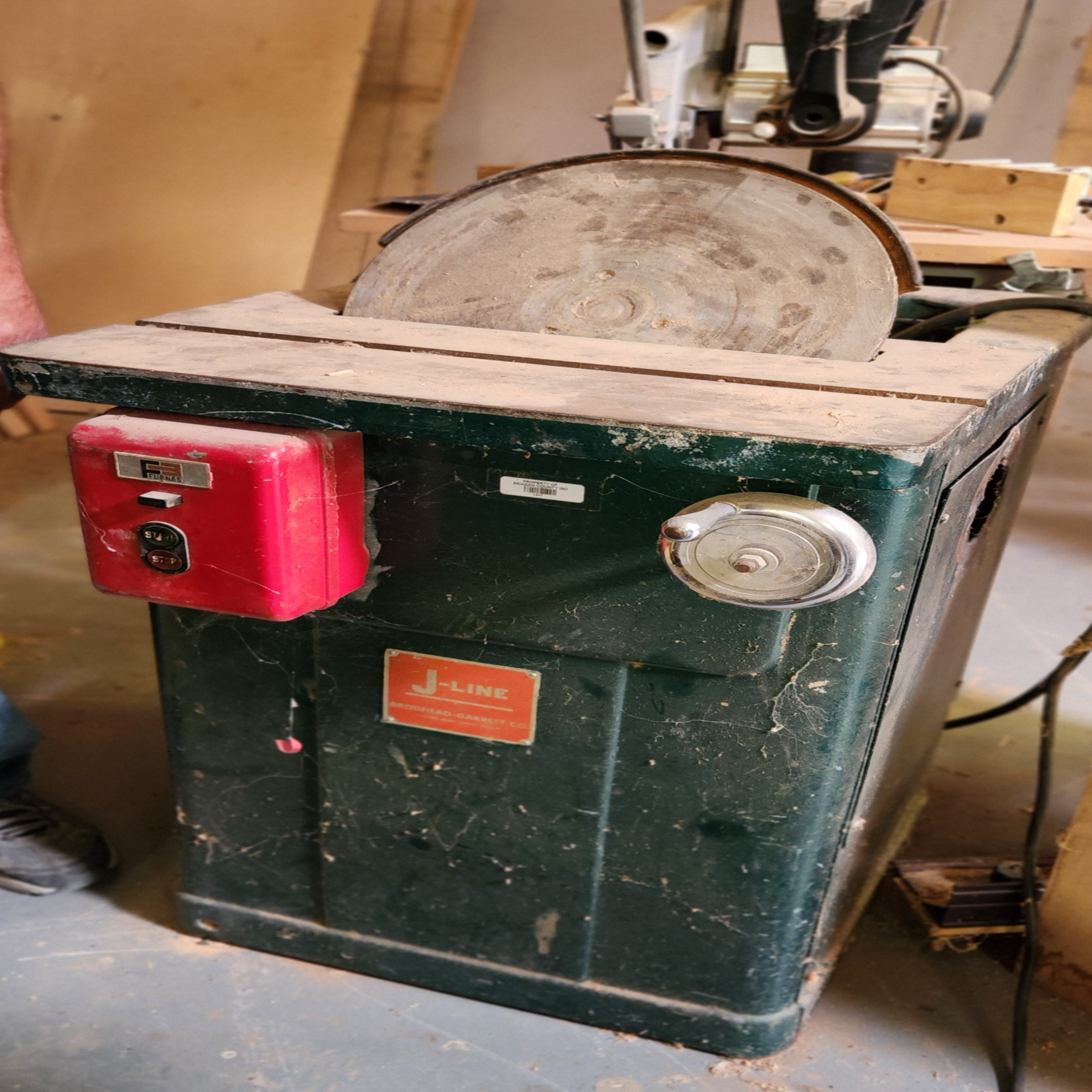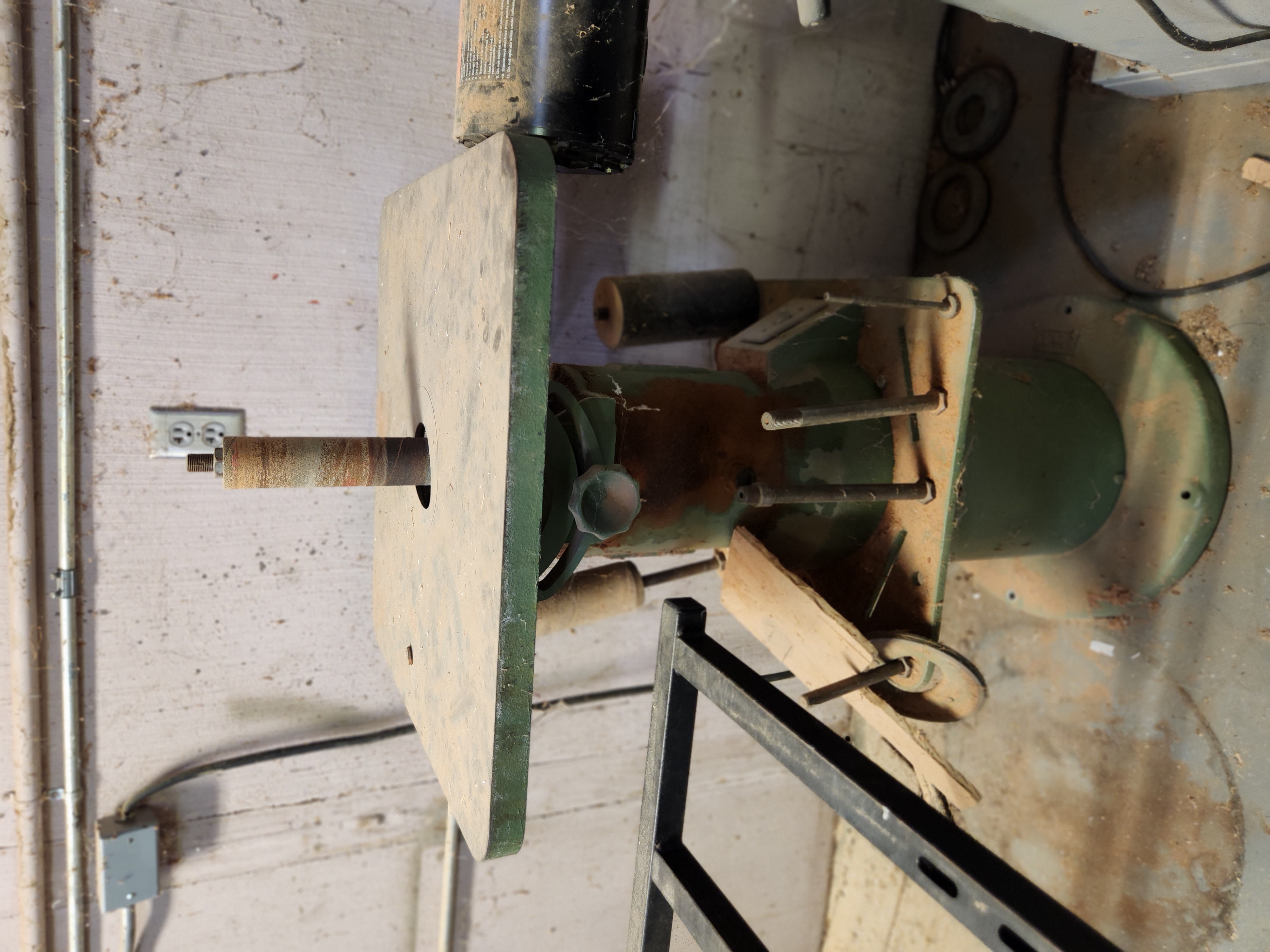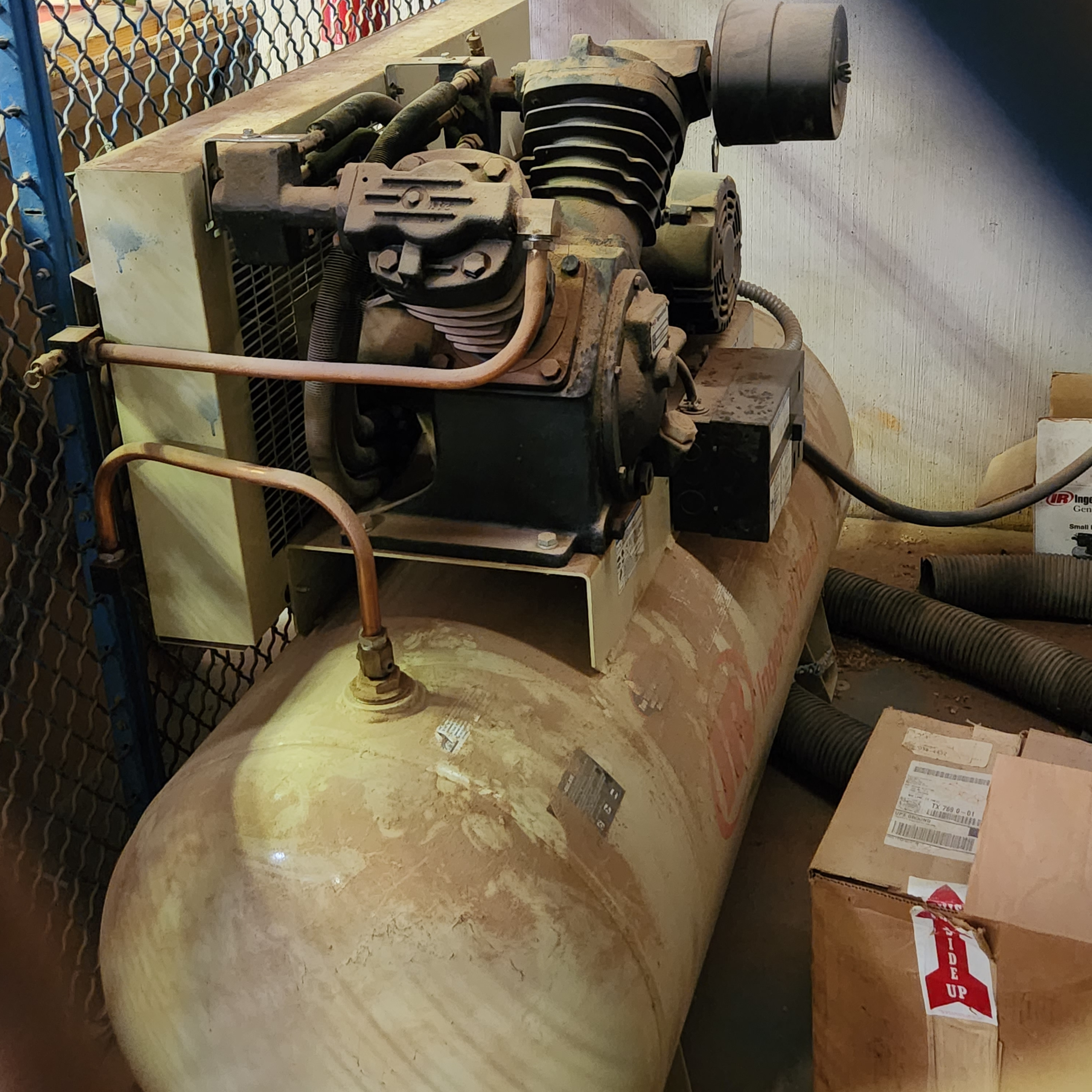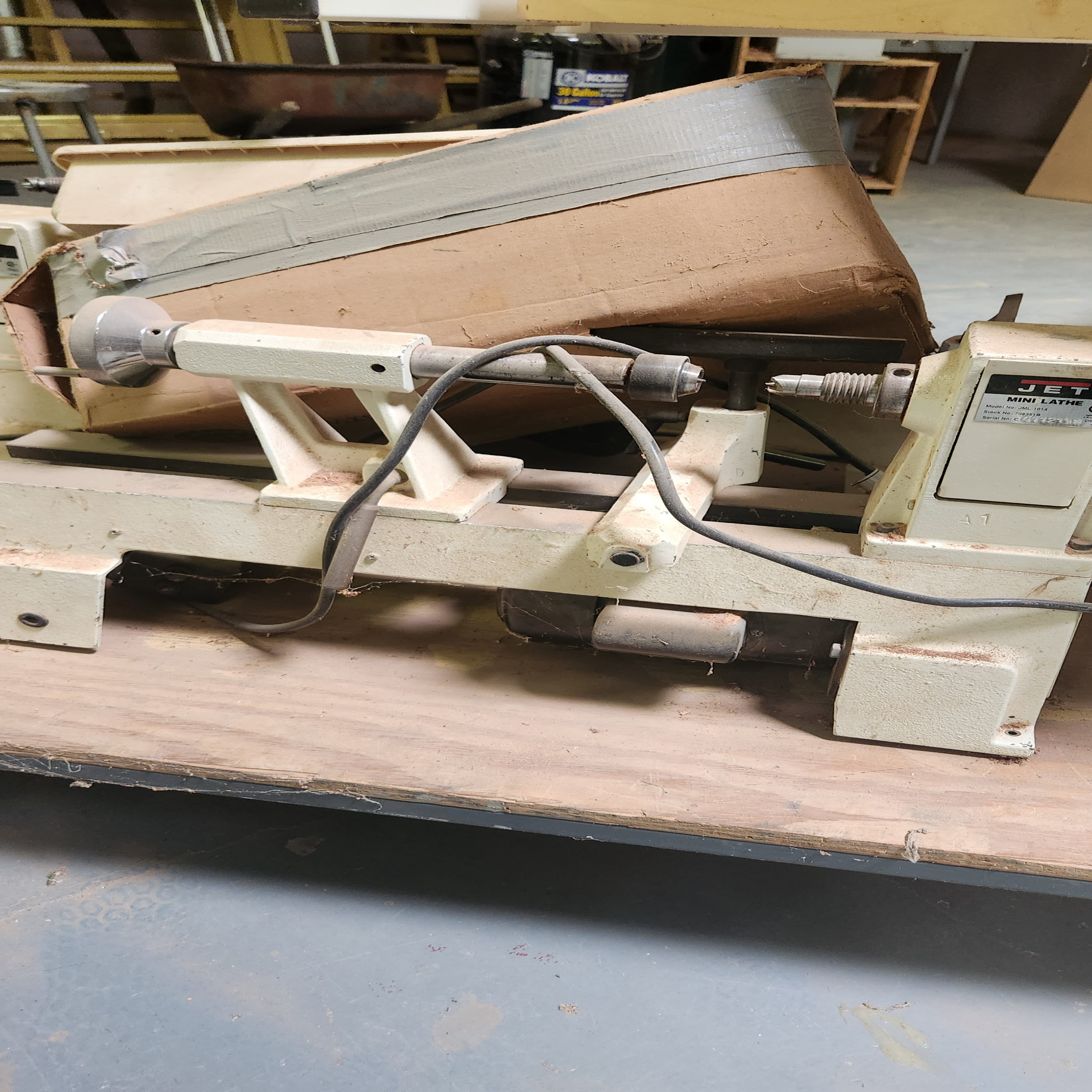 ITEM #: 47
JET MINI-LATHE #1
Model #: JML-1014
Condition: Unknown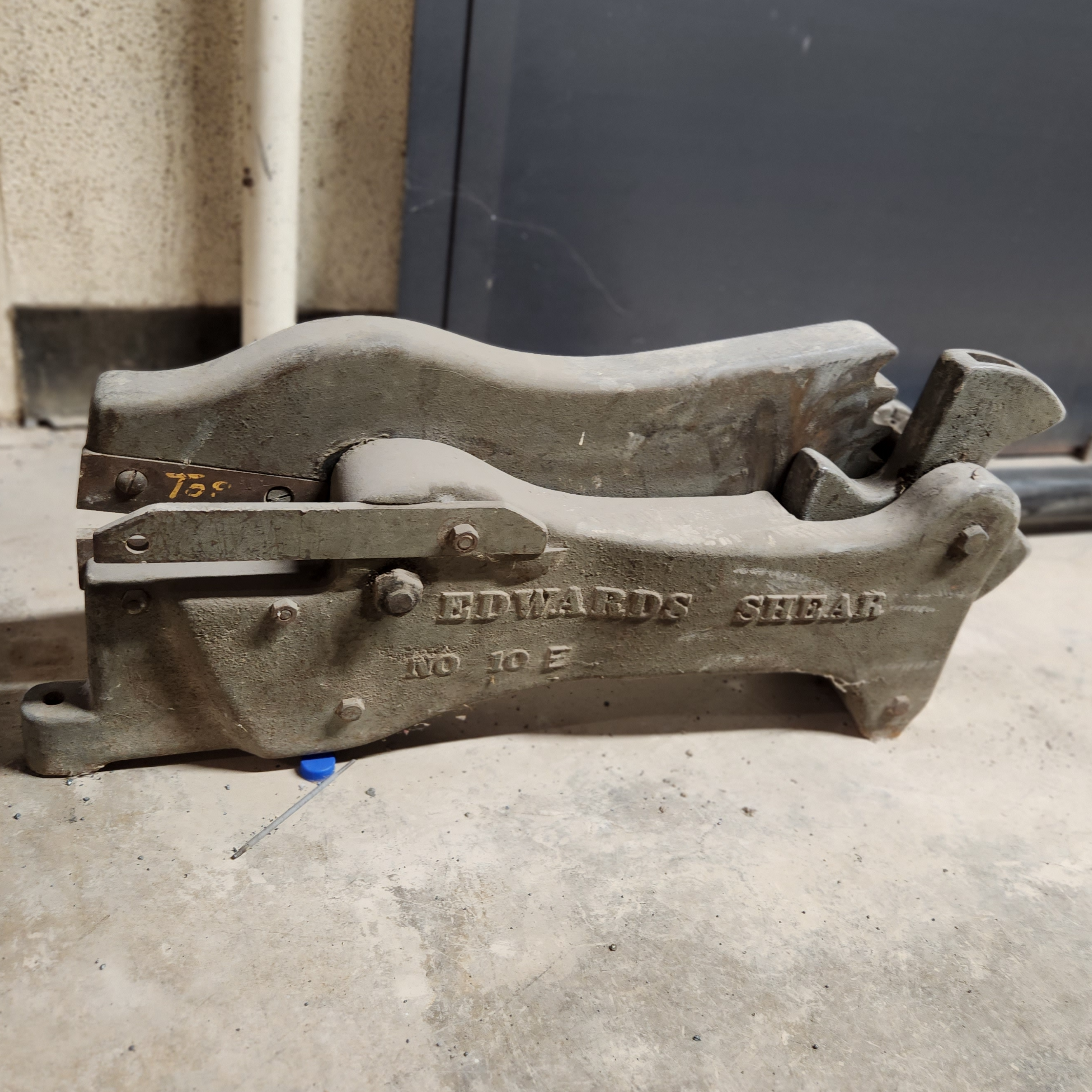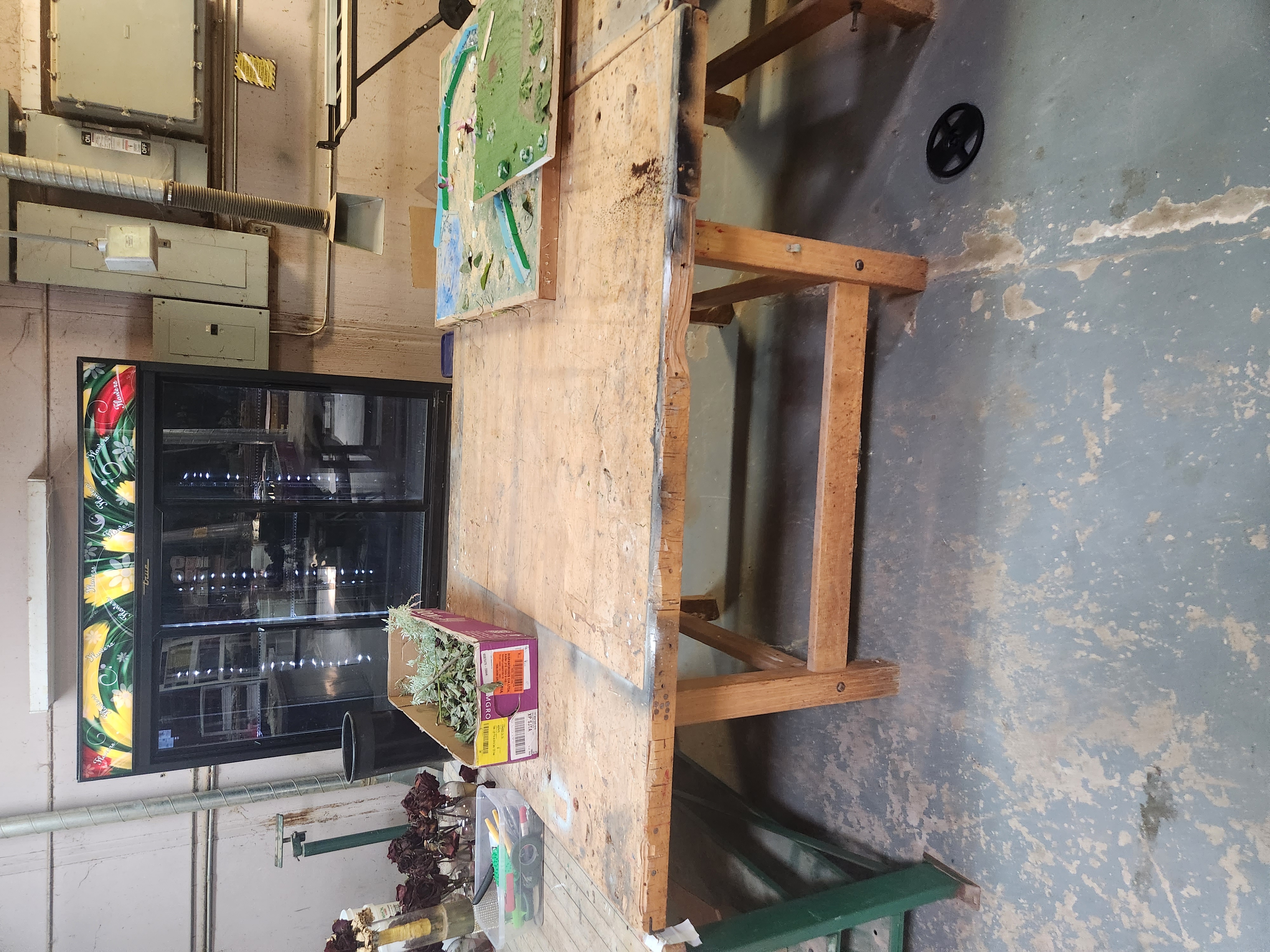 ITEM #: 49
WOODWORKING TABLE #1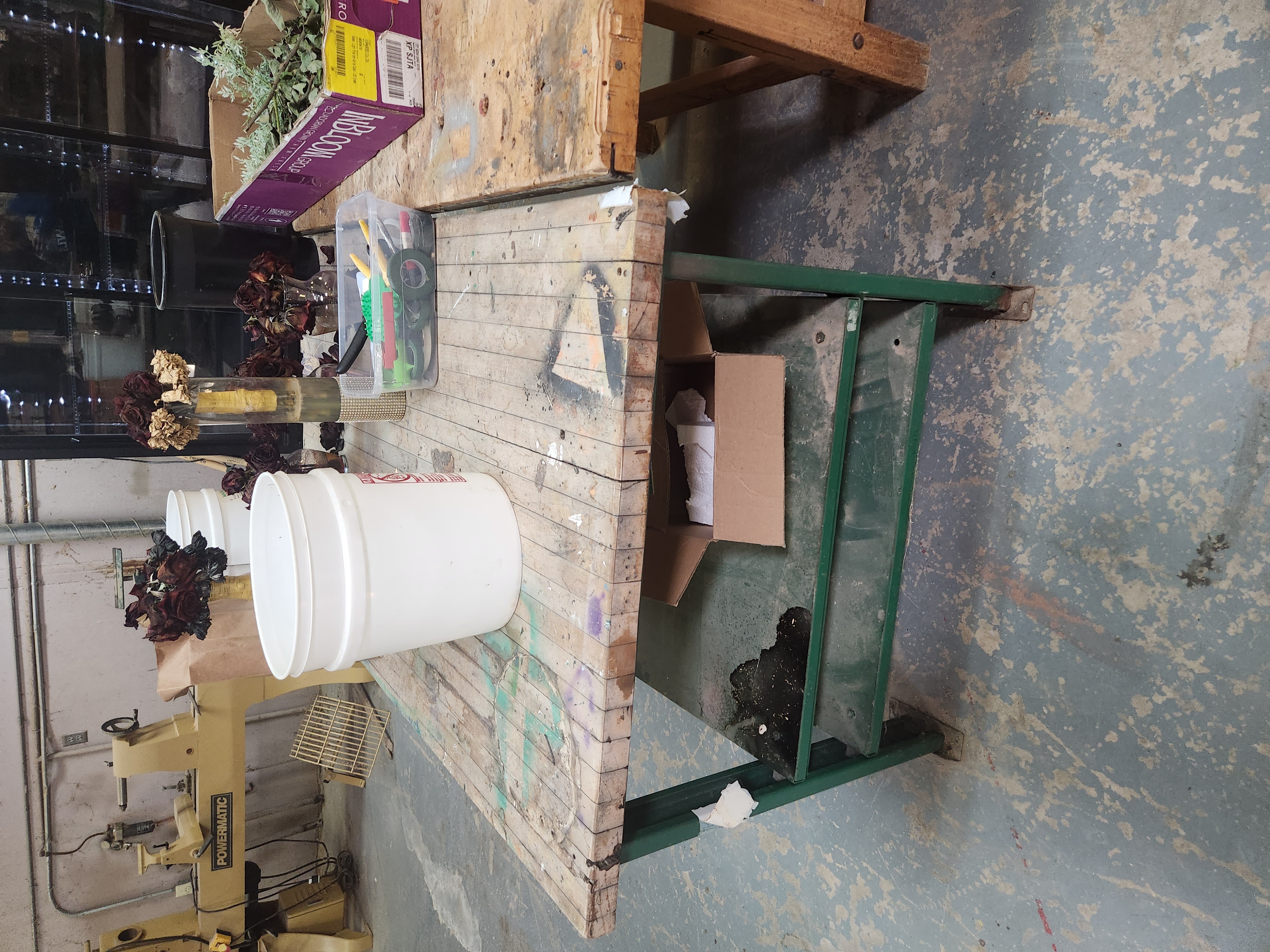 ITEM #: 50
WOODWORKING TABLE #2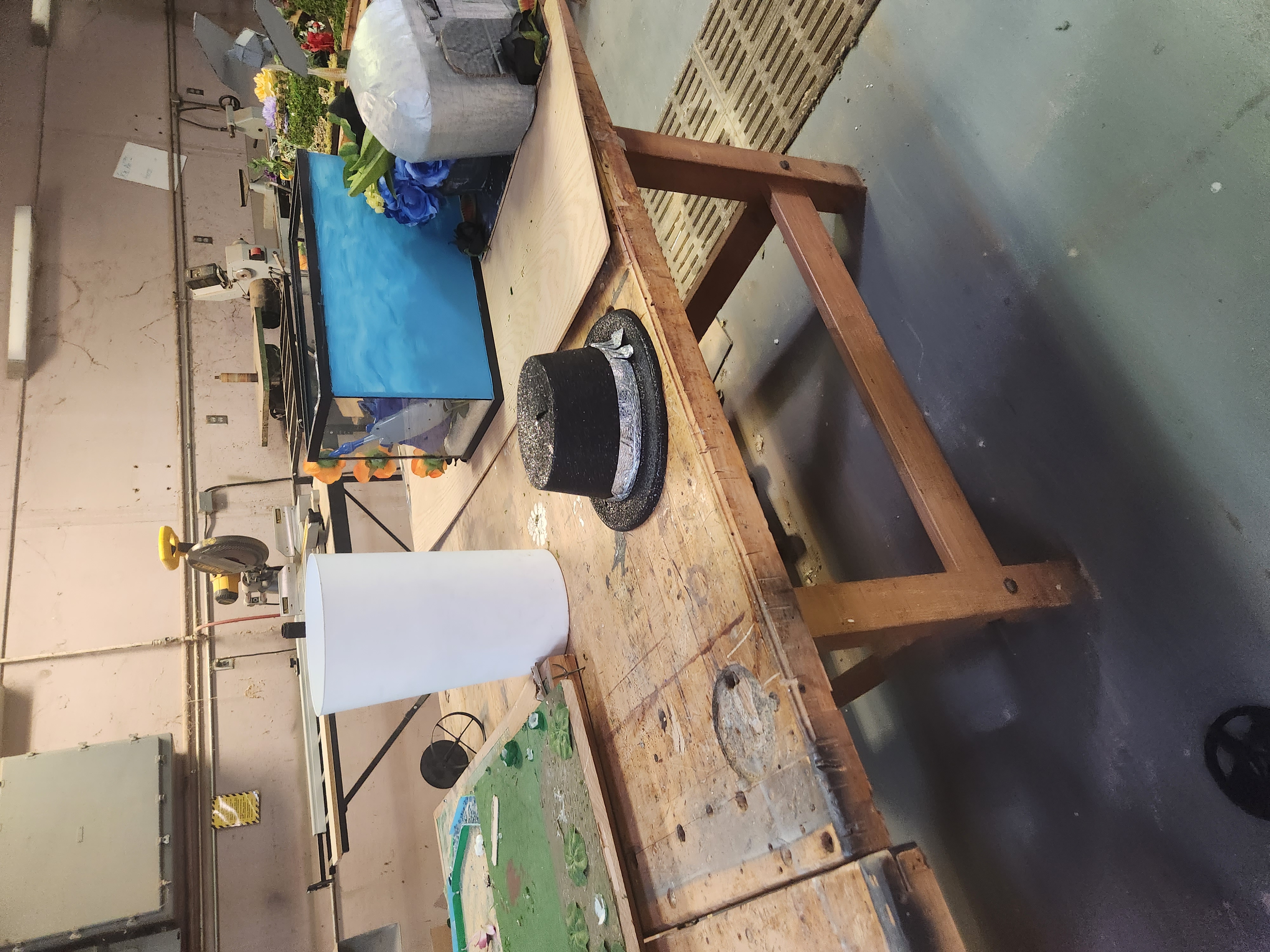 ITEM #: 51
WOODWORKING TABLE #3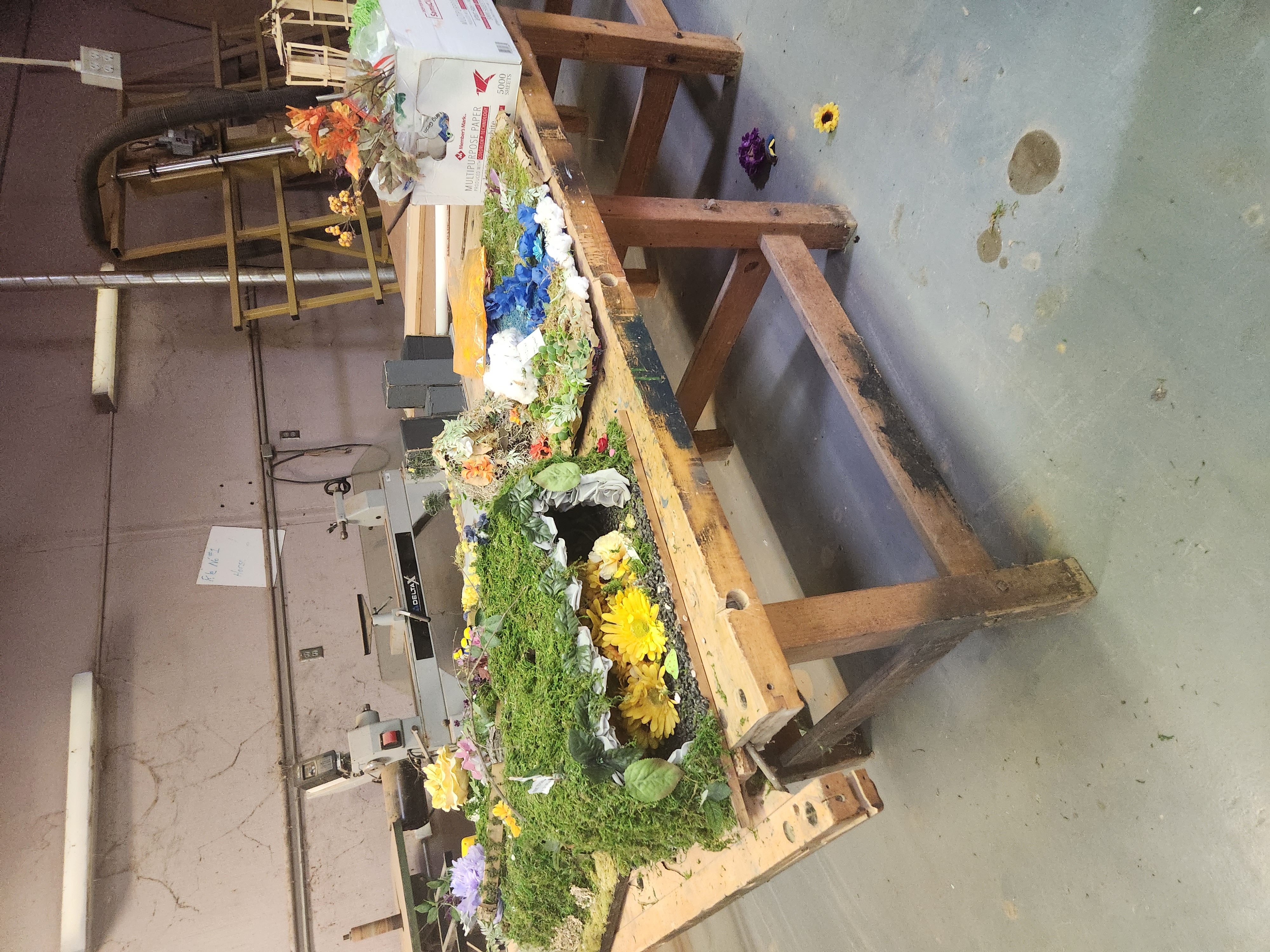 ITEM #: 52
WOODWORKING TABLE #4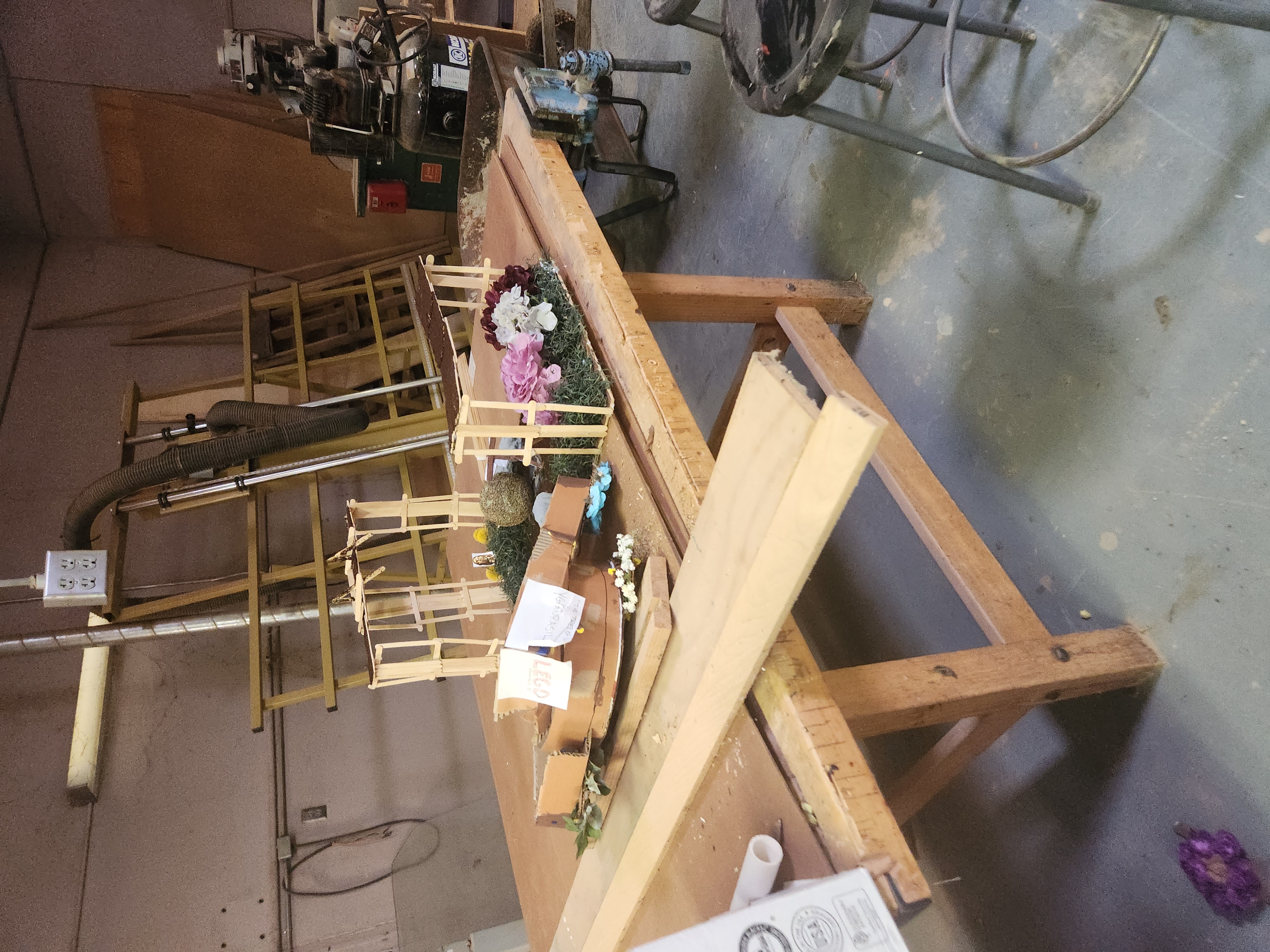 ITEM #: 53
WOODWORKING TABLE #5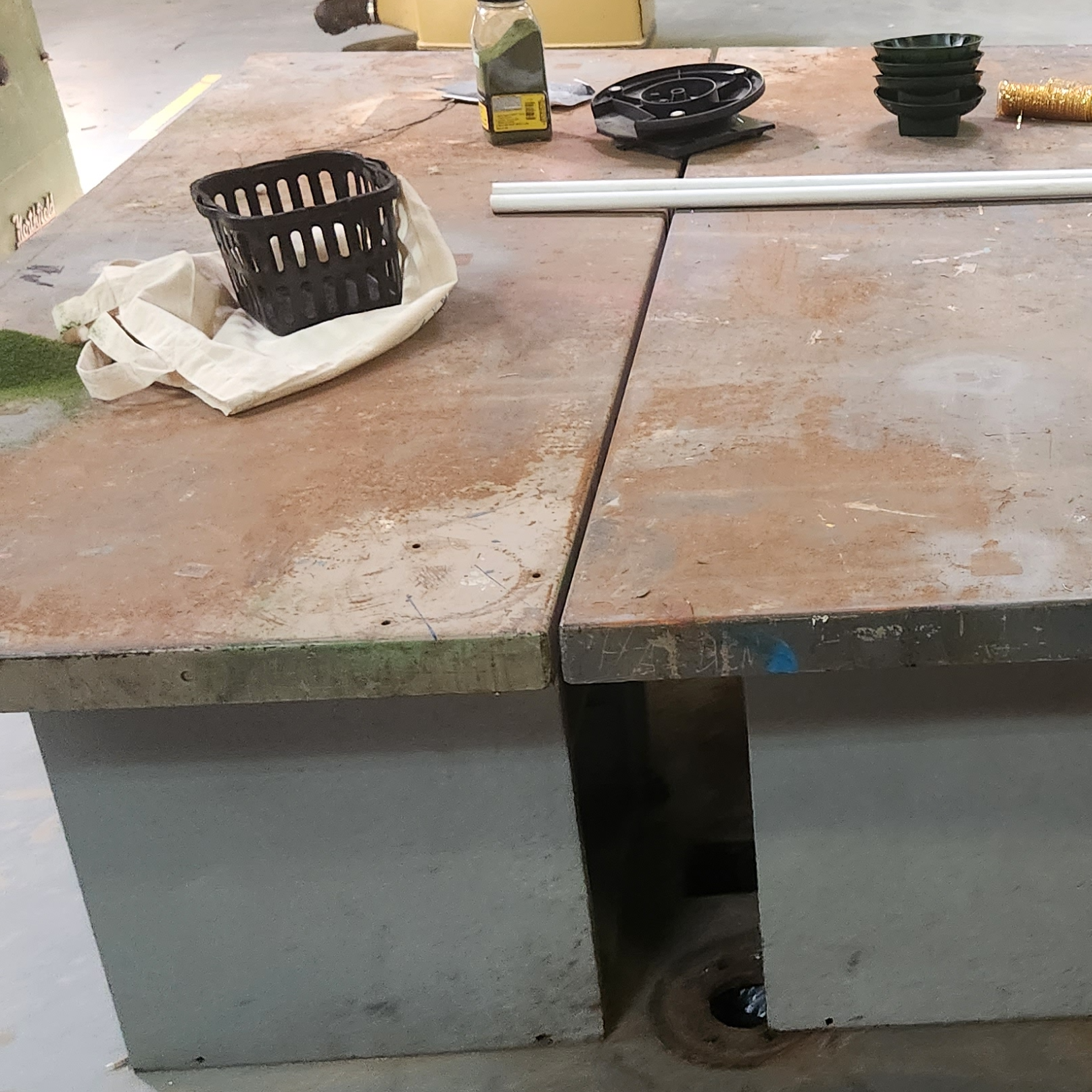 ITEM #: 54
WOODWORKING TABLE #6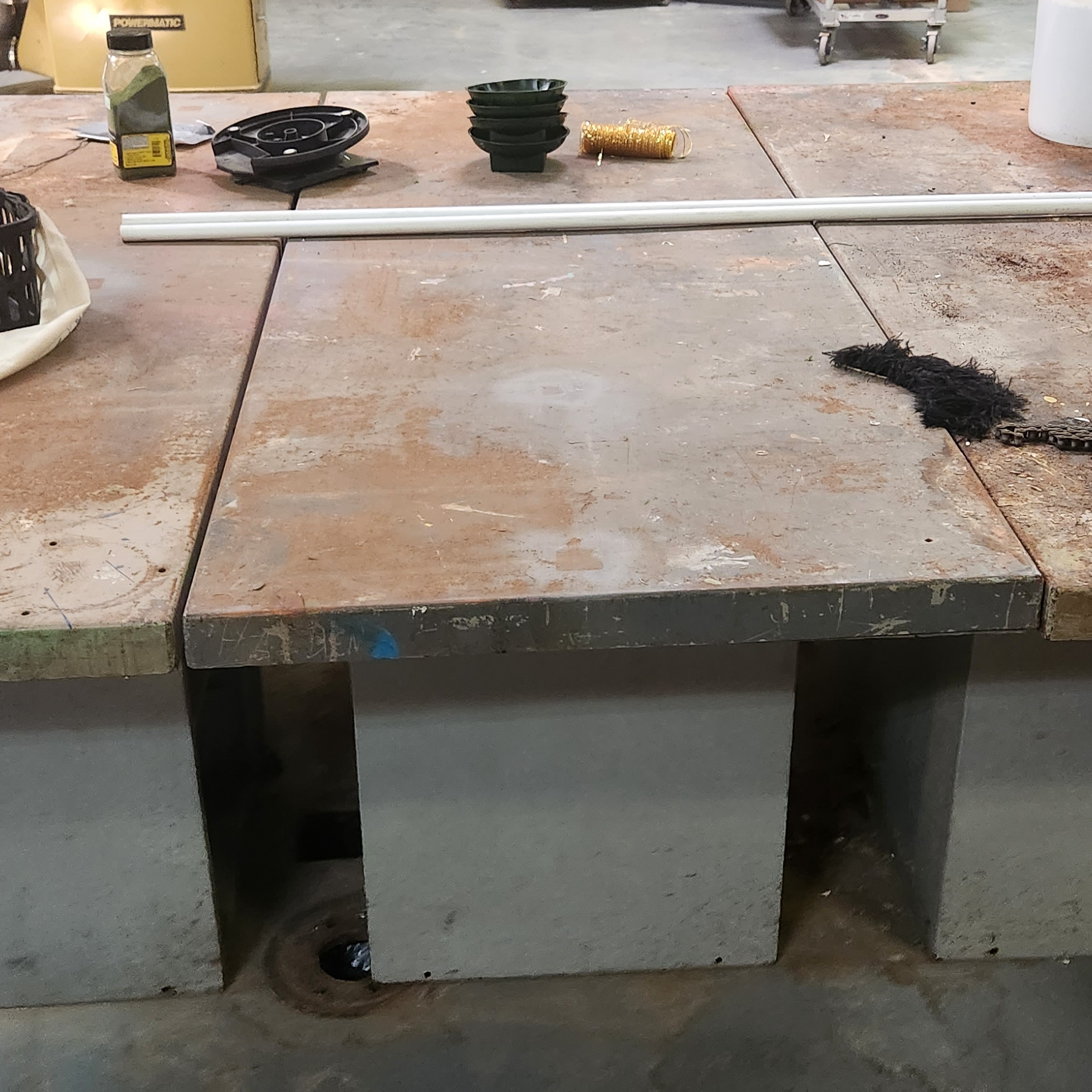 ITEM #: 55
WOODWORKING TABLE #7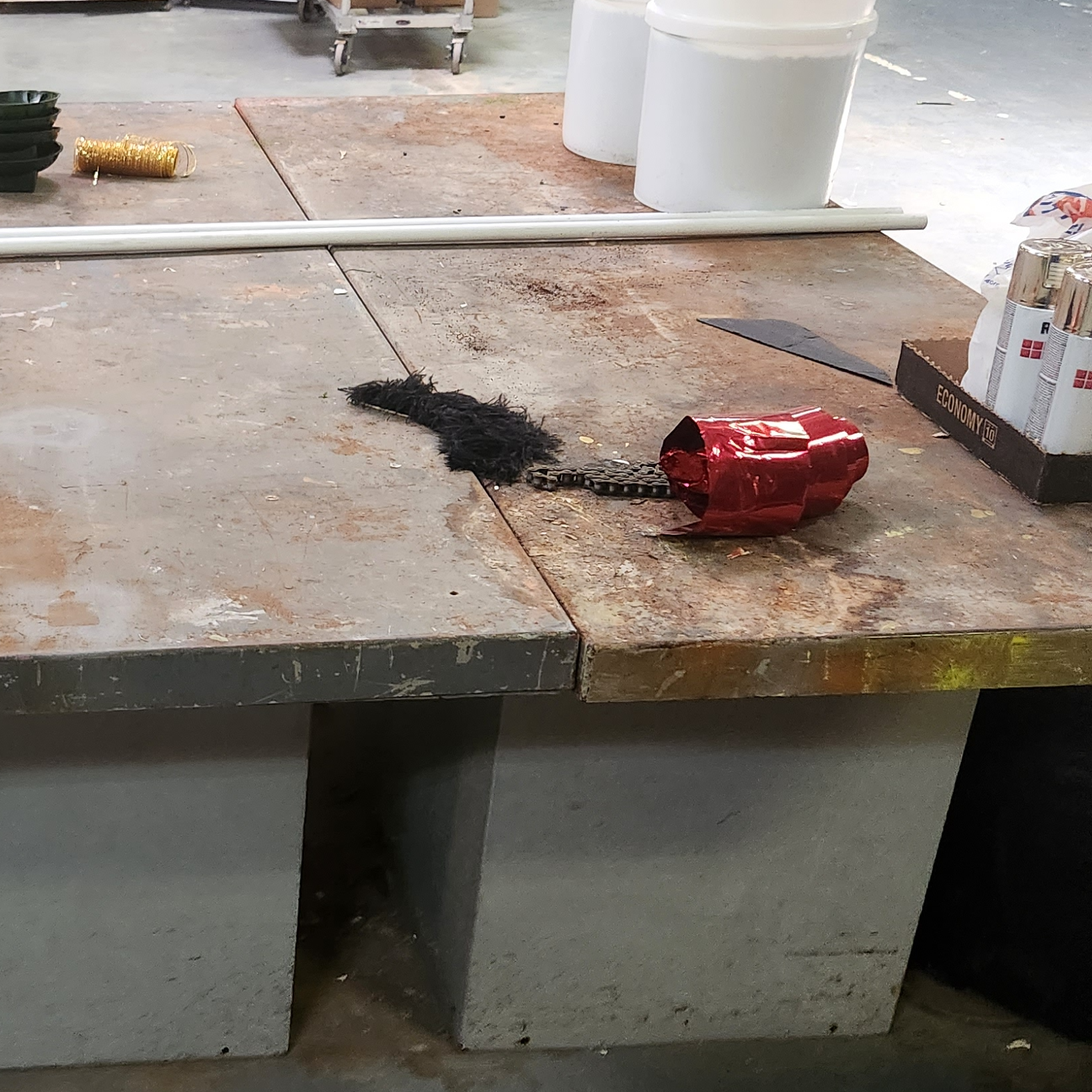 ITEM #: 56
WOODWORKING TABLE #8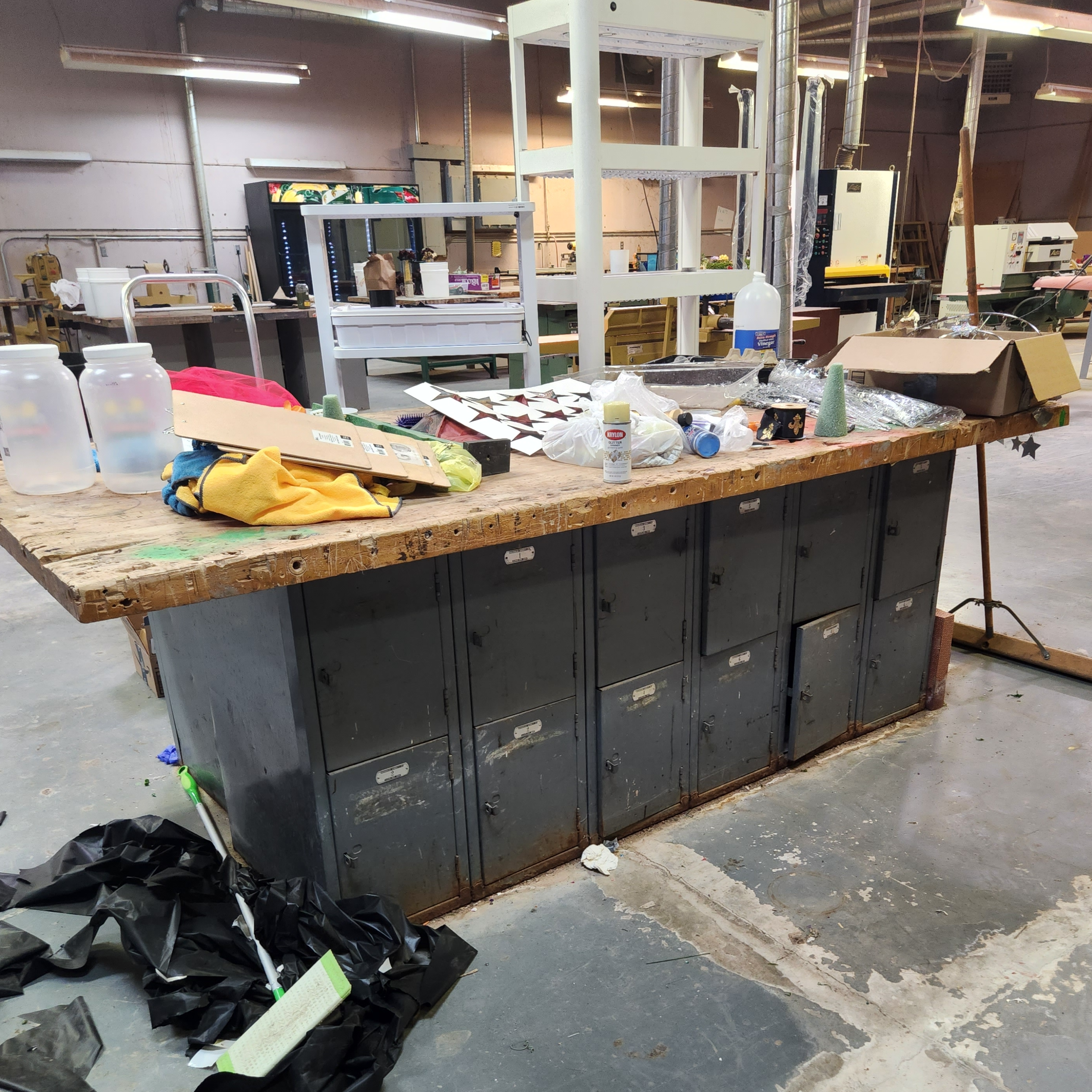 ITEM #: 57
WOODWORKING TABLE #9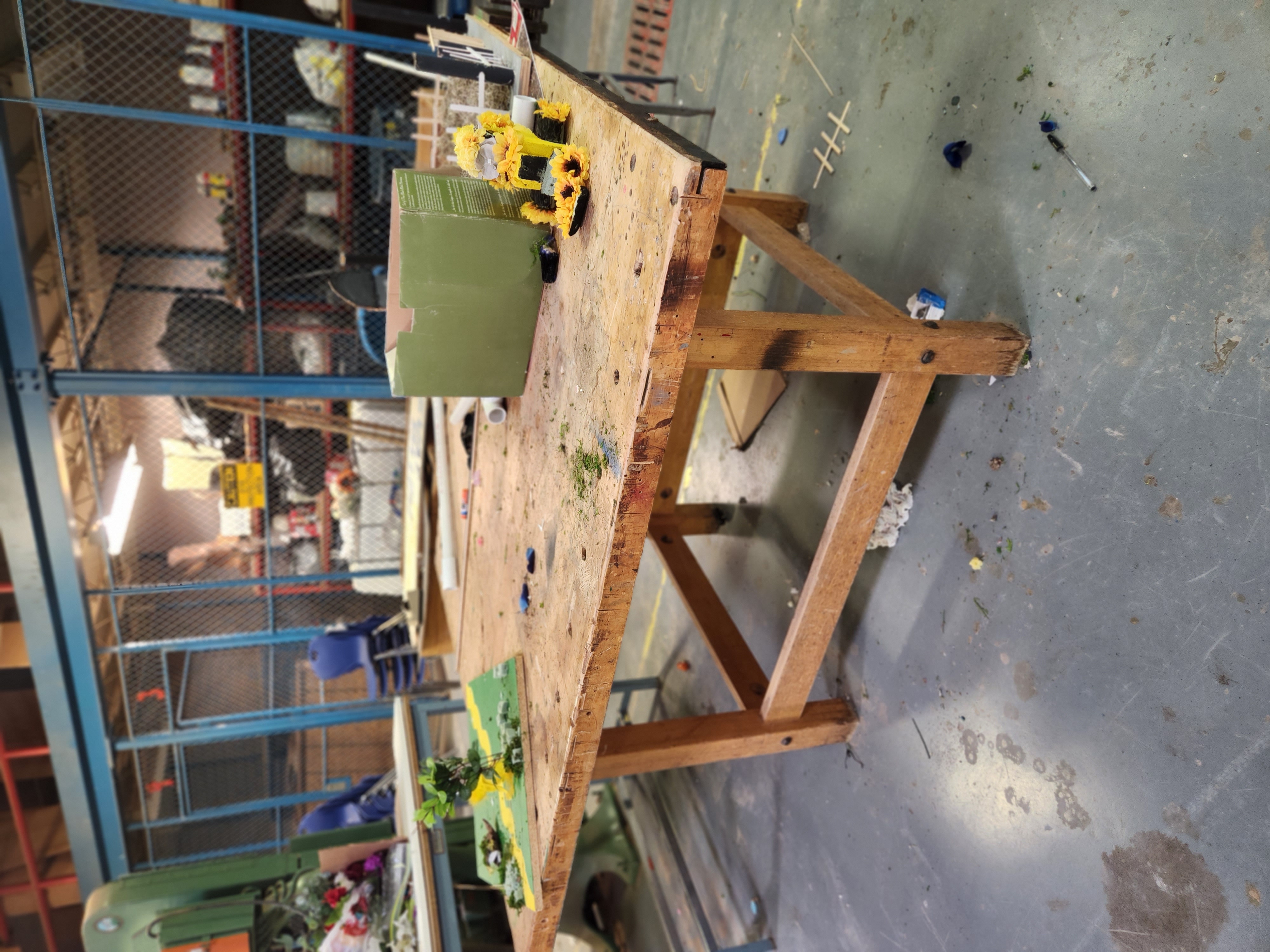 ITEM #: 58
WOODWORKING TABLE #10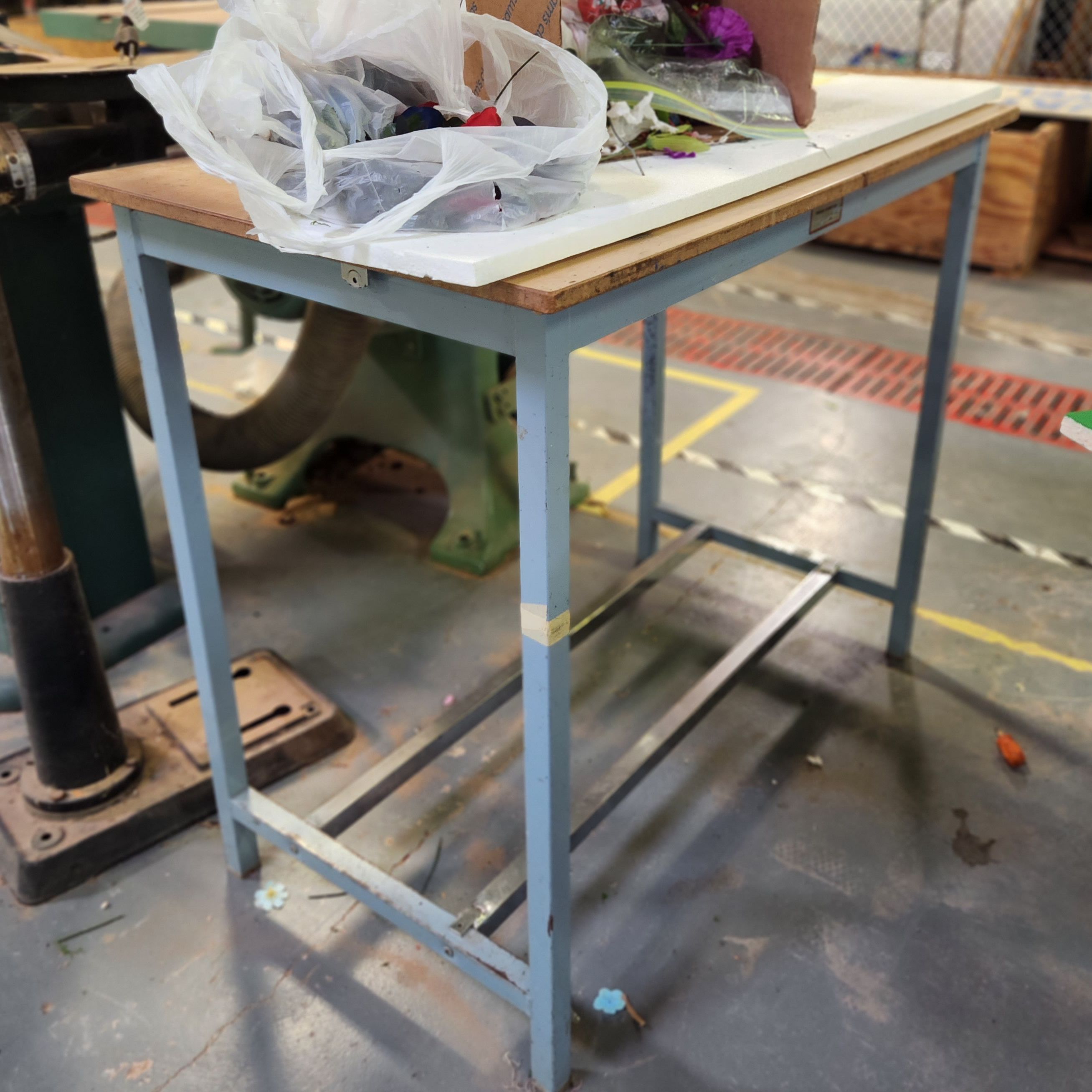 ITEM #: 59
WOODWORKING TABLE #11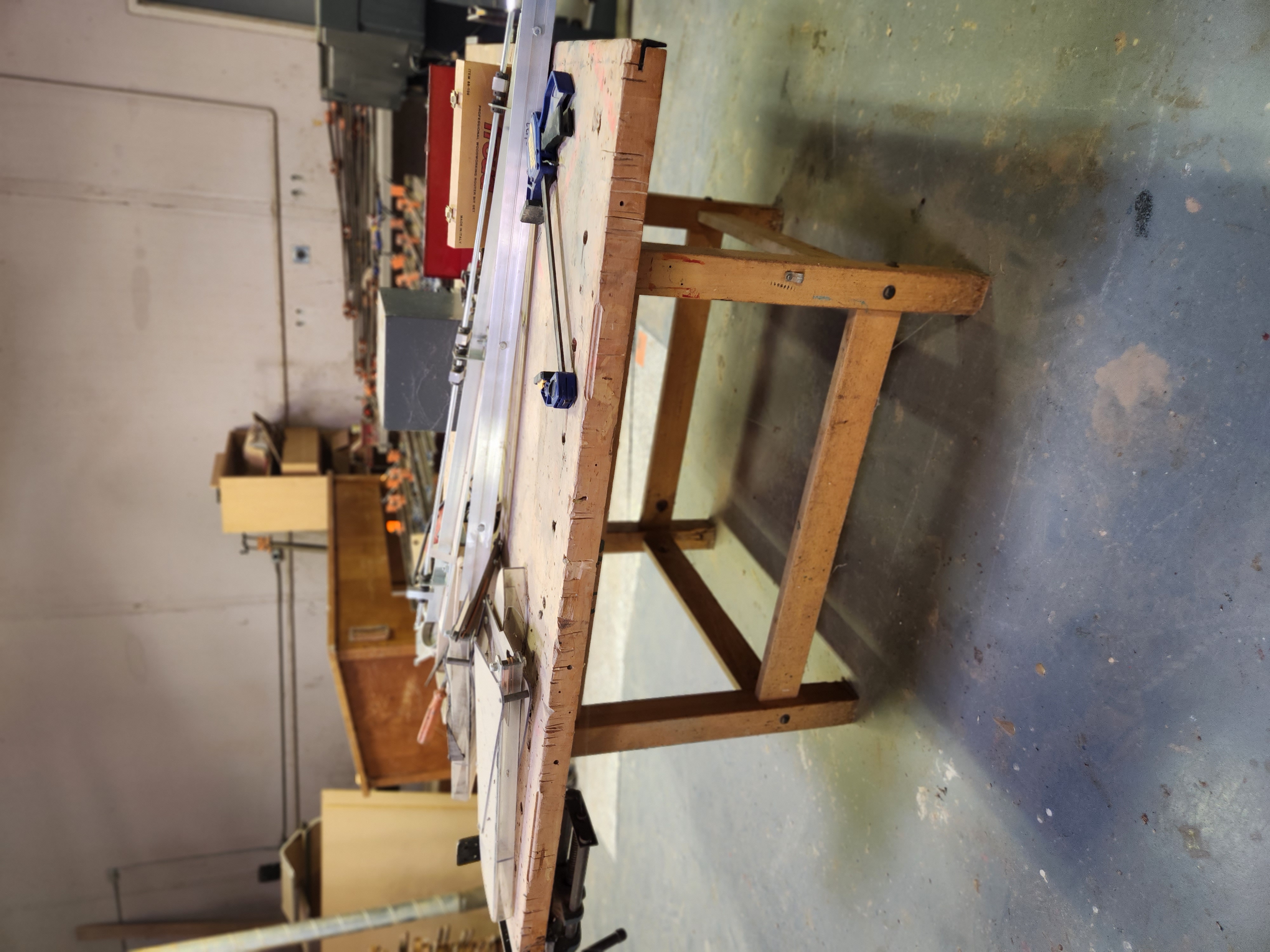 ITEM #: 60
WOODWORKING TABLE #12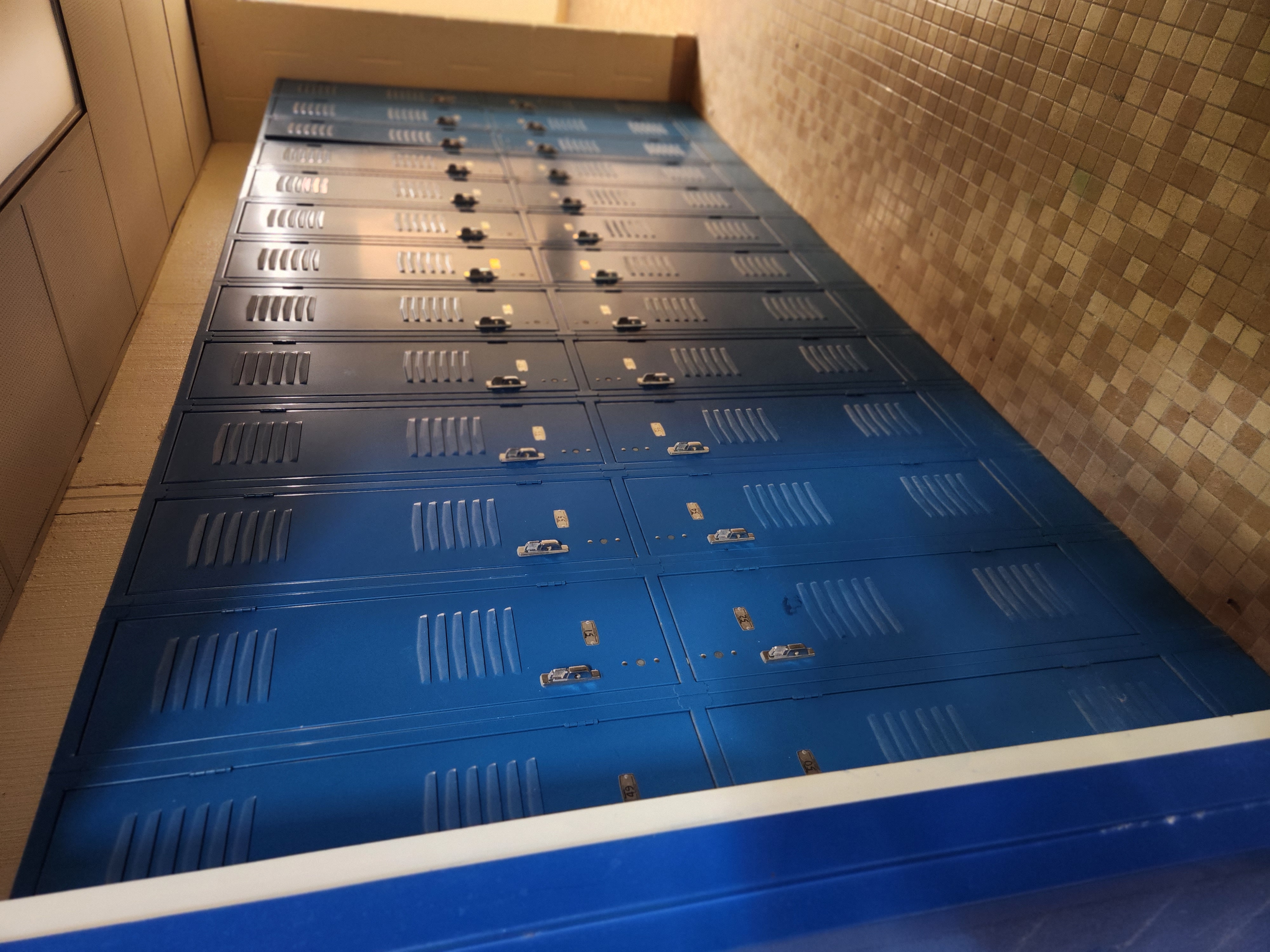 ITEM #: 62
SET OF LOCKERS #2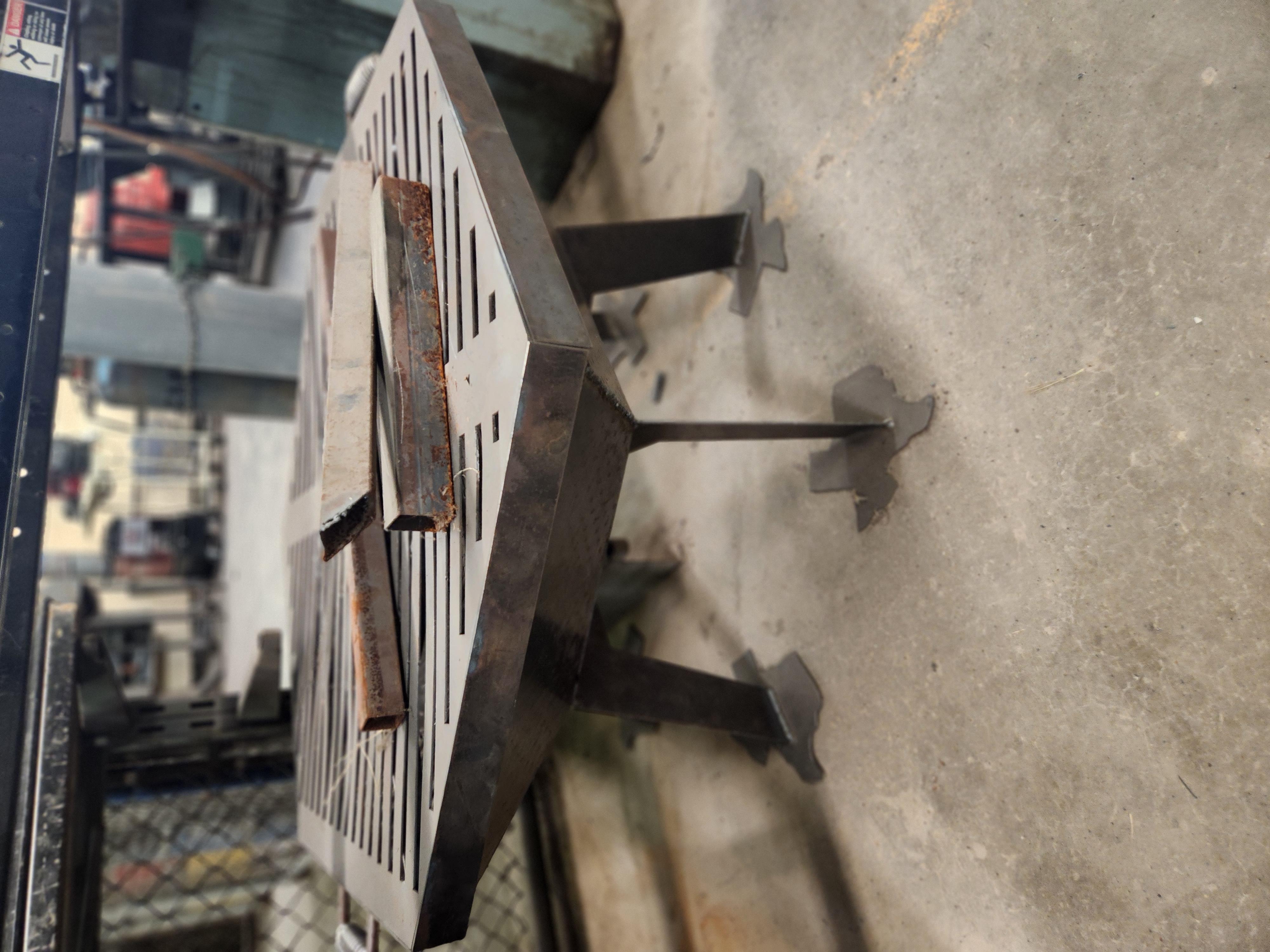 ITEM #: 63
GRILL/FIREPIT #2
Condition: Operational
STARTING BID: $100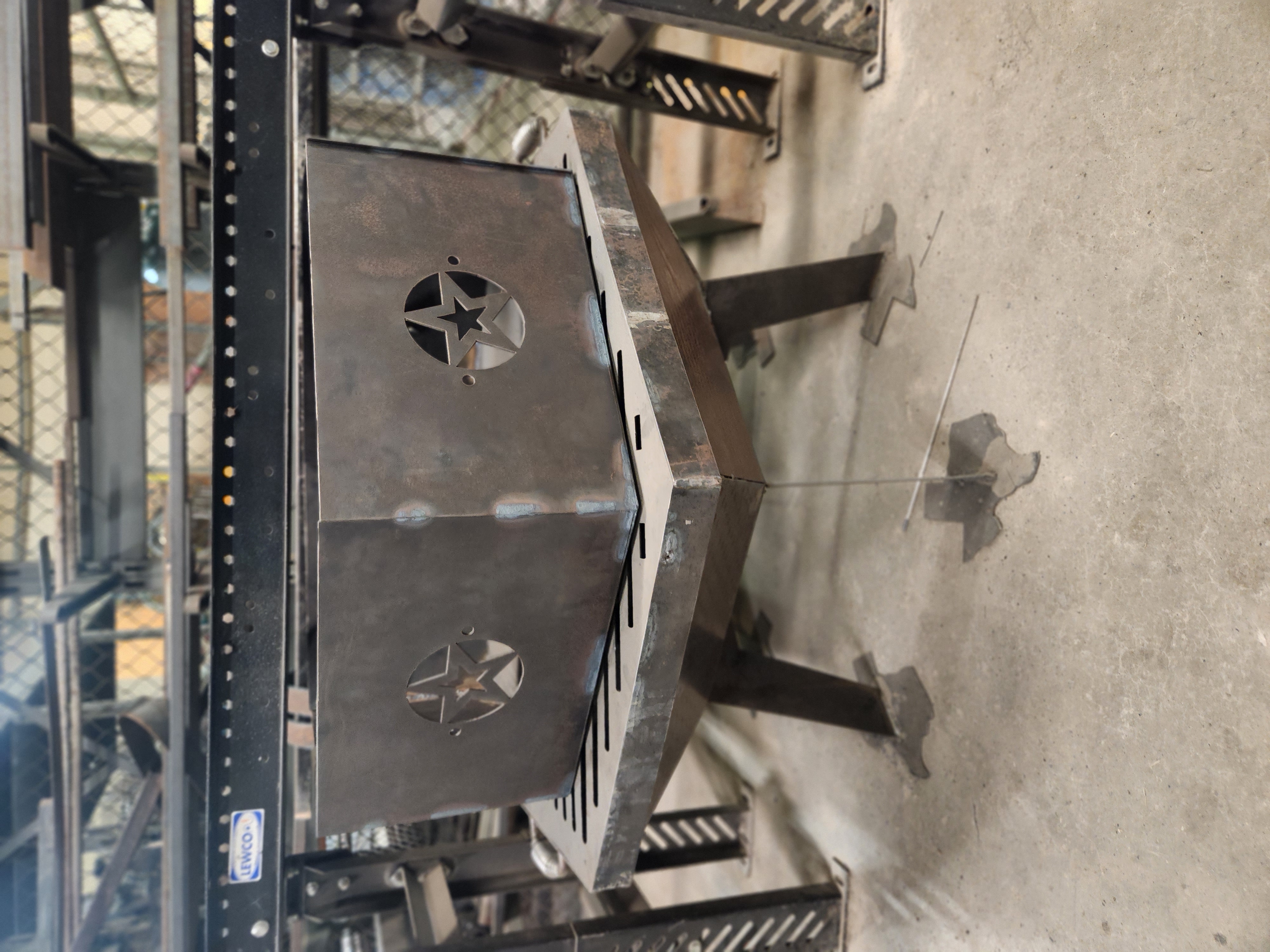 ITEM #: 64
GRILL/FIREPIT #3
Condition: Operational
STARTING BID: $100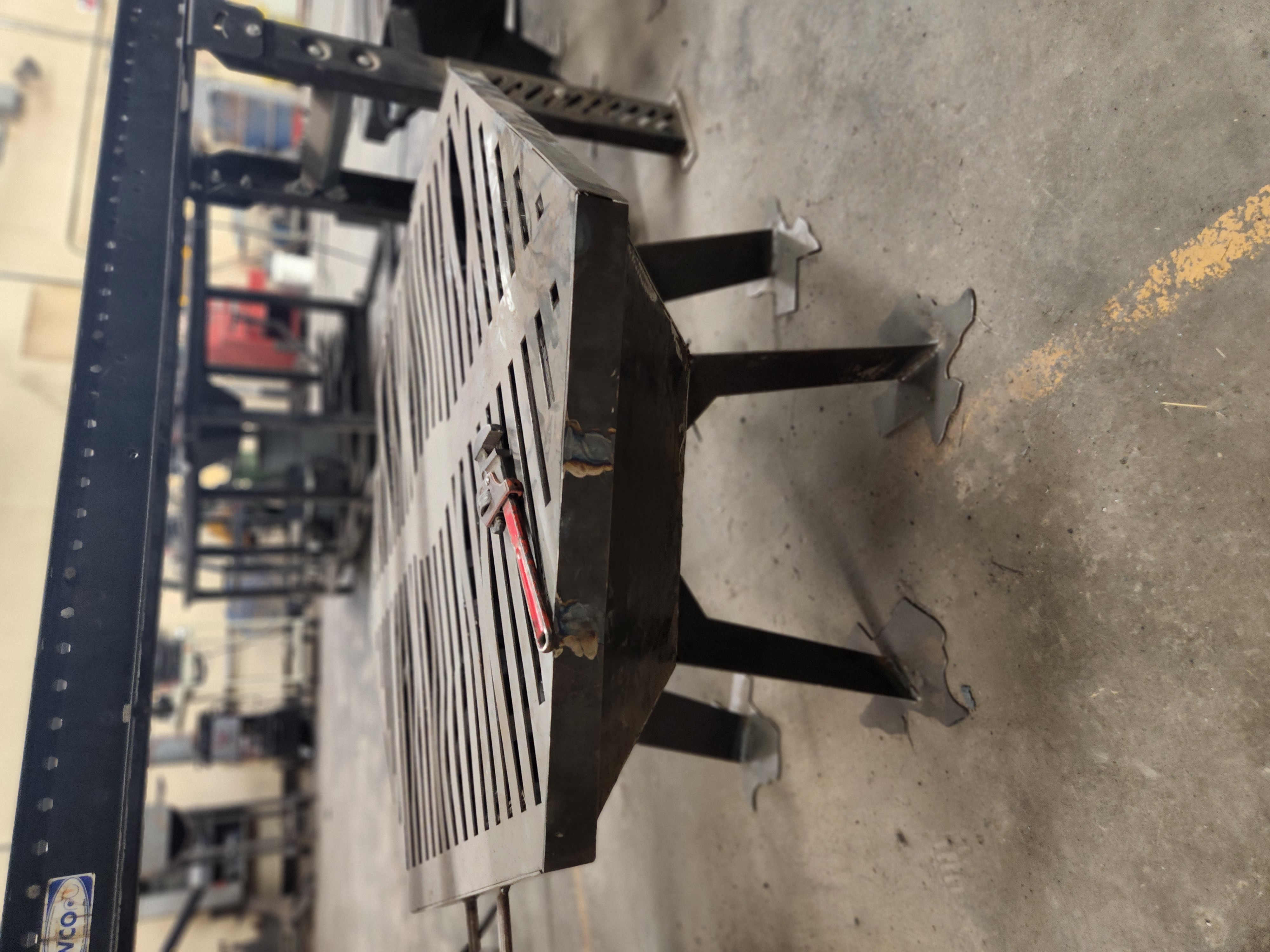 ITEM #: 65
GRILL/FIREPIT #4
Condition: Operational
STARTING BID: $100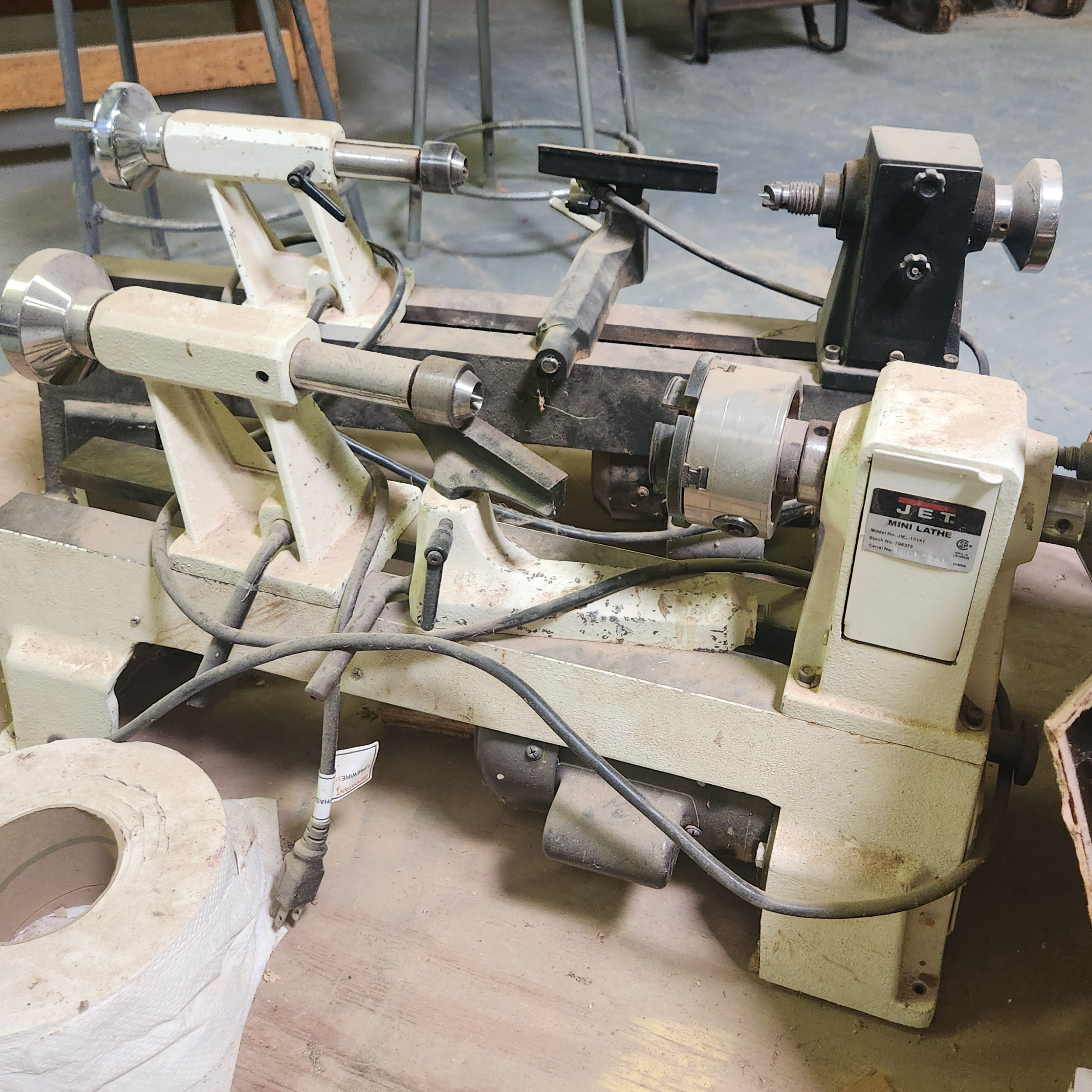 ITEM #: 66
JET MINI LATHE #2
Model #: JML-1015
Condition: Unknown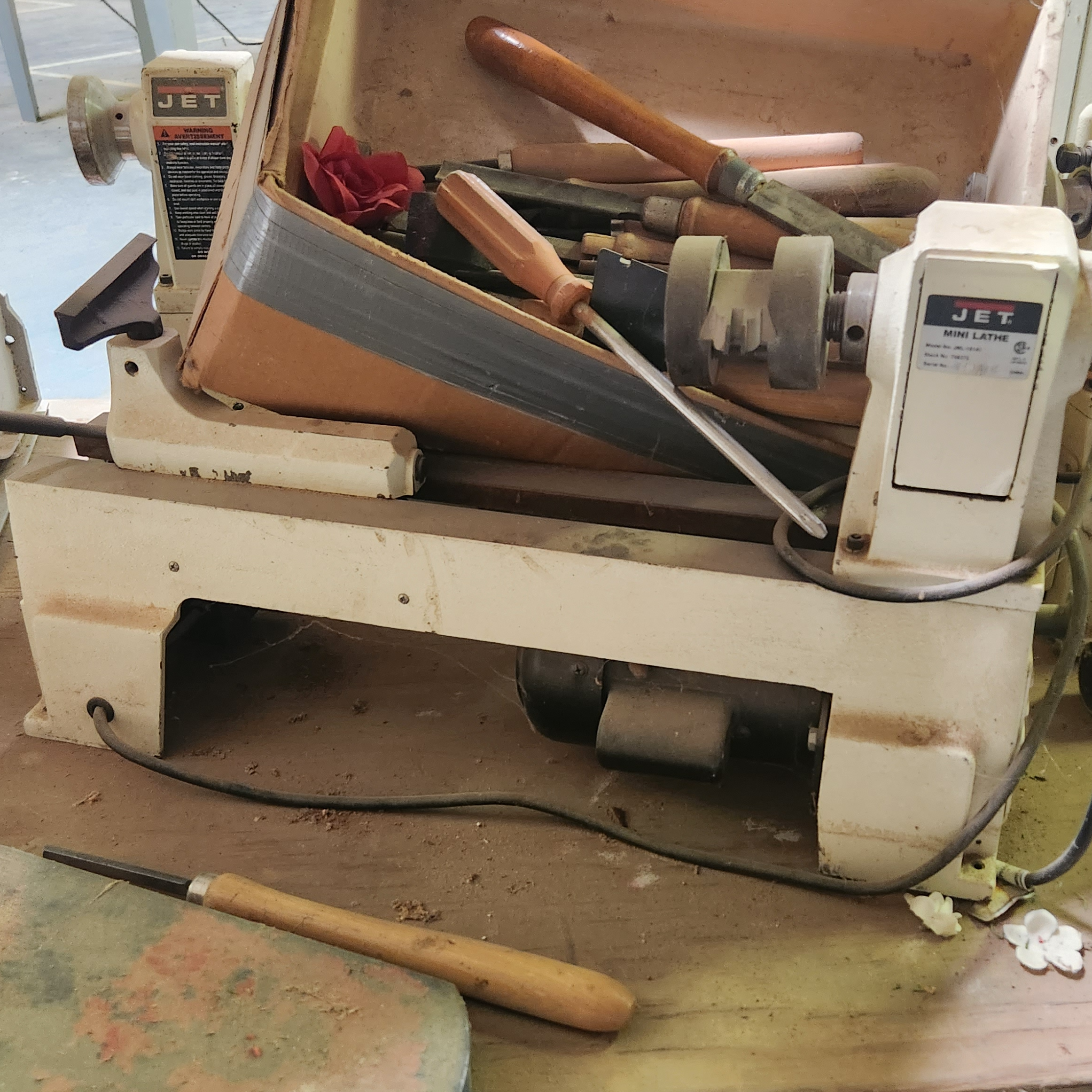 ITEM #: 67
JET MINI LATHE #3
Model #: JML-1015
Condition: Unknown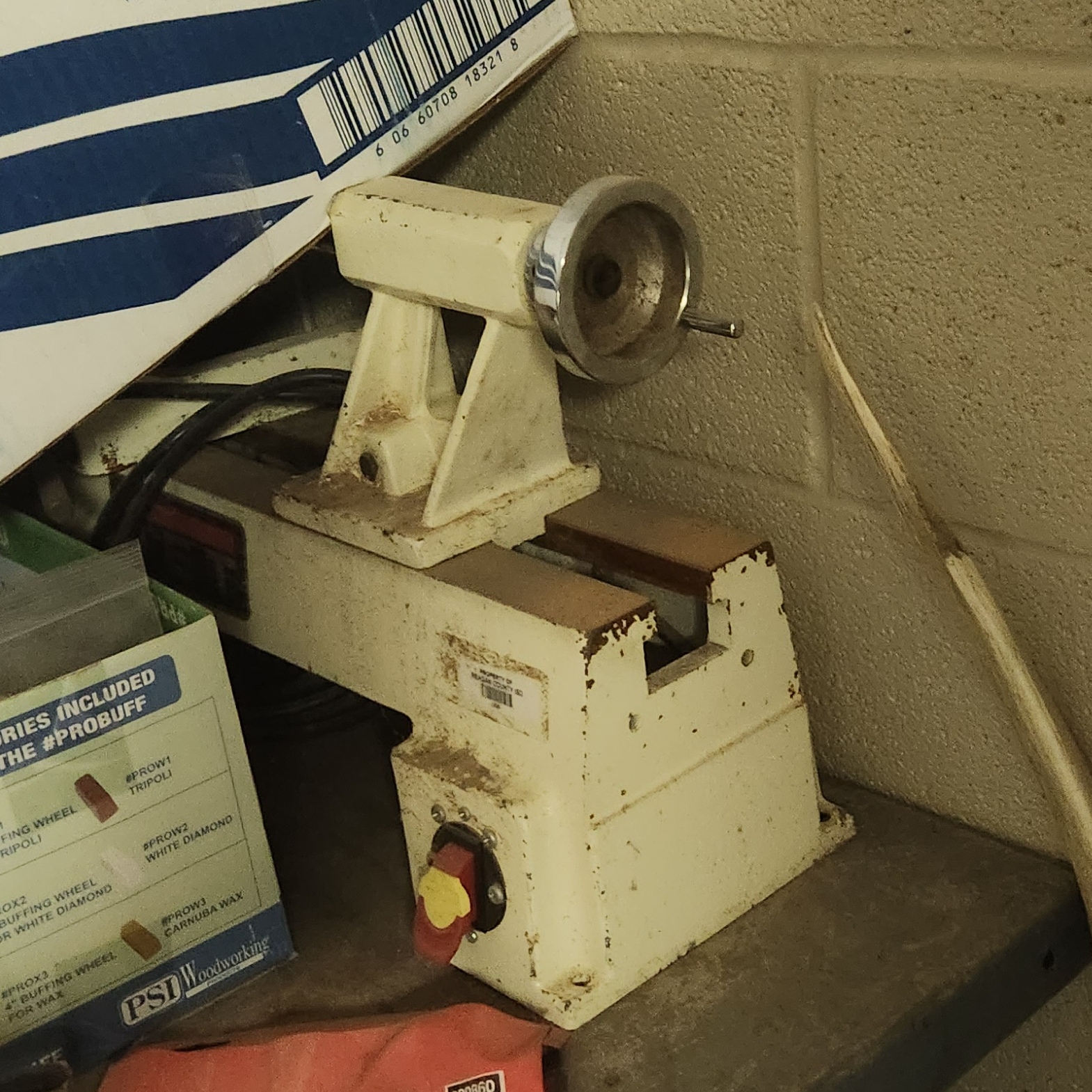 ITEM #: 68
JET MINI LATHE #4
Model #: JML-1015
Condition: Unknown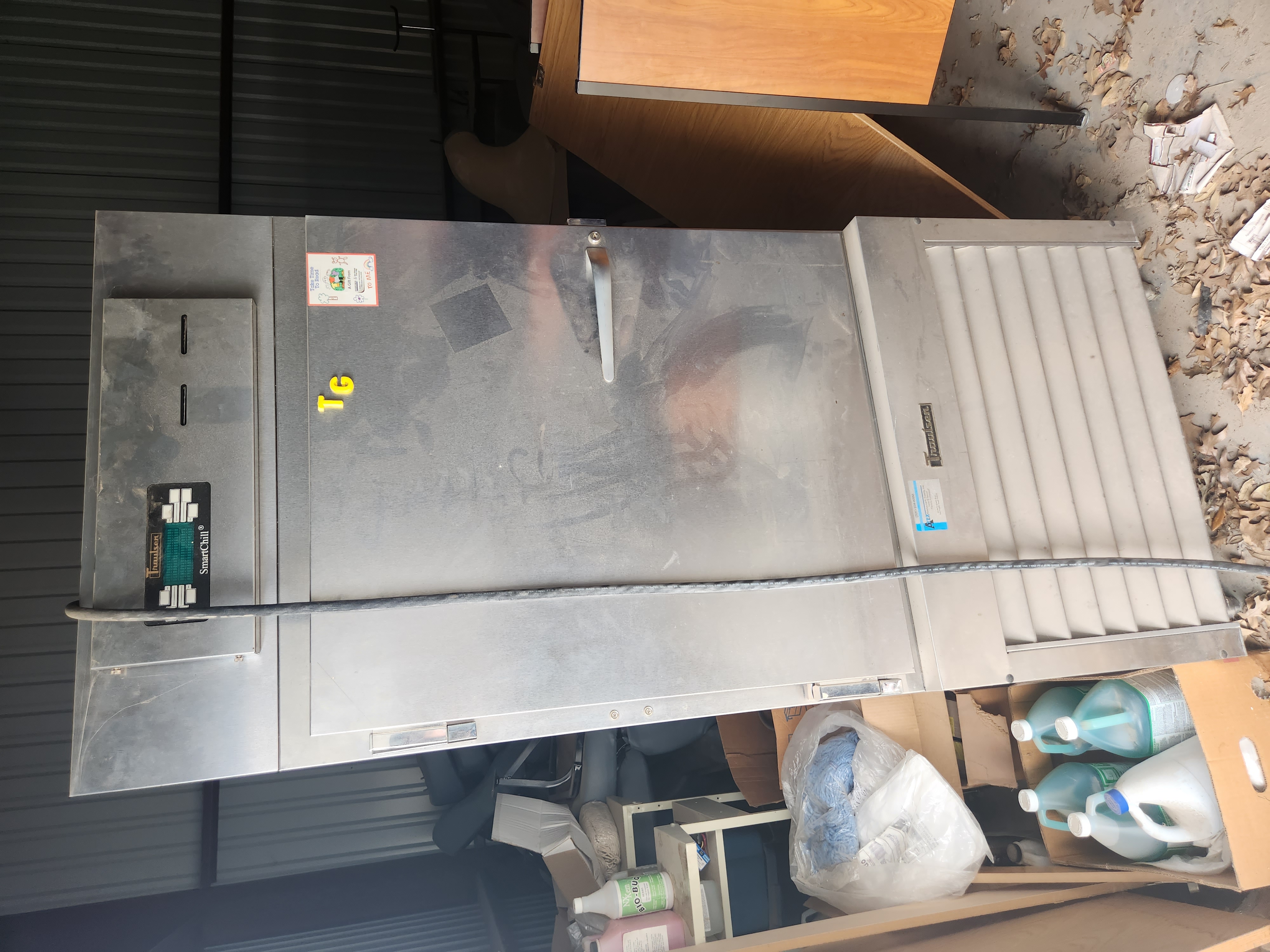 ITEM #: 69
COMMERCIAL BLAST CHILLER
Model #: RBC100
Condition: Uknown
STARTING BID: $4,000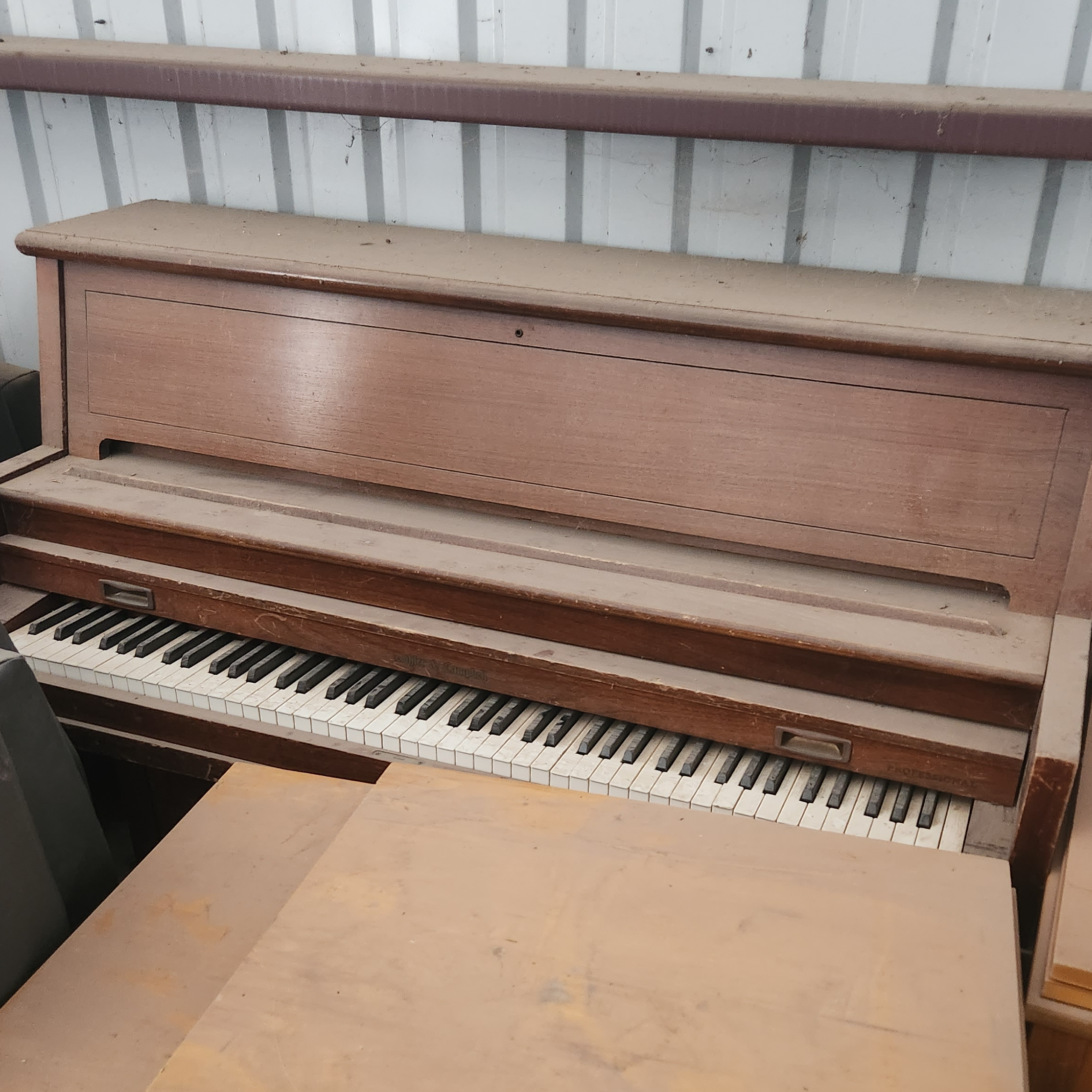 ITEM #: 70
ROBLER & CAMPBELL PIANO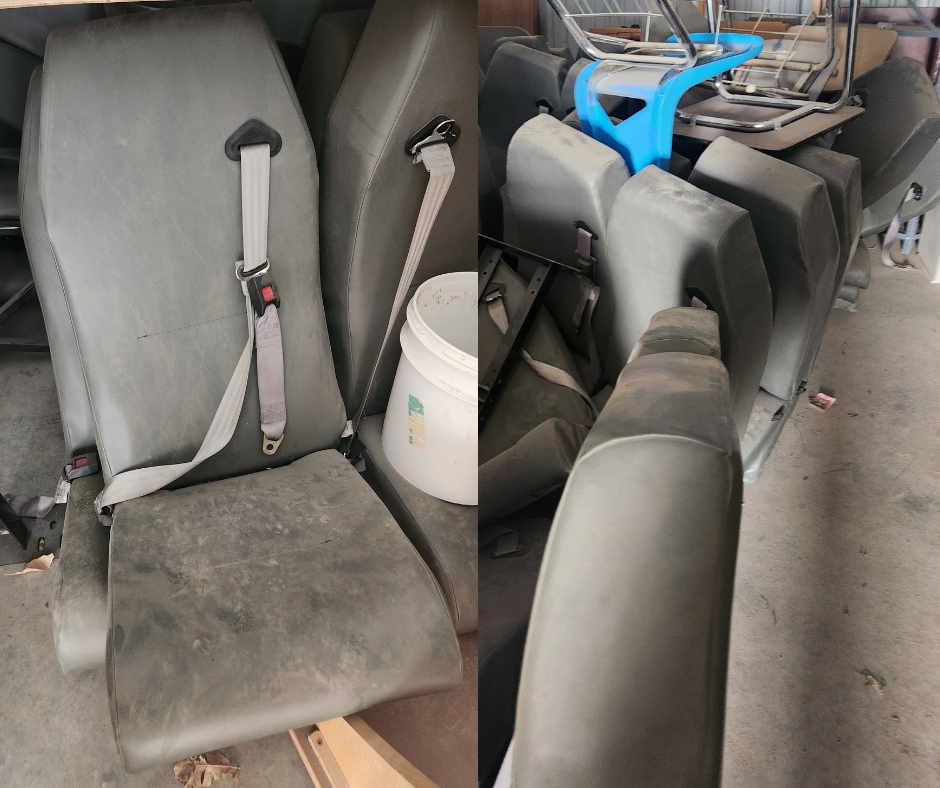 ITEM #: 71
SET OF GRAY BUS SEATS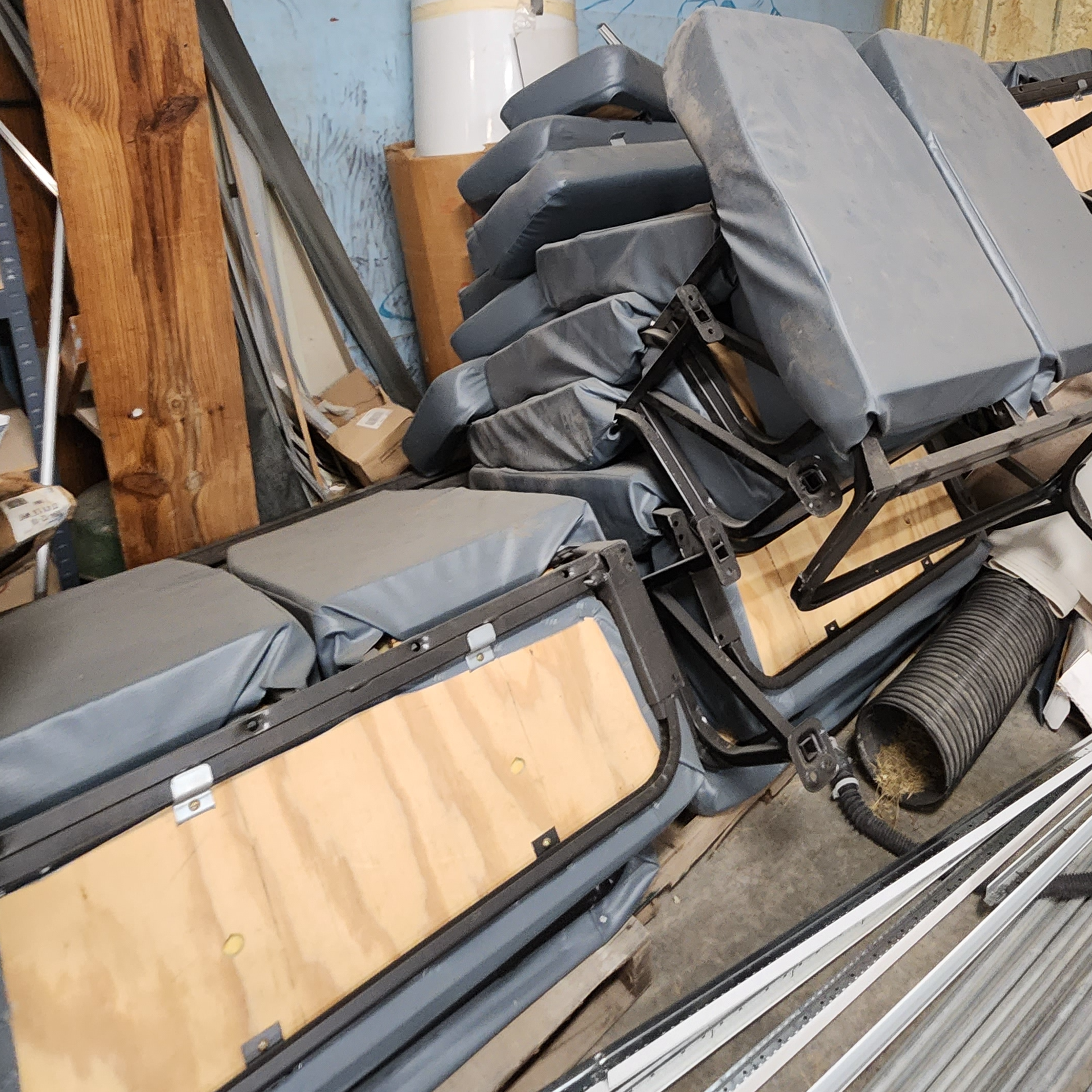 ITEM #: 72
SET OF BLUE BUS SEATS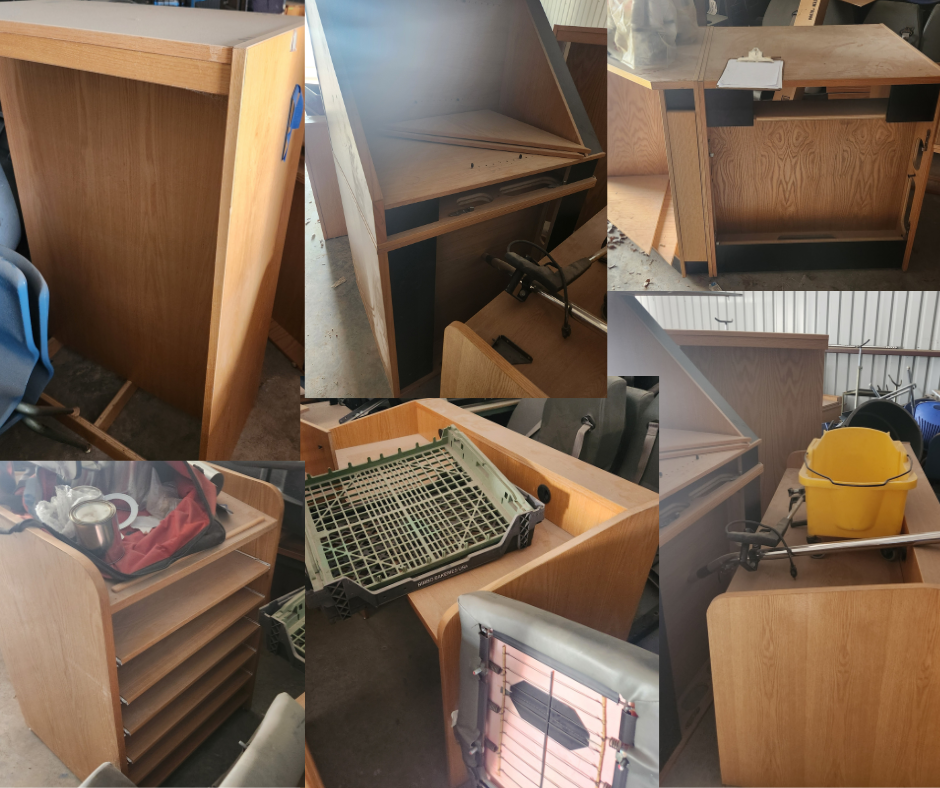 ITEM #: 73
RECEPTION DESK SET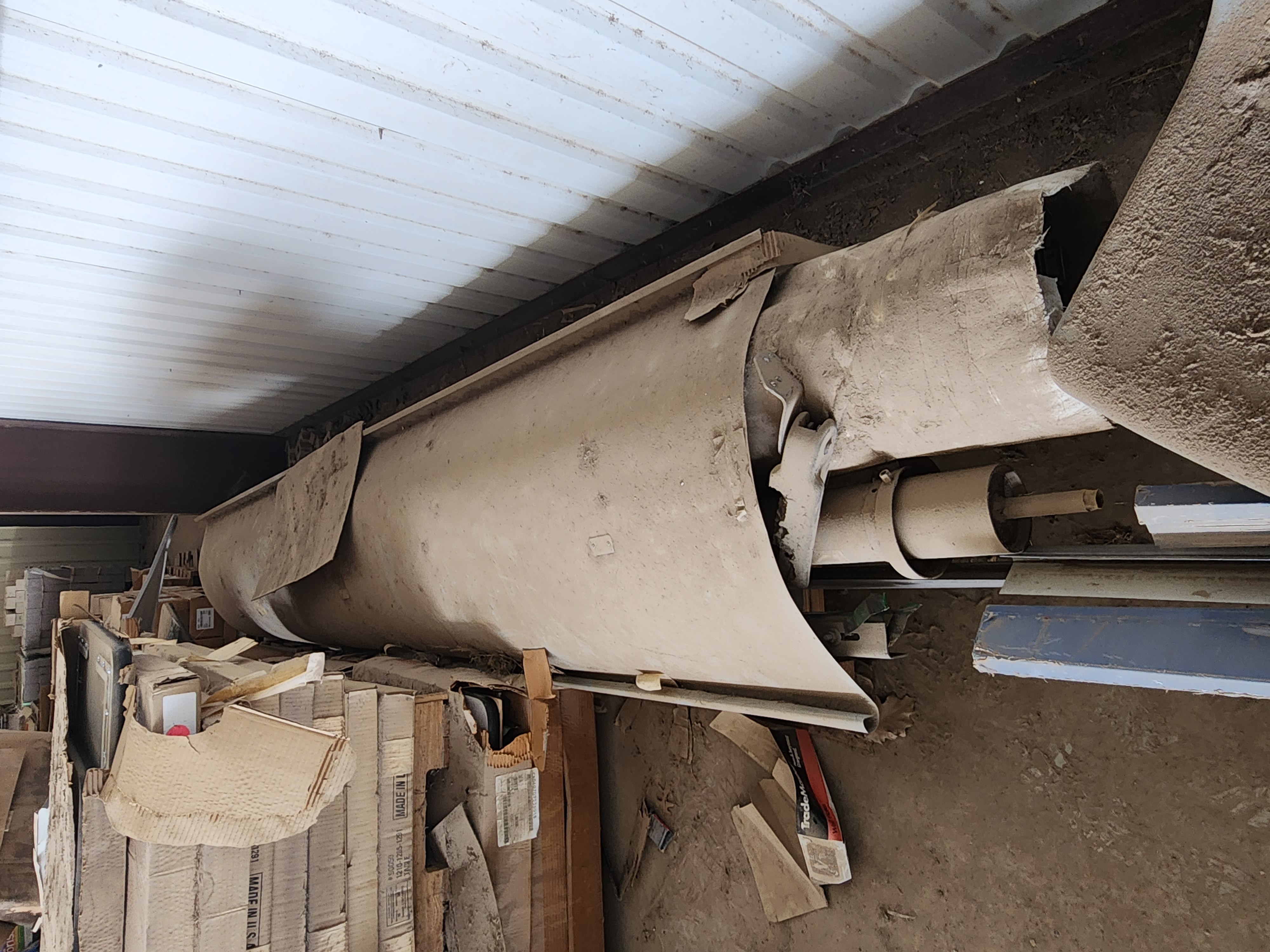 ITEM #: 74
12' Garage Door
ITEM #: 75
LIFT MASTER GARAGE DOOR MOTOR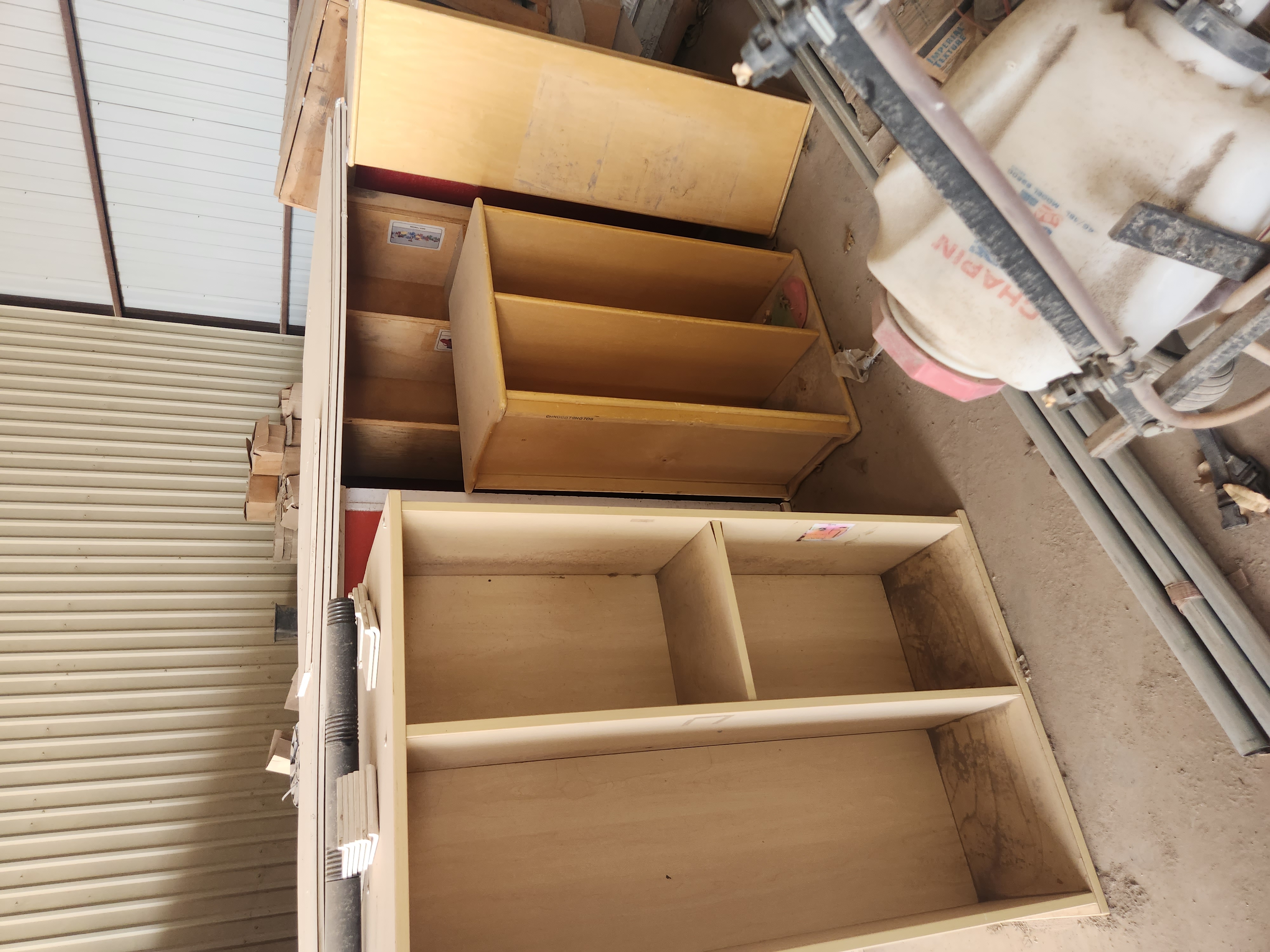 ITEM #: 76
VARIOUS SHELVING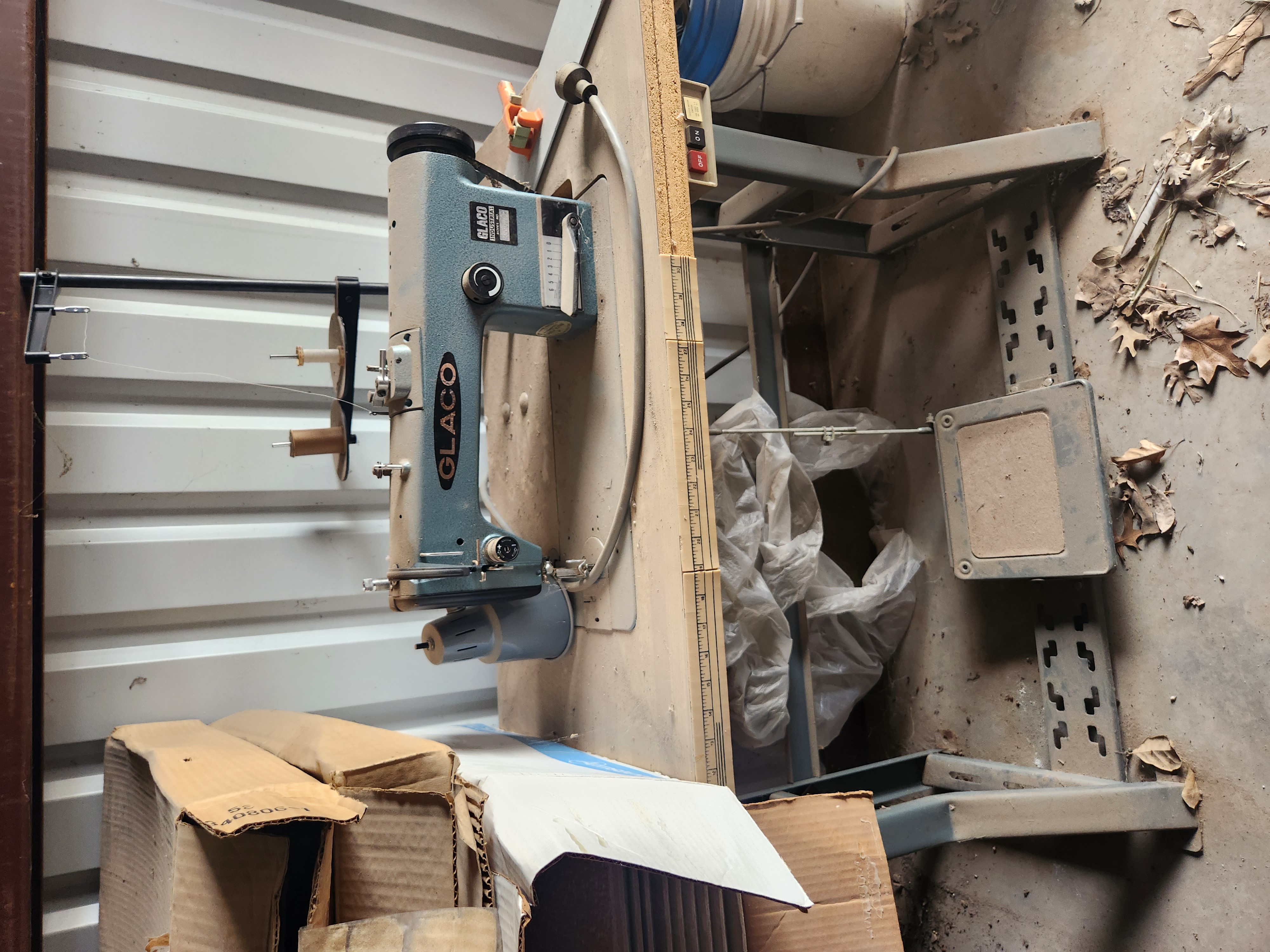 ITEM #: 77
GLACO SEWING MACHINE AND TABLE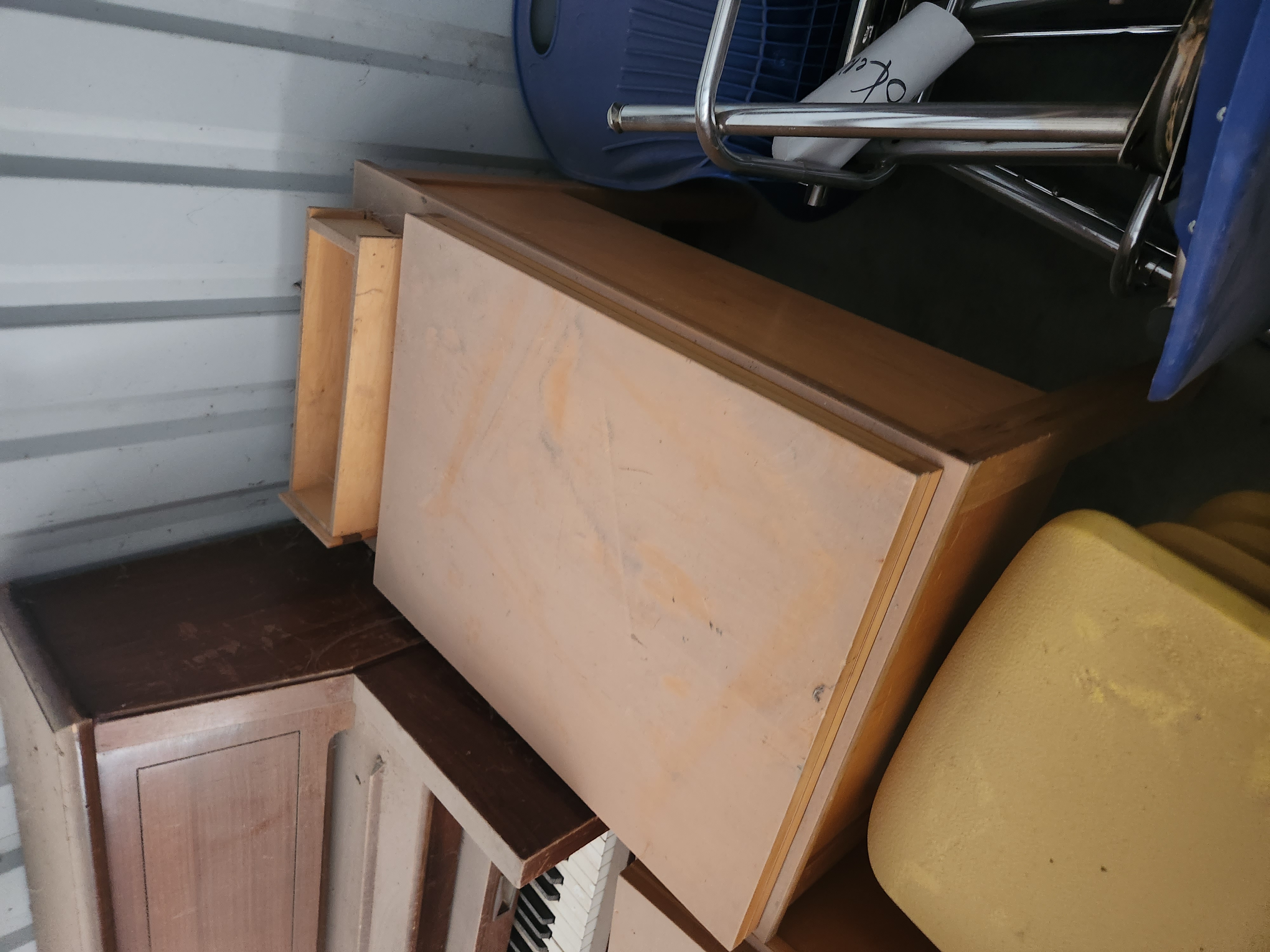 ITEM #: 78
SEWING TABLE #2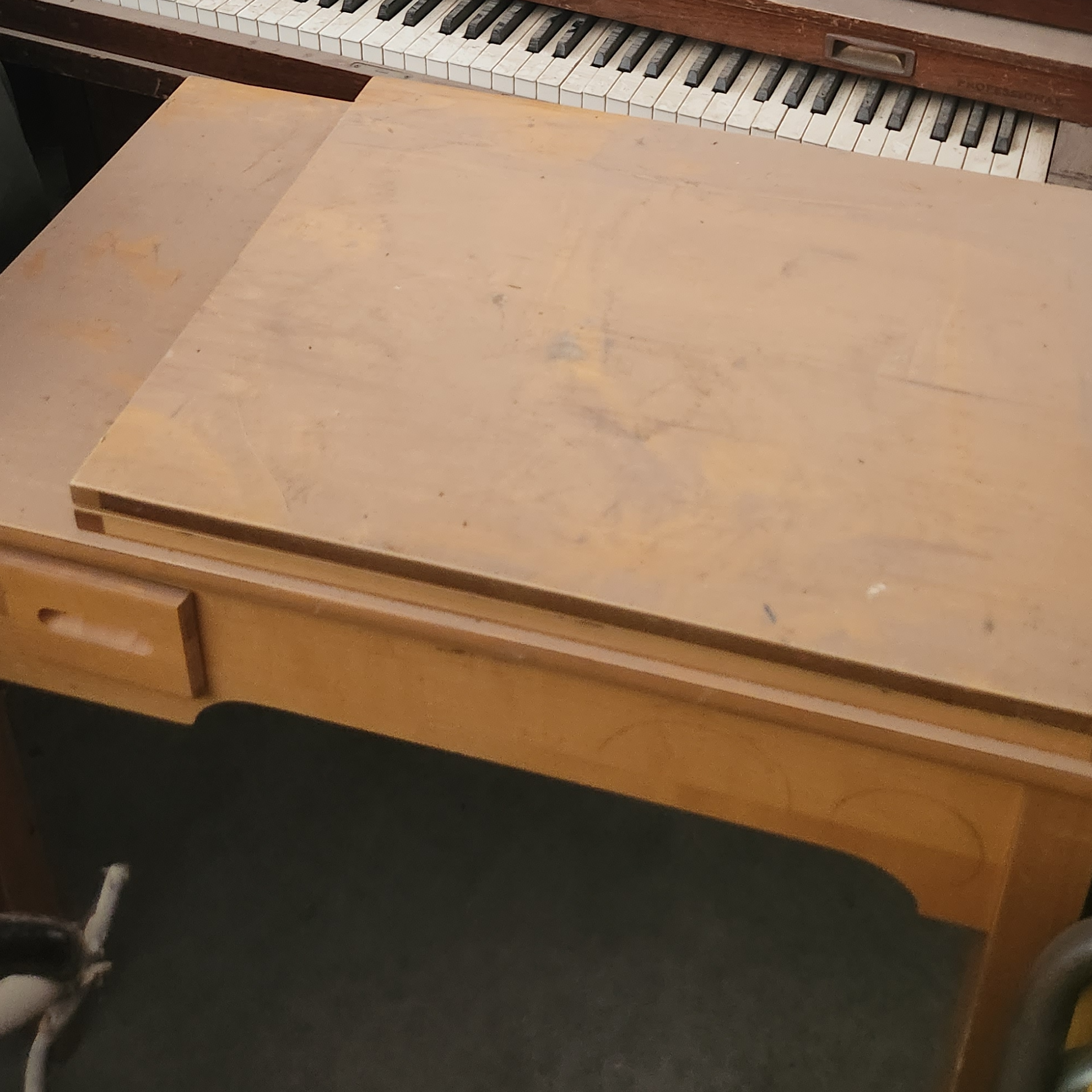 ITEM #: 79
SEWING TABLE #3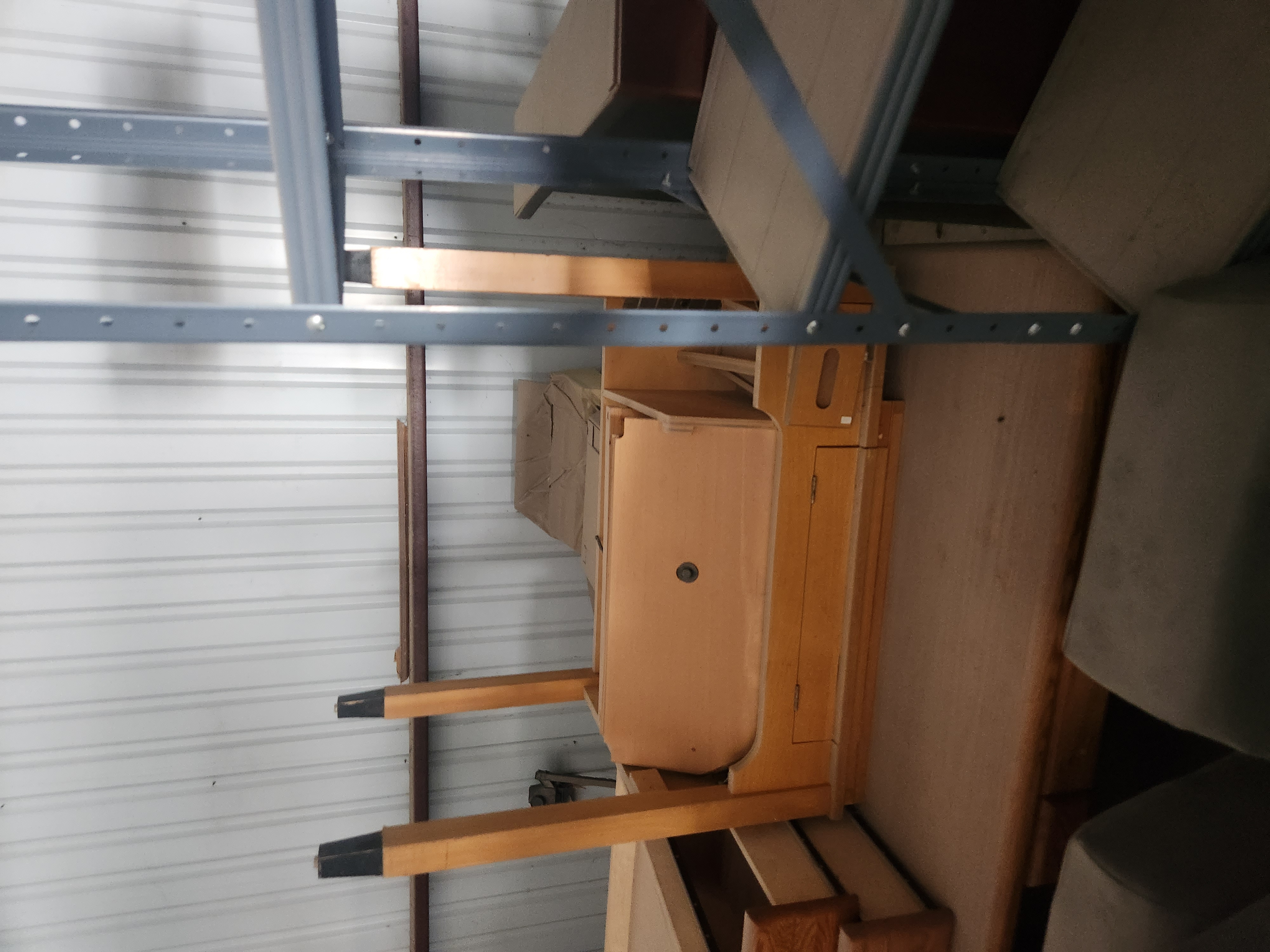 ITEM #: 80
SEWING TABLE #4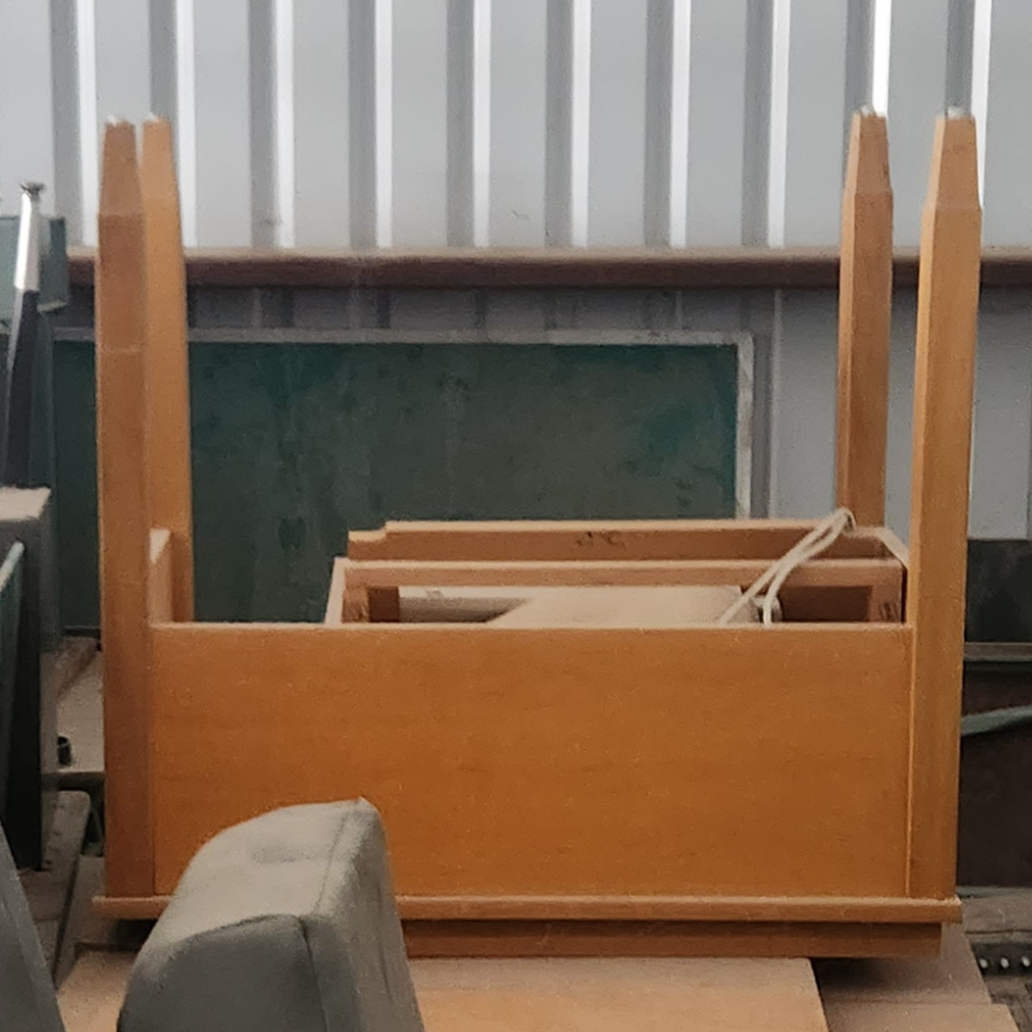 ITEM #: 81
SEWING TABLE #5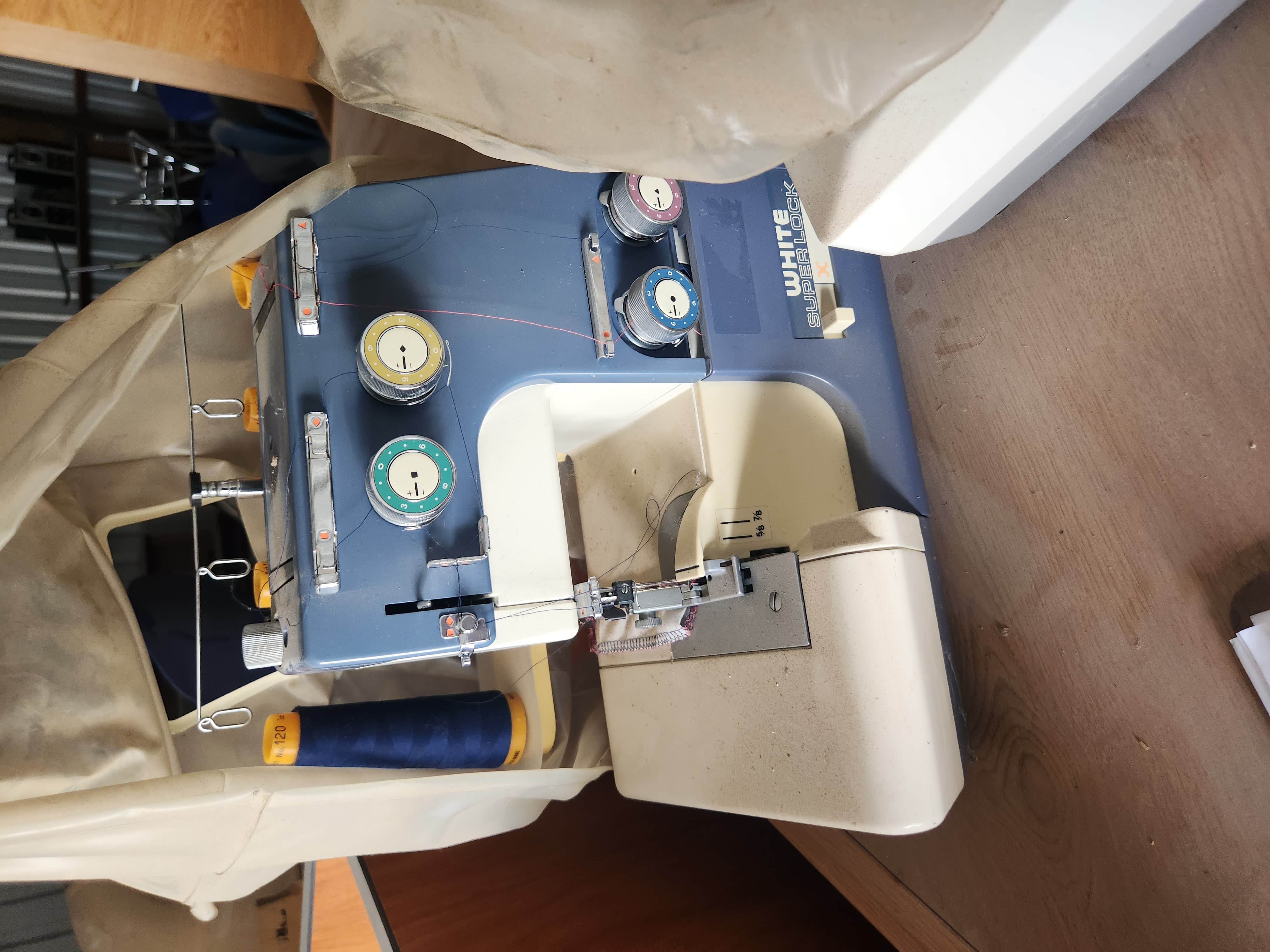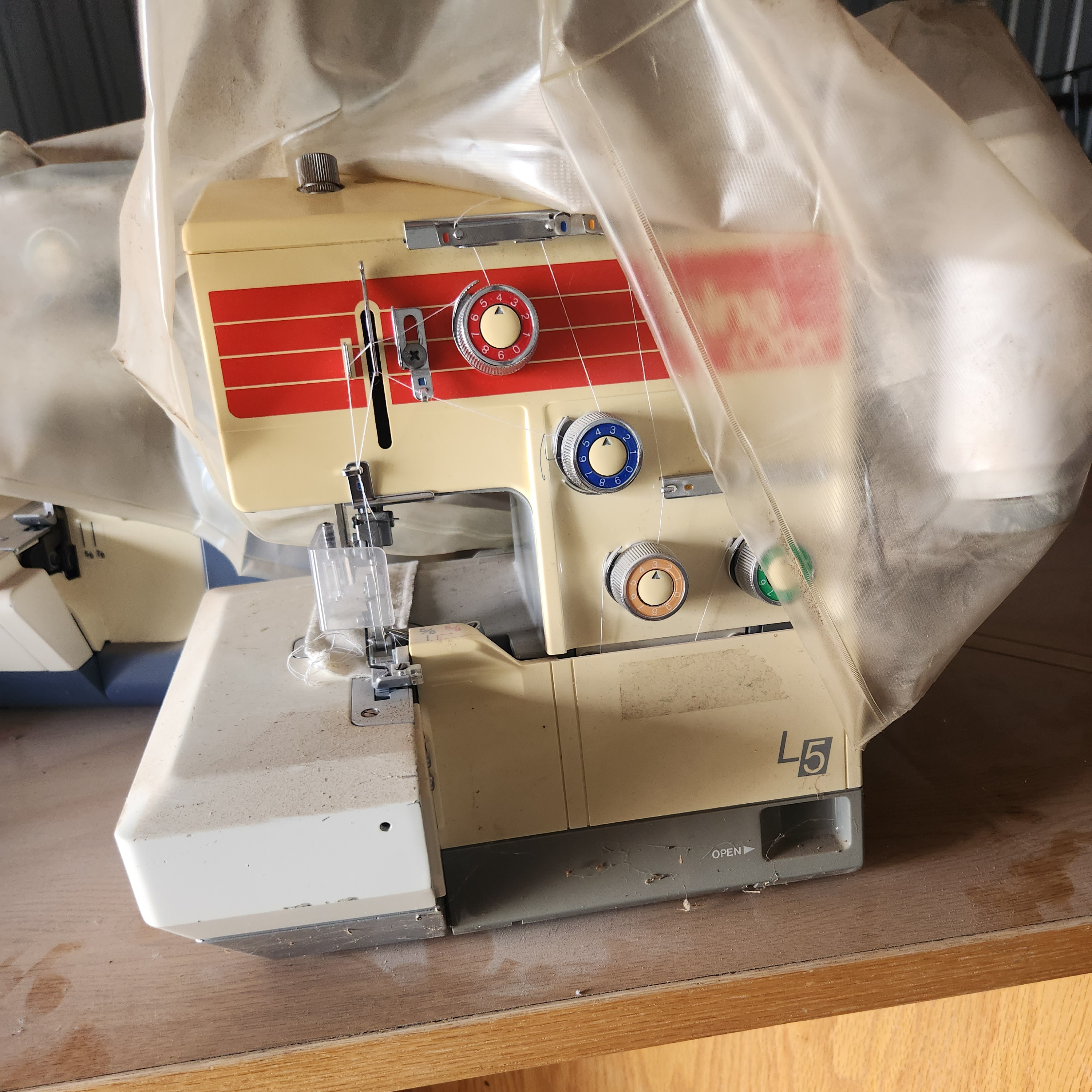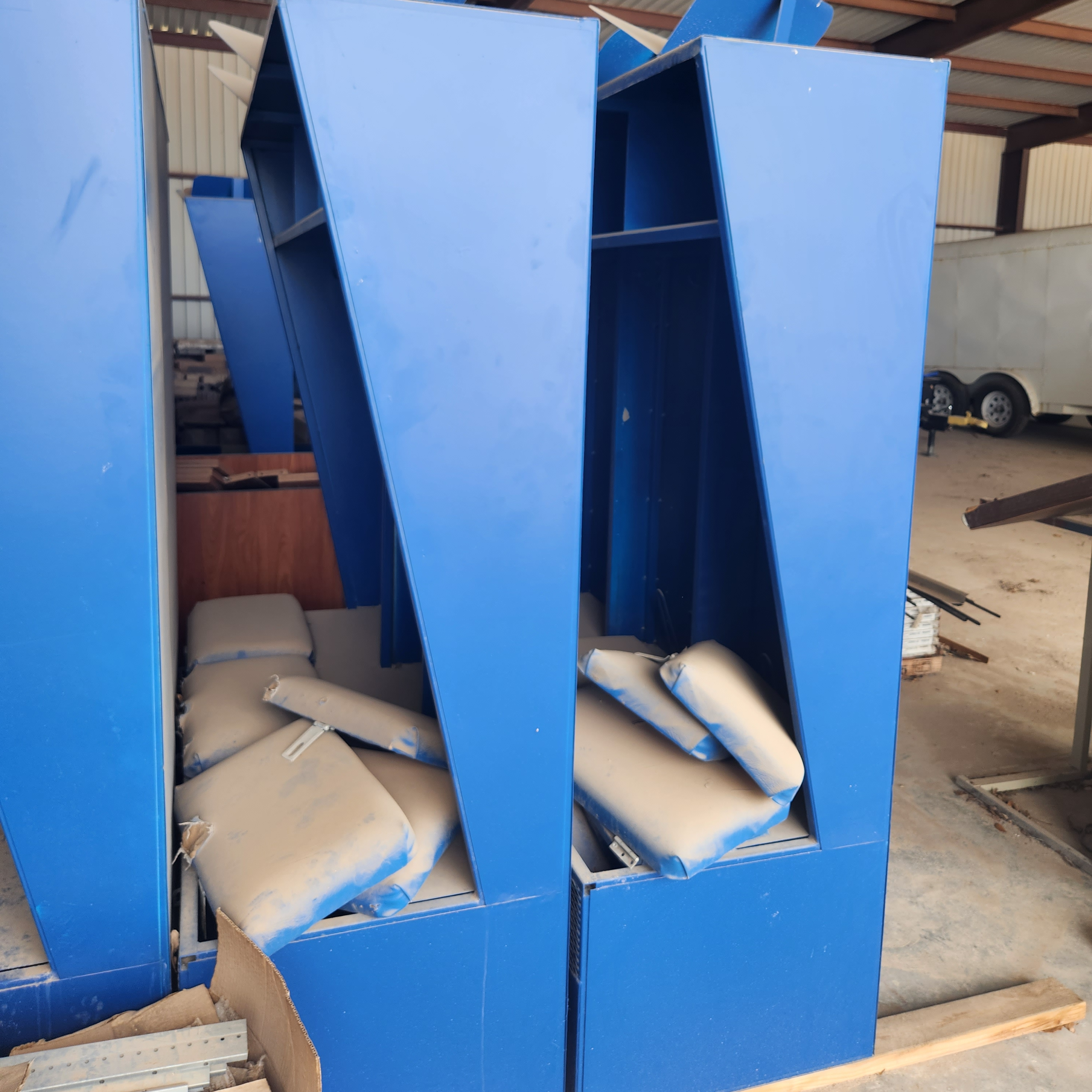 ITEM #: 84
LOCKER ROOM CHANGING STATIONS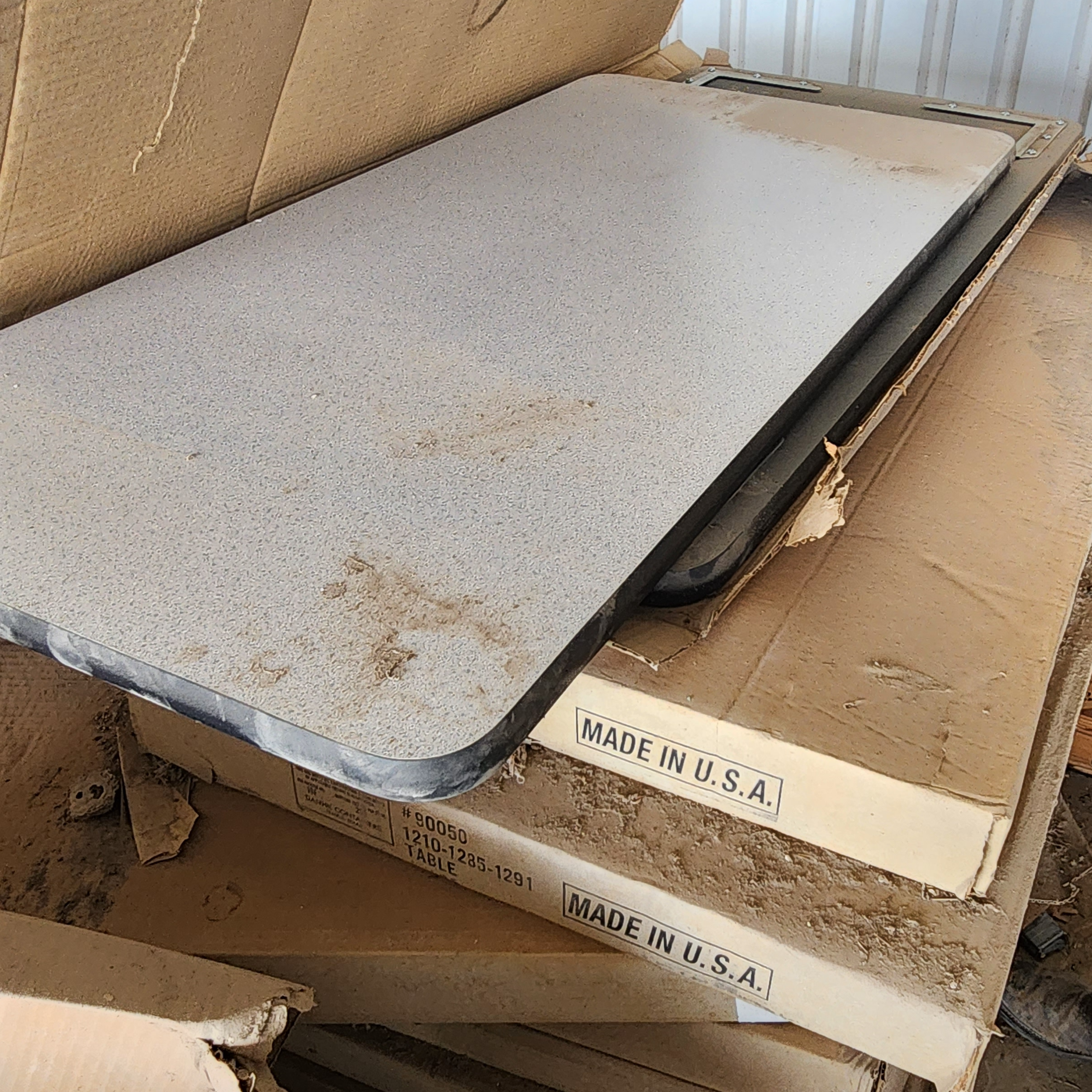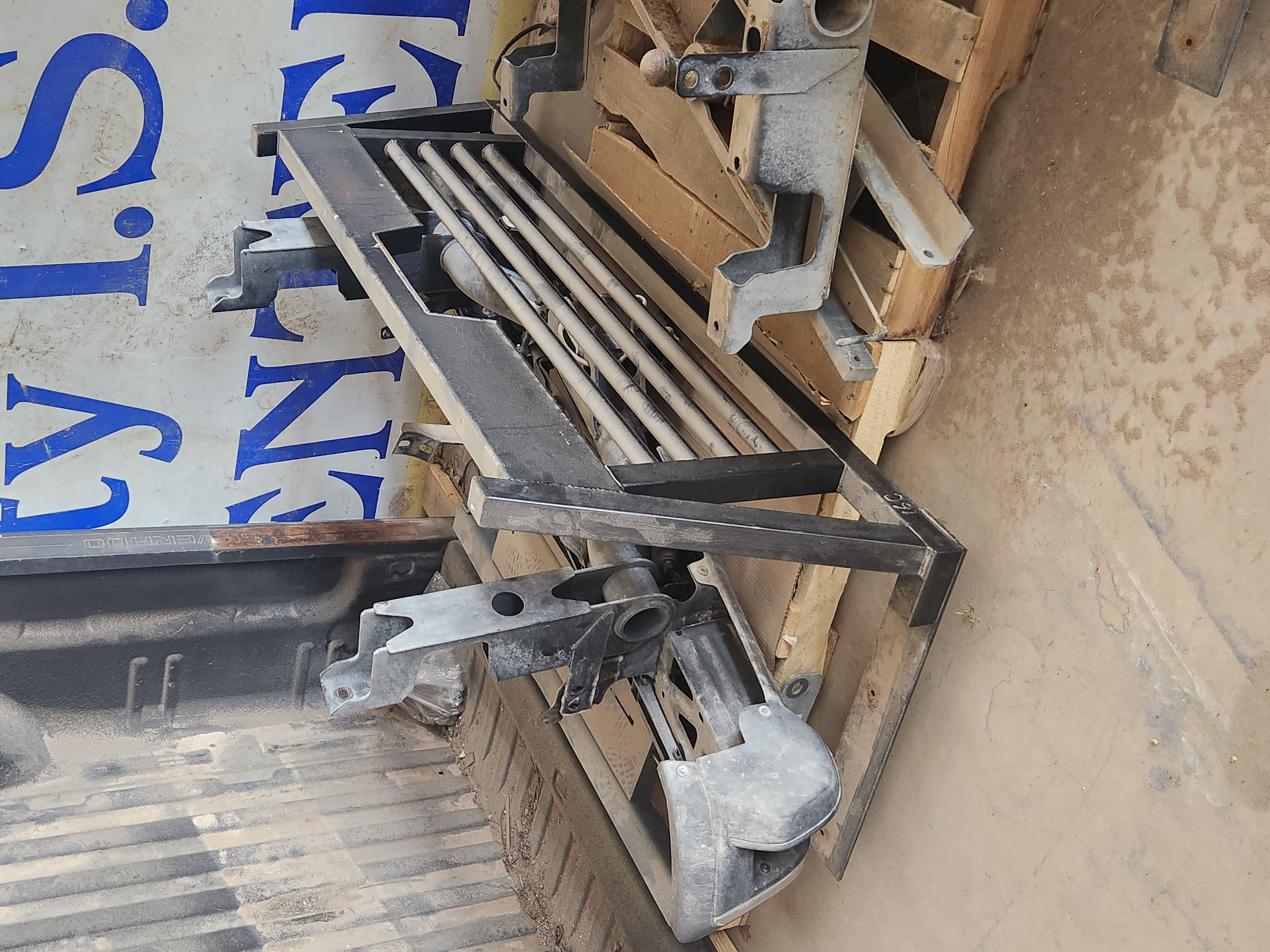 ITEM #: 86
CHEVROLET 2500 HEADACHE RACK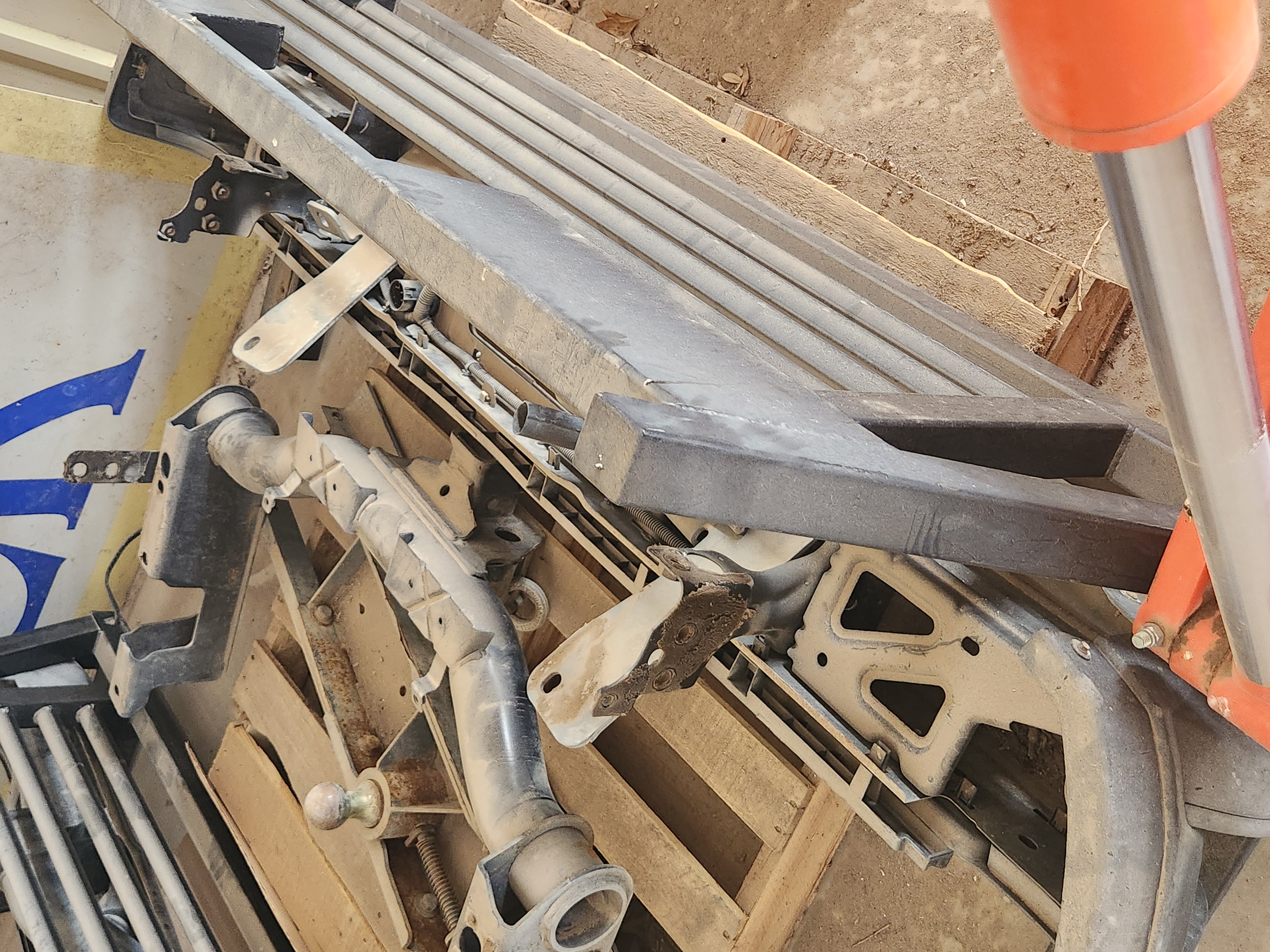 ITEM #: 87
CHEVROLET 2500 HEADACHE RACK #2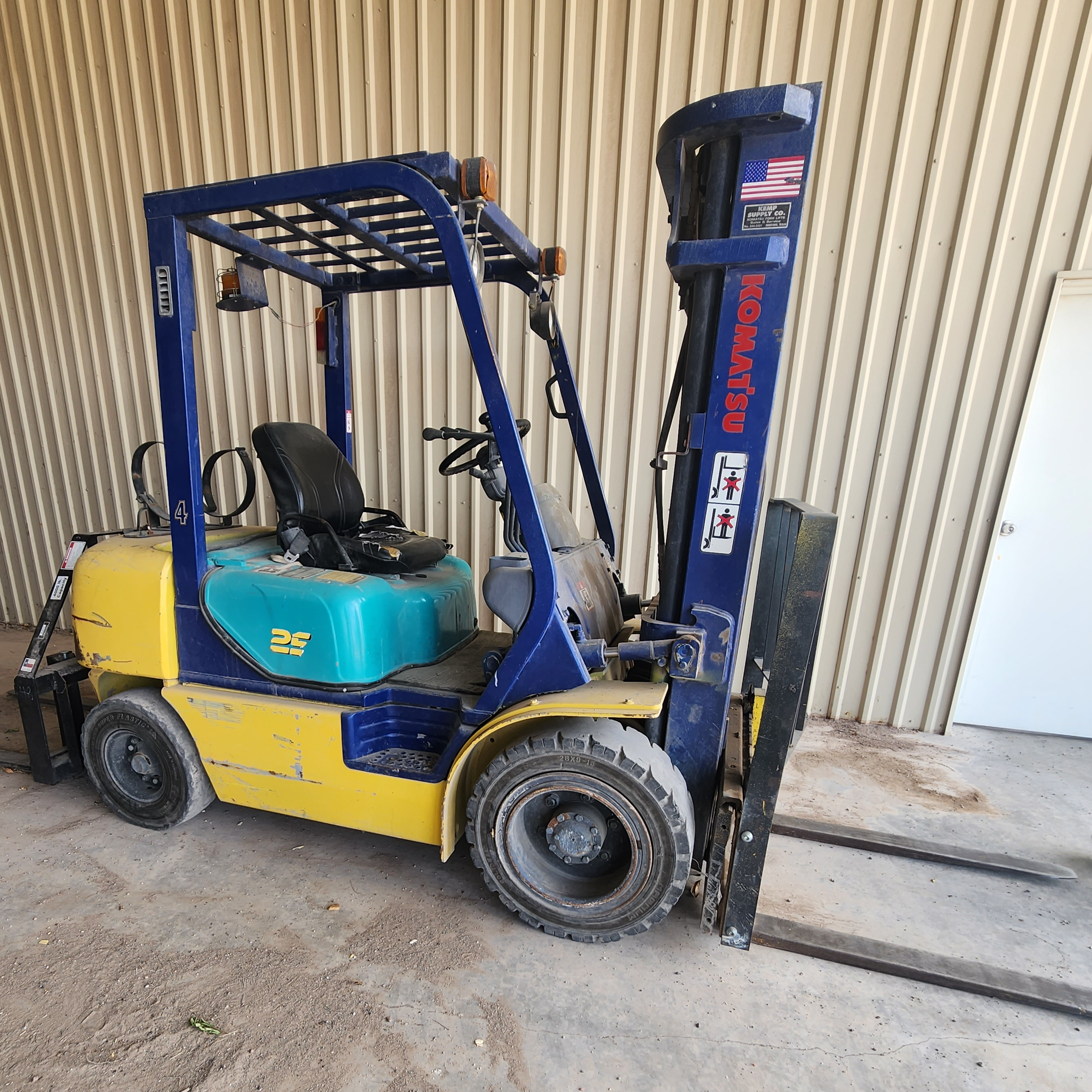 ITEM #: 88
KOMATSU FORKLIFT
Condition: Operational
STARTING BID: $1,500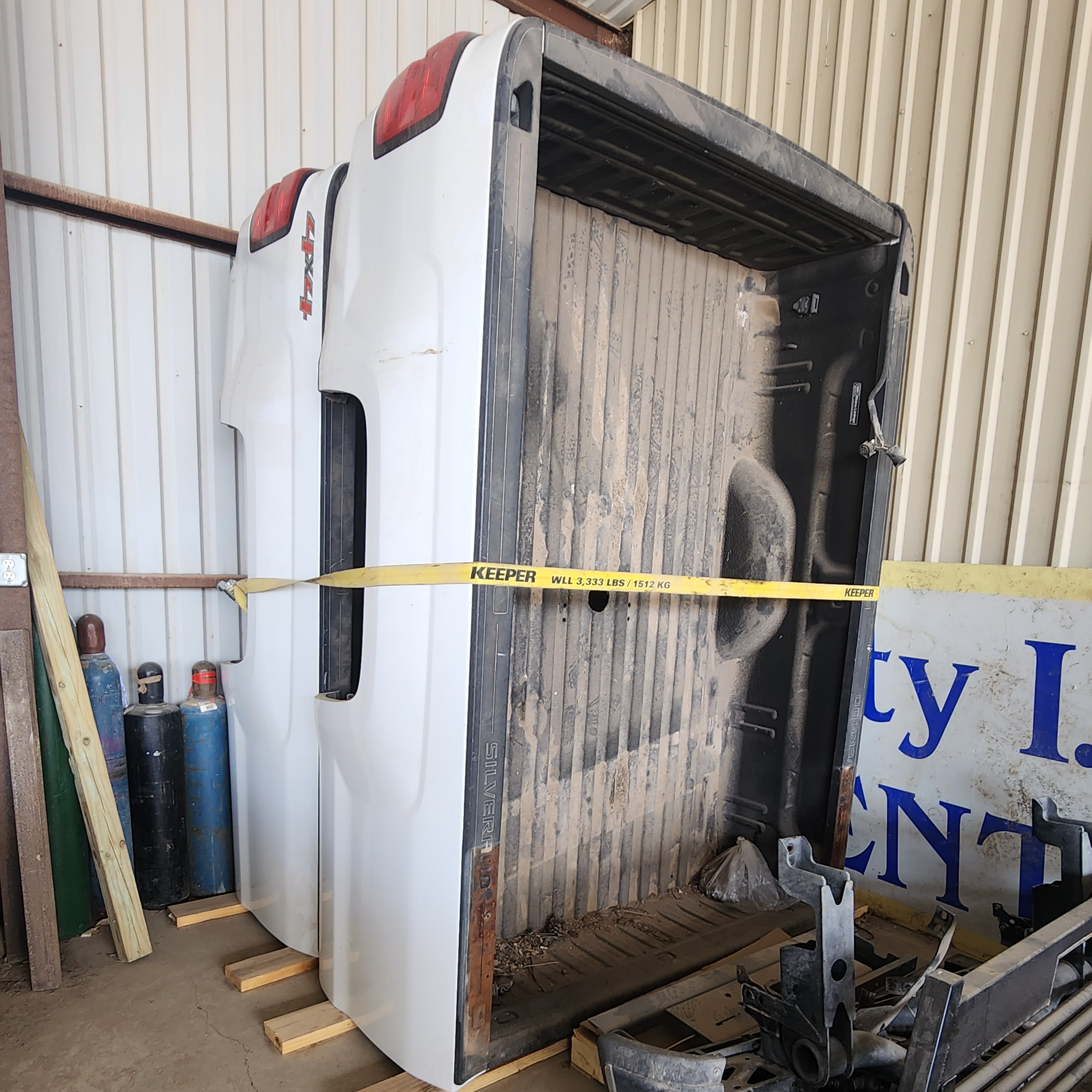 ITEM #: 89
2014 CHEVROLET SILVERADO 2500 TRUCK BED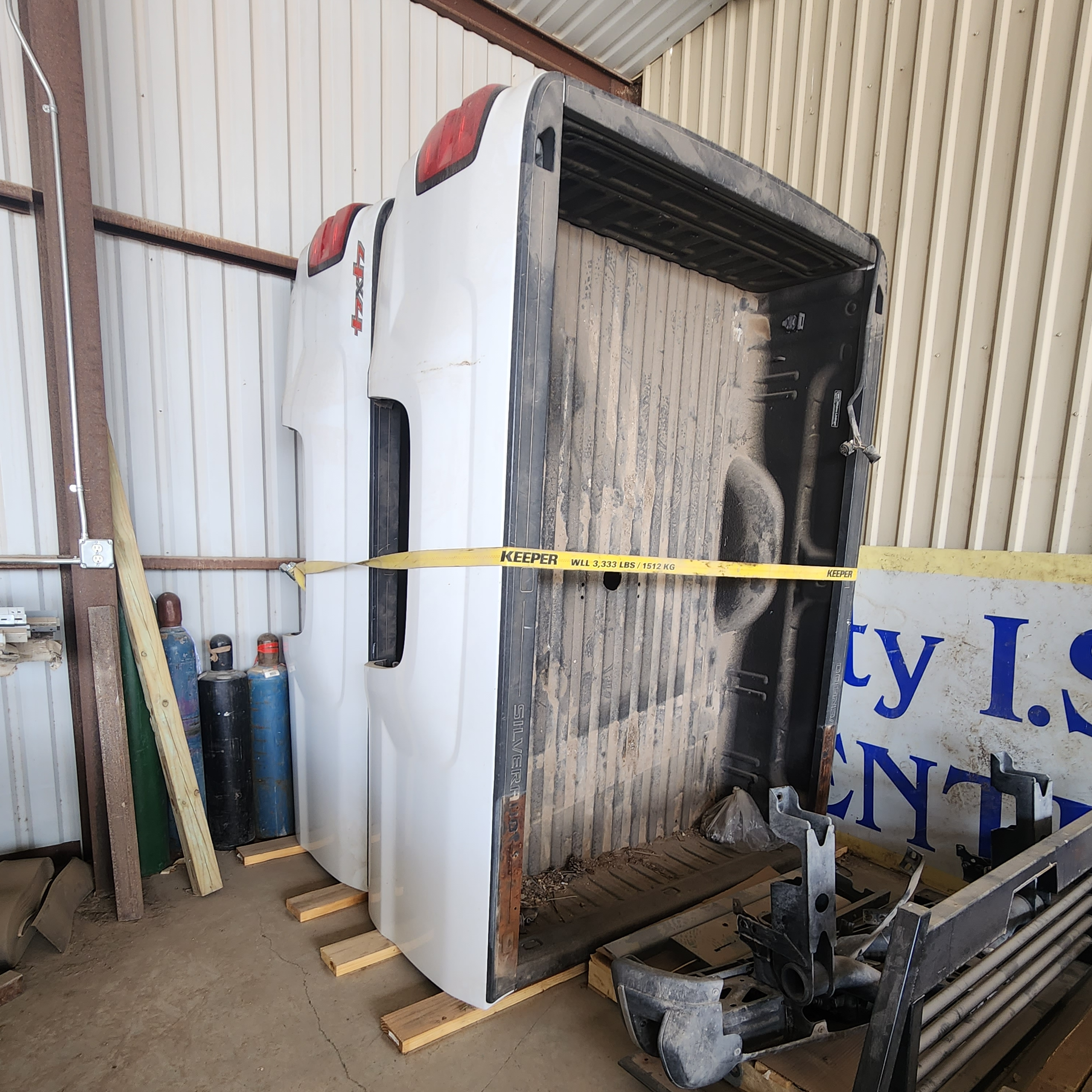 ITEM #: 90
2017 CHEVROLET SILVERADO 2500 4X4 TRUCK BED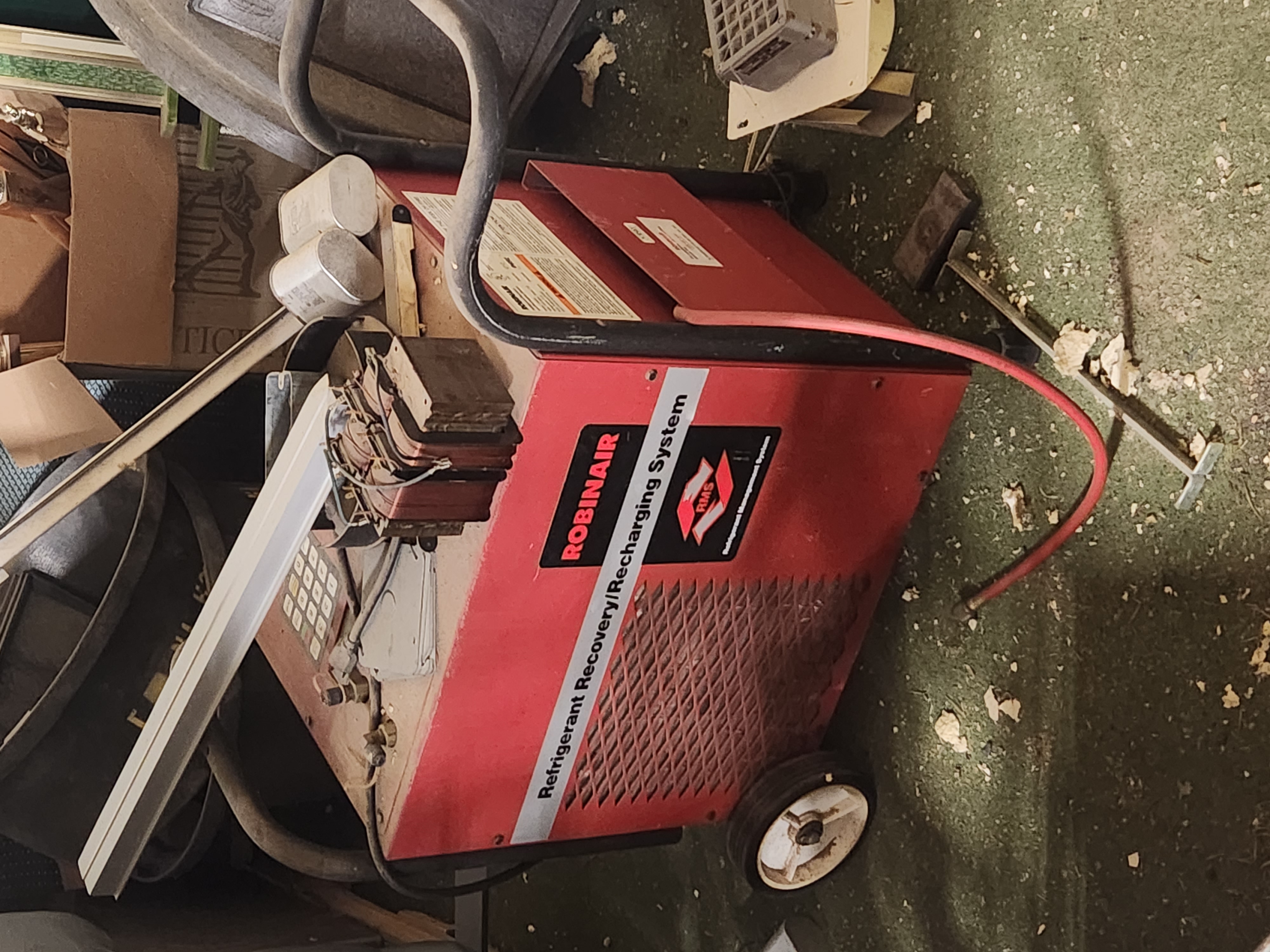 ITEM #: 92
ROBINAIR REFRIGERANT RECHARGING SYSTEM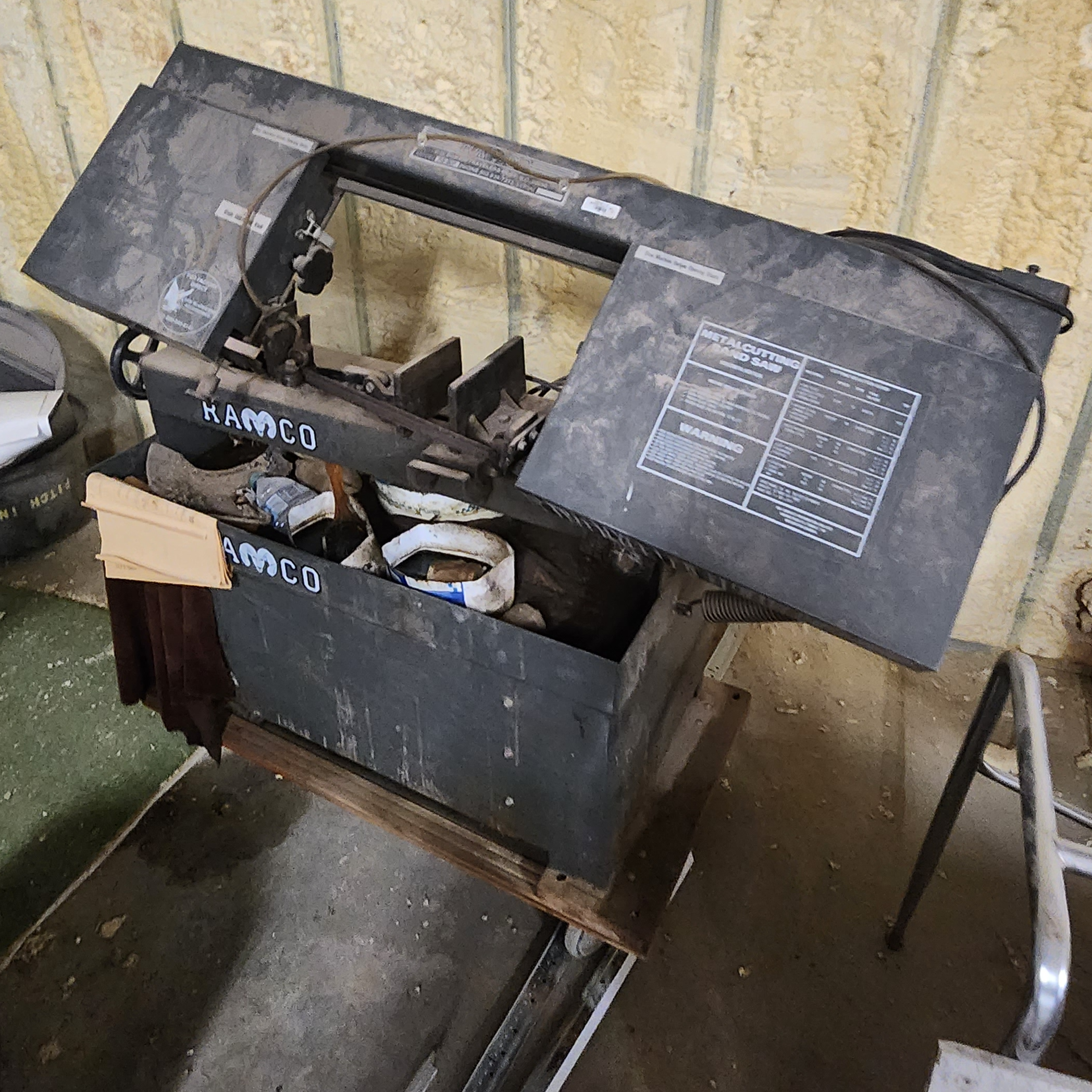 ITEM #: 93
RAMCO METAL BAND SAW
MODEL #: RS-90P
Condition: Unknown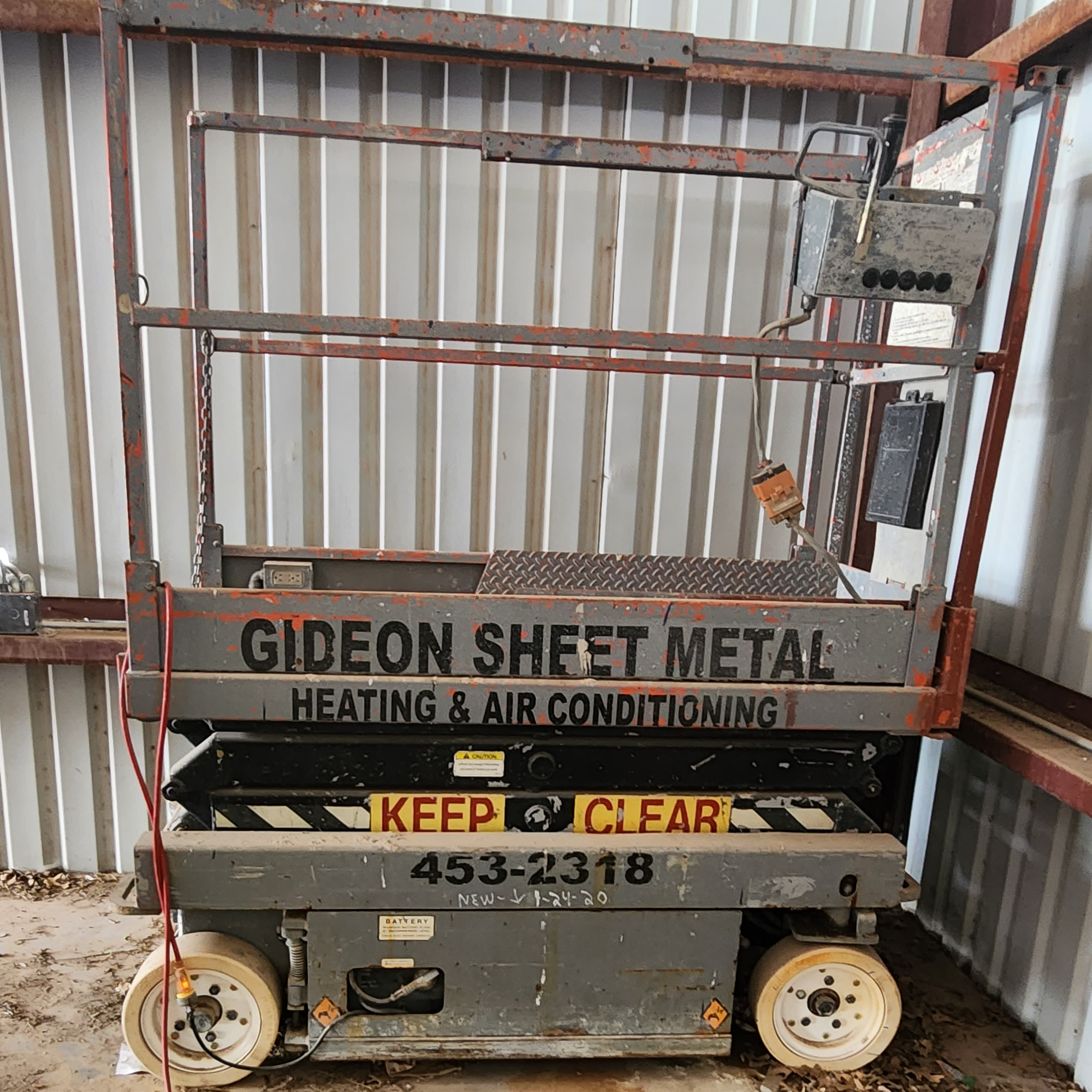 ITEM #: 94
SKYJACK SCISSOR LIFT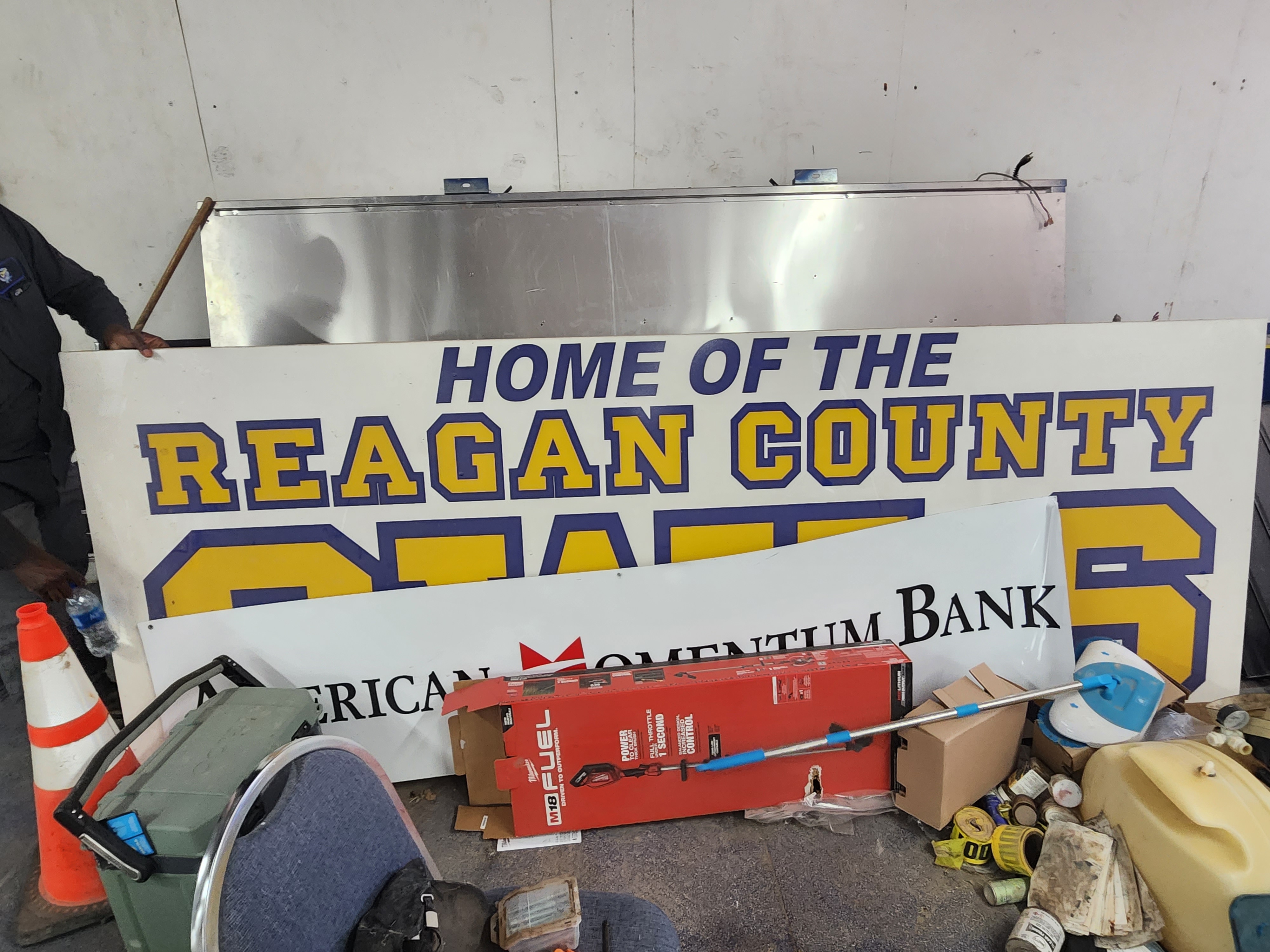 ITEM #: 95
REAGAN COUNTY SIGN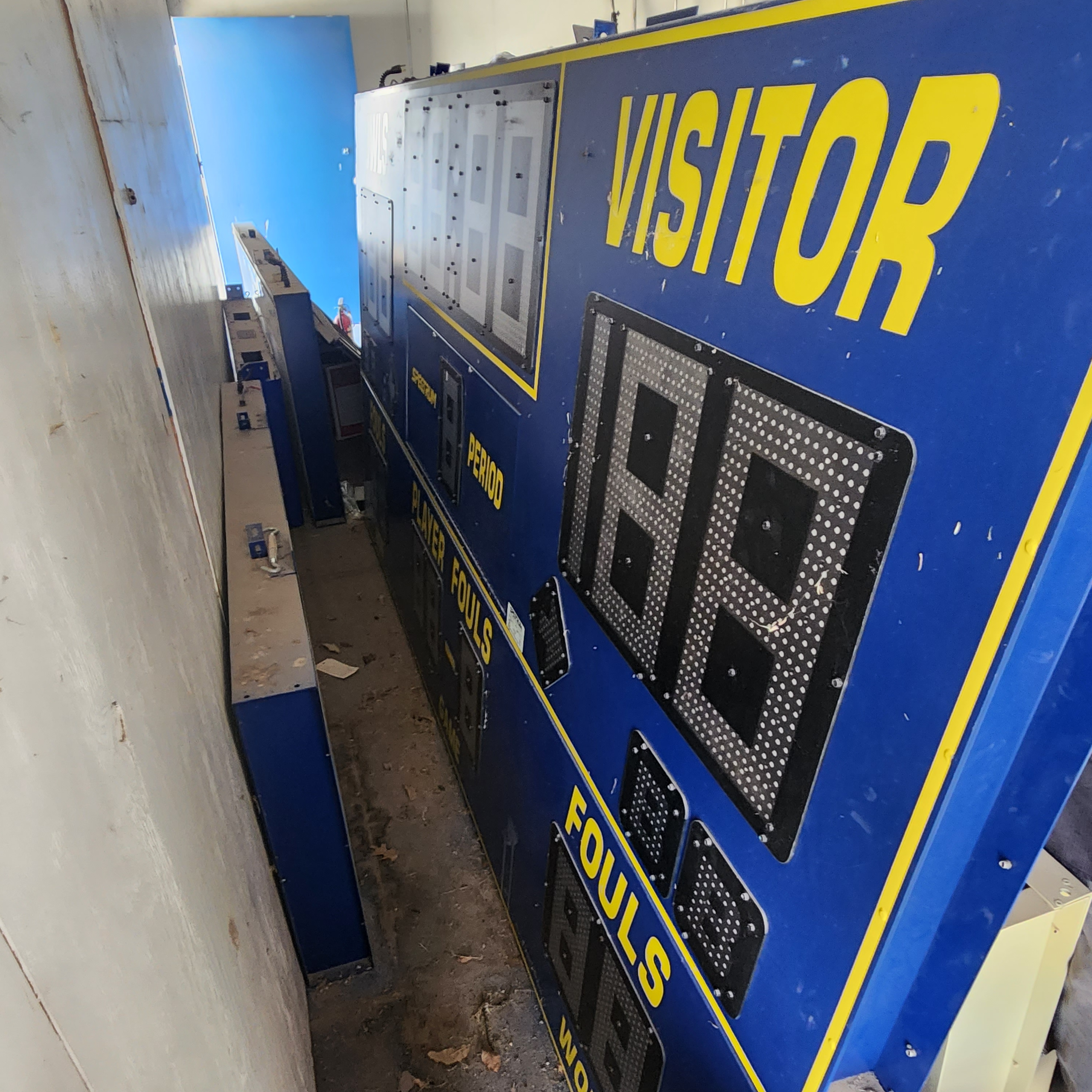 ITEM #: 96
LARGE BLUE AND GOLD SCOREBOARD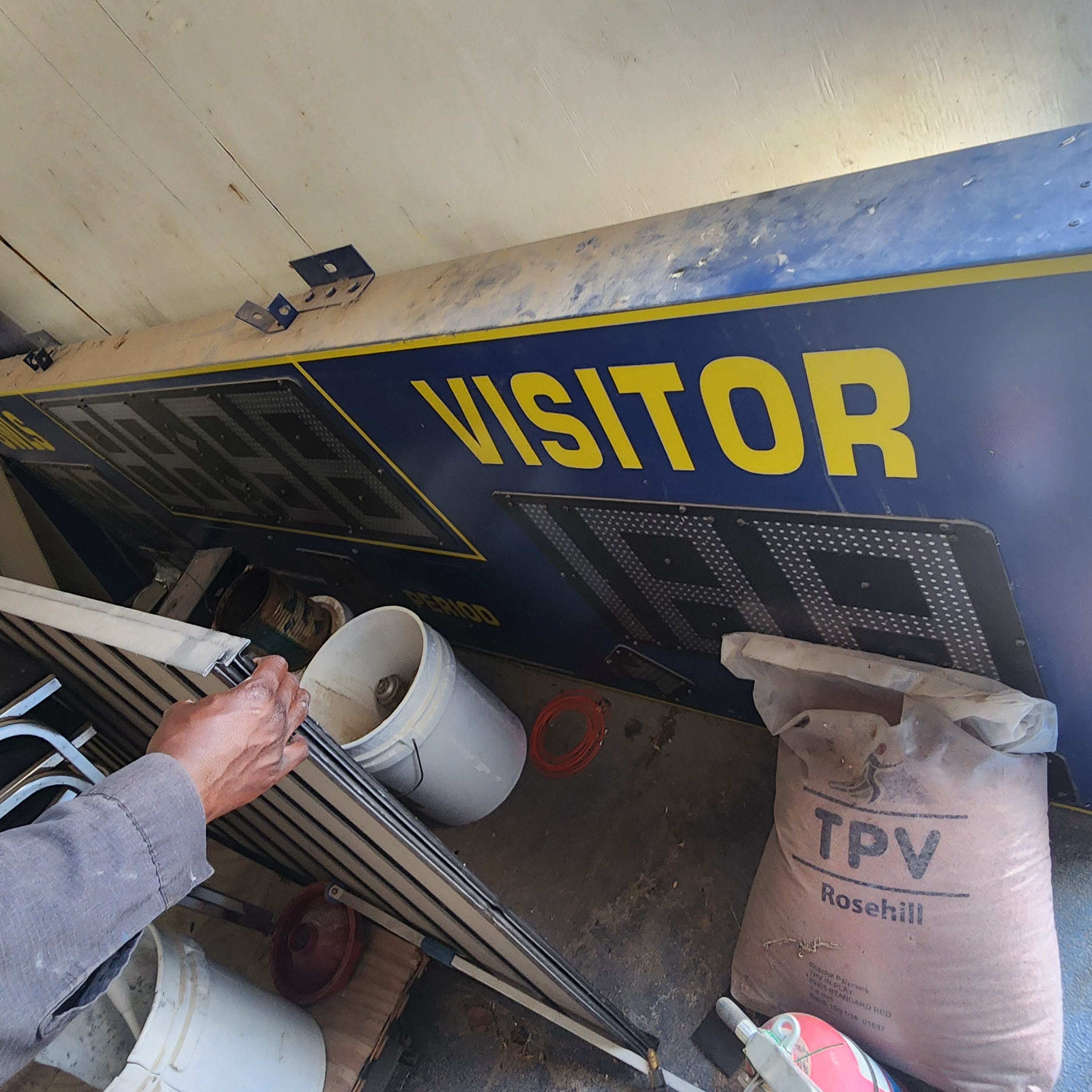 ITEM #: 97
SMALL BLUE AND GOLD SCOREBOARD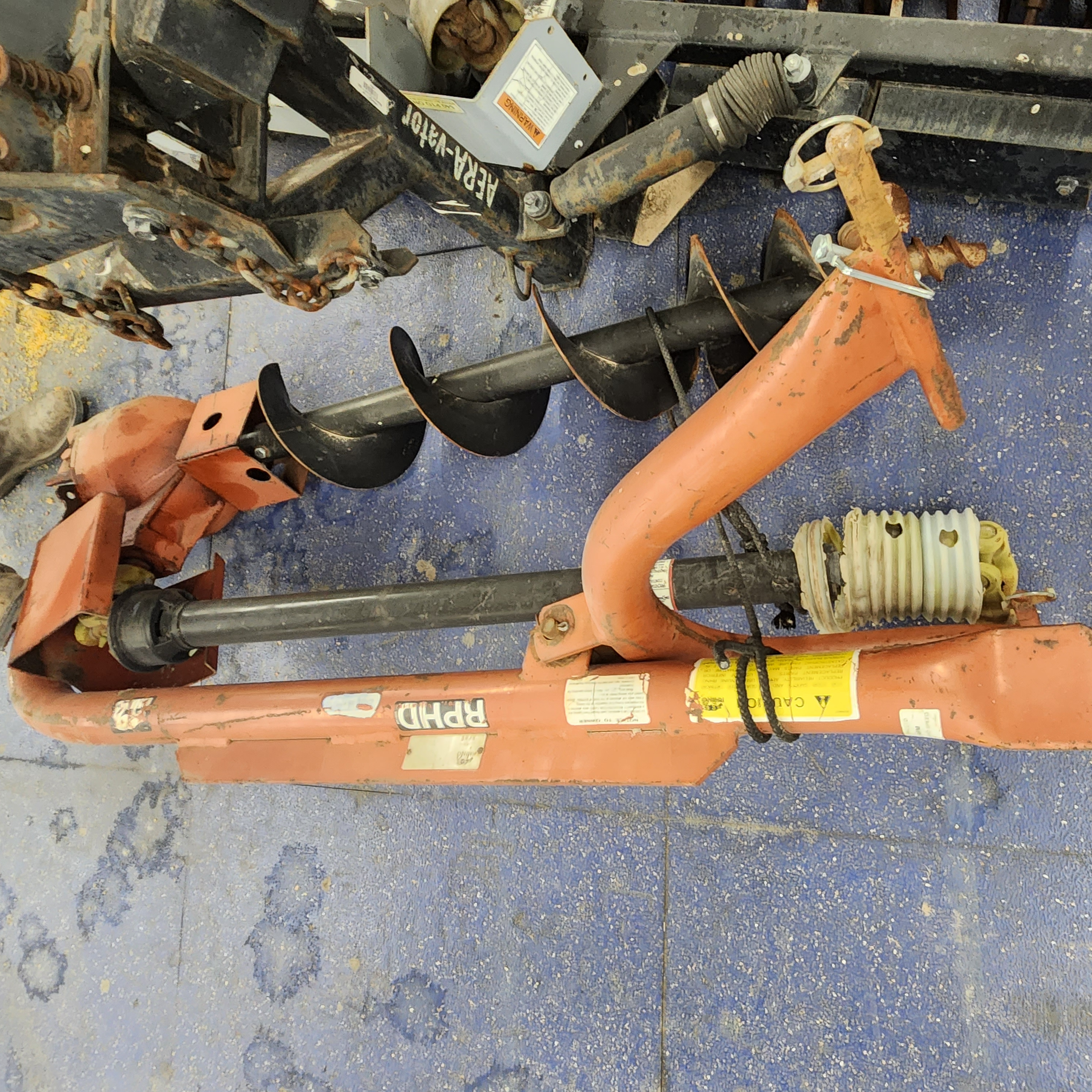 ITEM #: 99
AUGER ATTACHMENT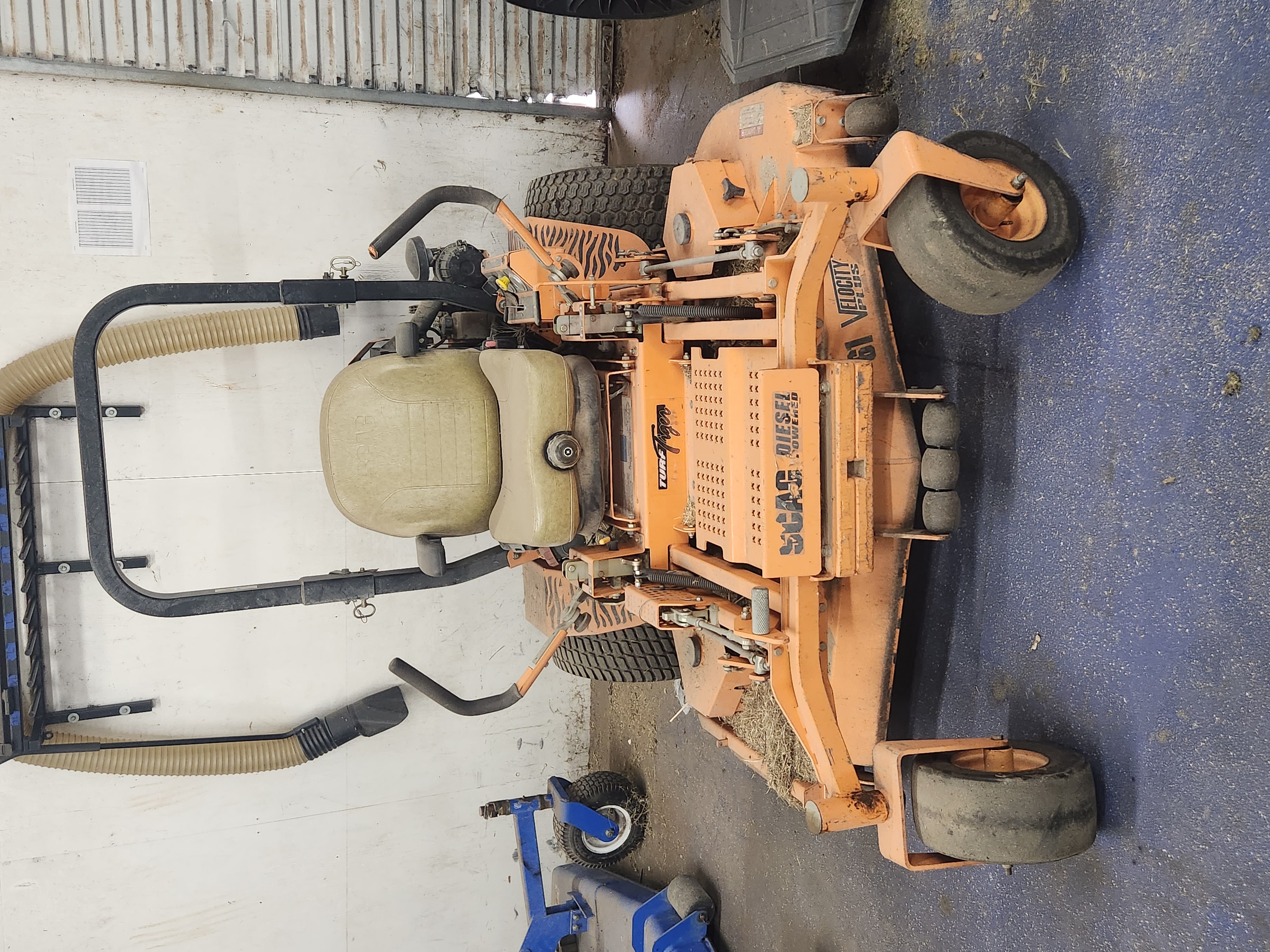 ITEM #: 100
SCAG TURF TIGER 61" DECK
Condition: Needs Repair
STARTING BID: $1,000
ITEM #: 101
NEW HOLLAND ZERO TURN 72" DECK
MODEL #: G6035
Condition: Needs Repair
STARTING BID: $1,000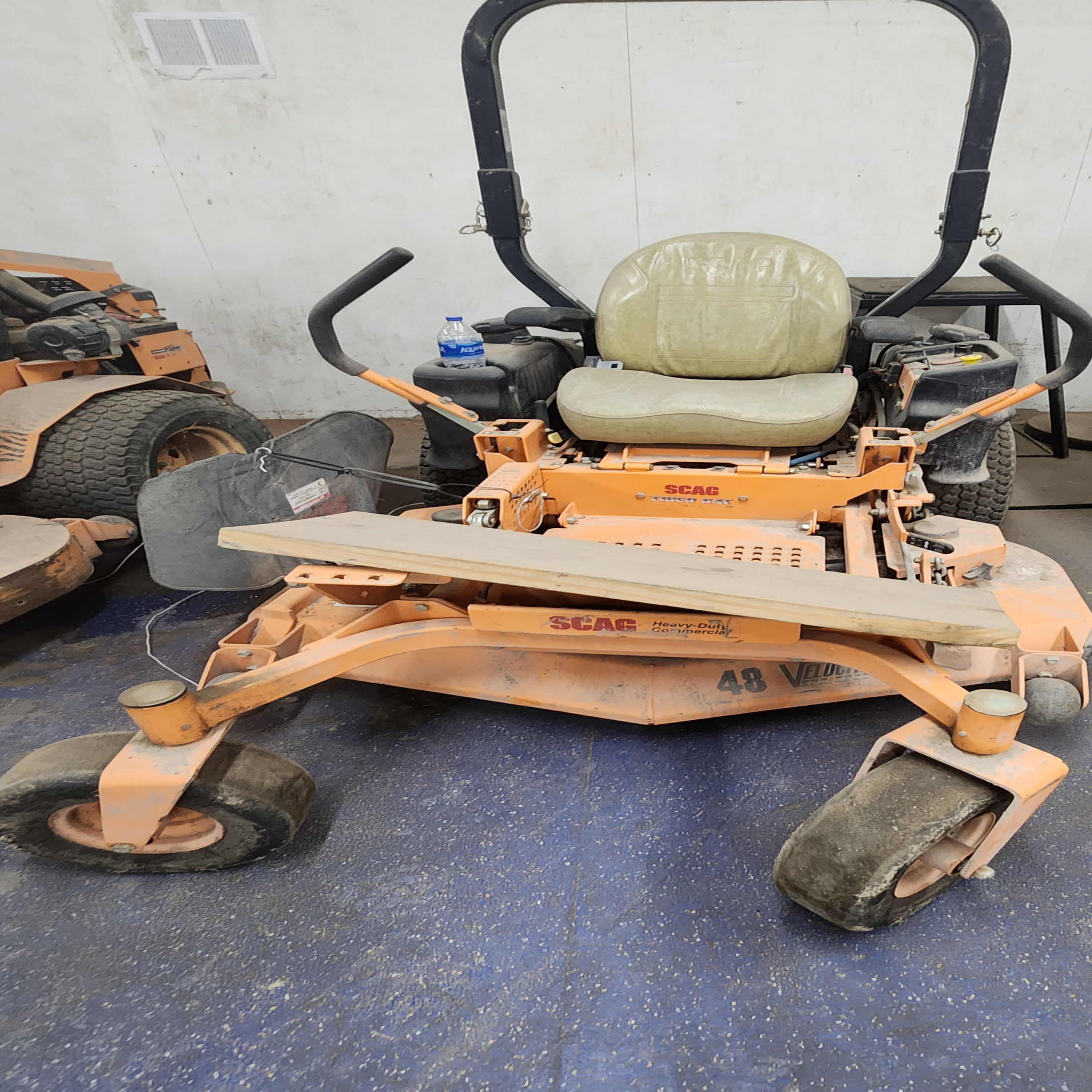 ITEM #: 102
SCAG TIGER CAT 48" DECK
Condition: Needs Repair
STARTING BID: $500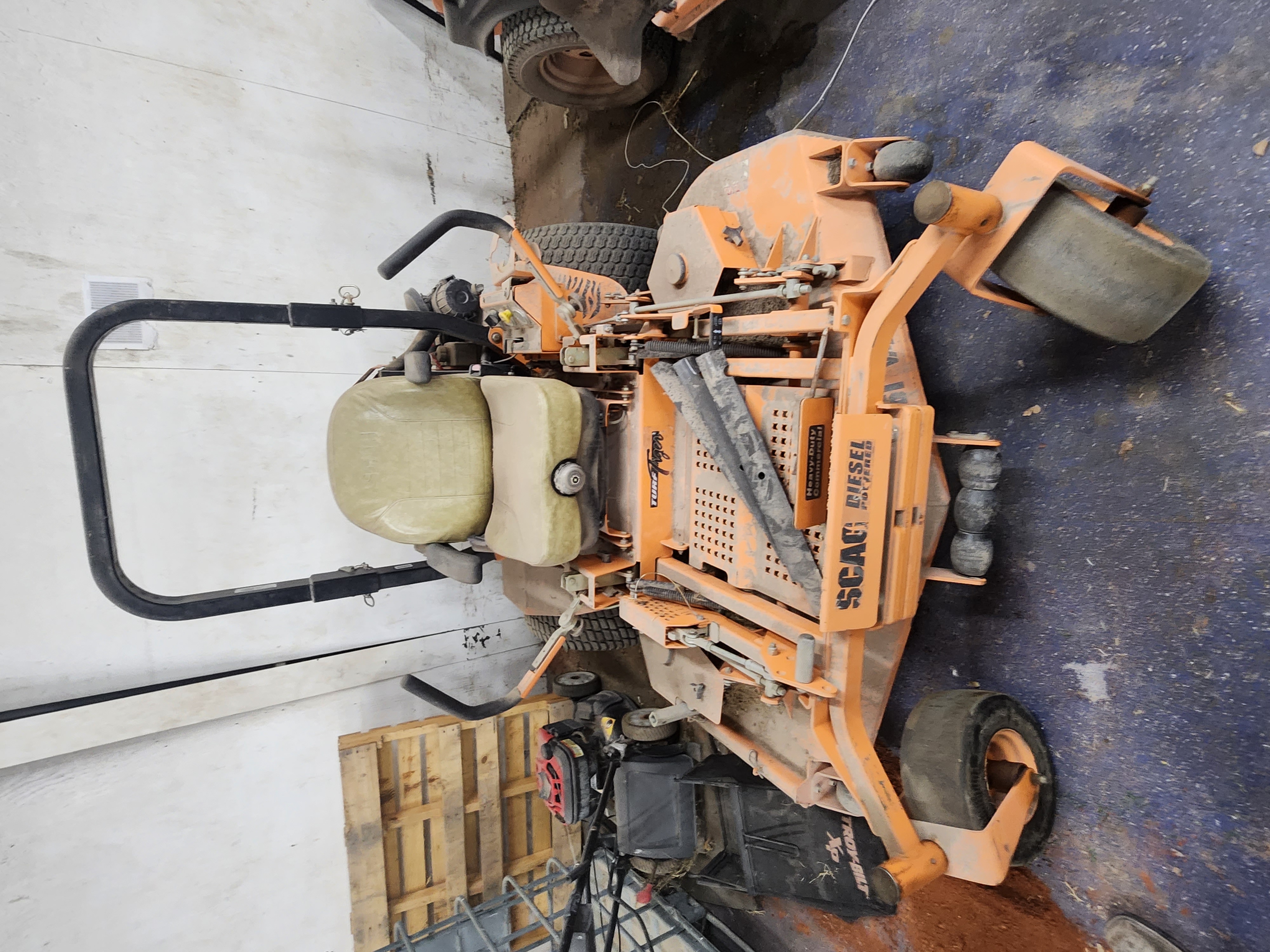 ITEM #: 103
SCAG TURF TIGER 61" DECK #2
Condition: Needs Repair
STARTING BID: $1,000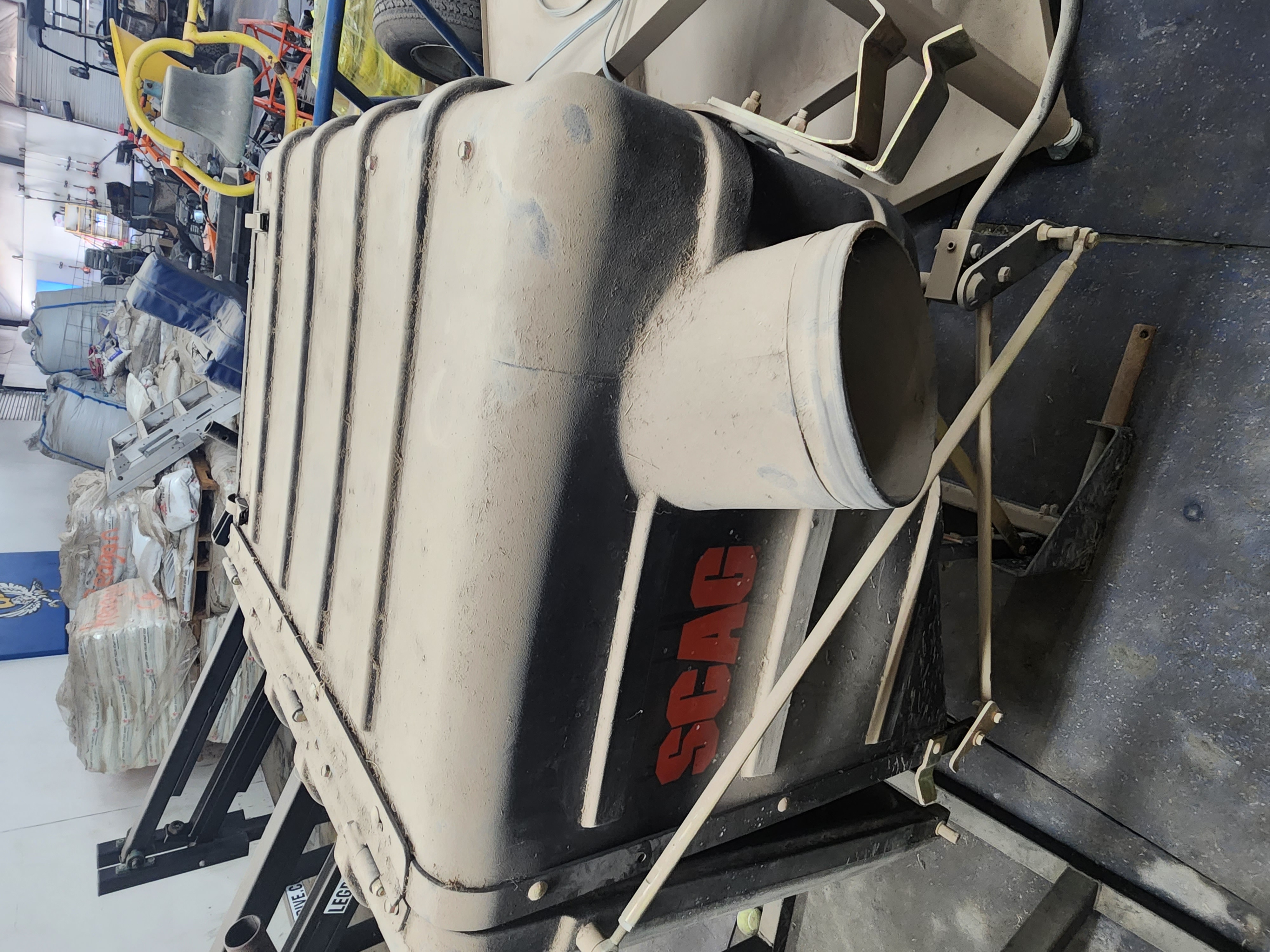 ITEM #: 104
SCAG GRASS CATCHER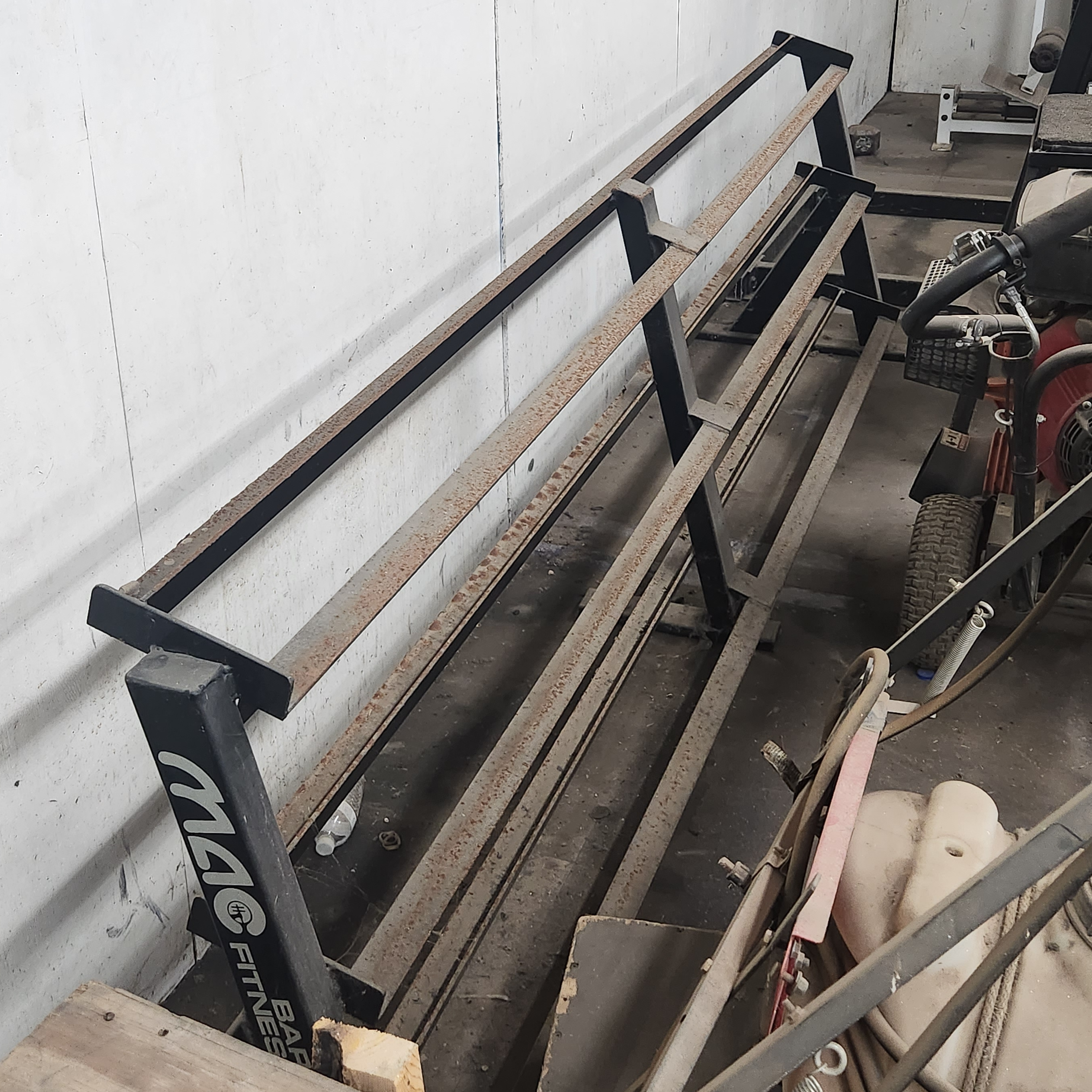 ITEM#: 105
DUMBELL WEIGHT RACK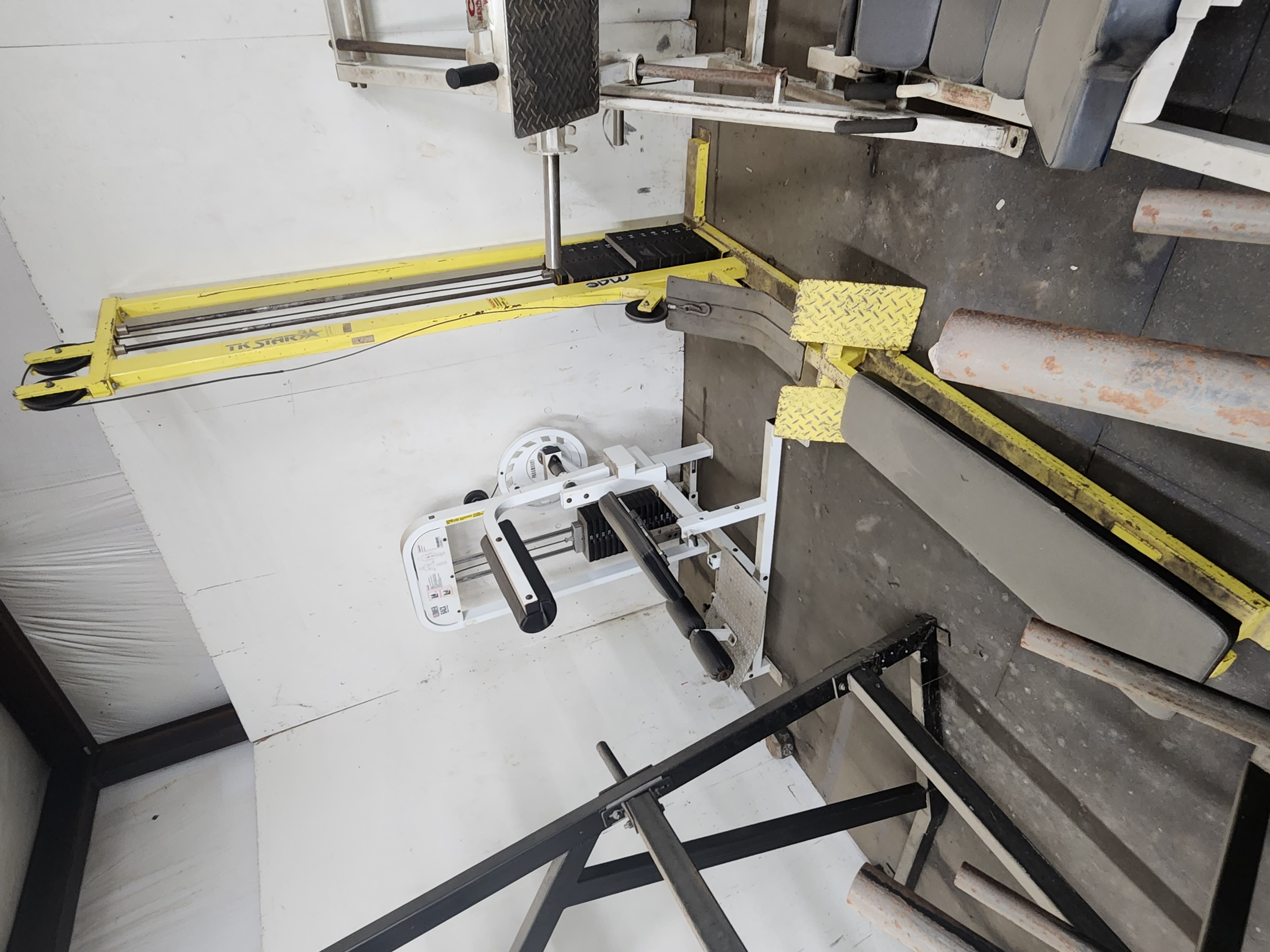 ITEM #: 106
ROWING MACHINE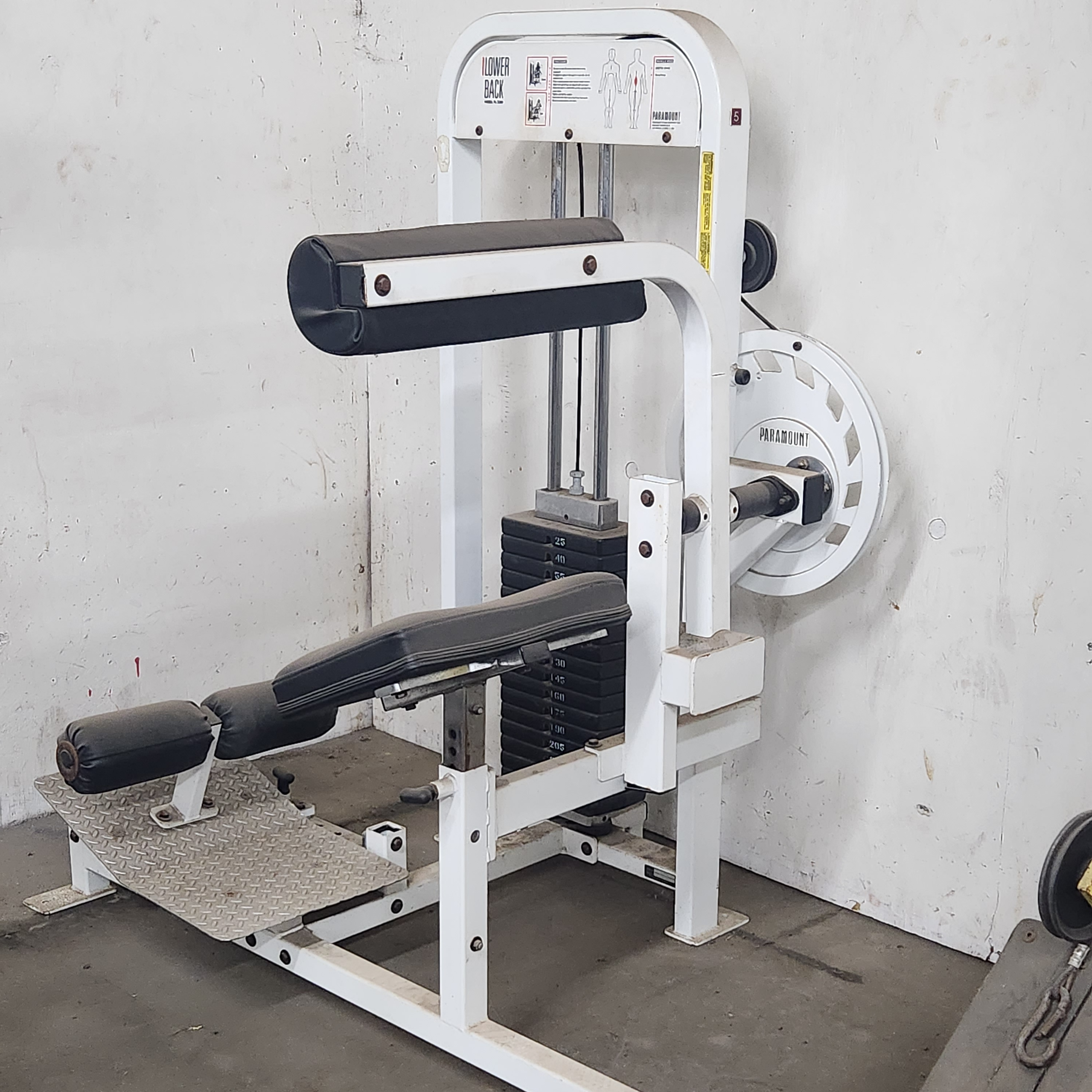 ITEM #: 107
LOWER BACK MACHINE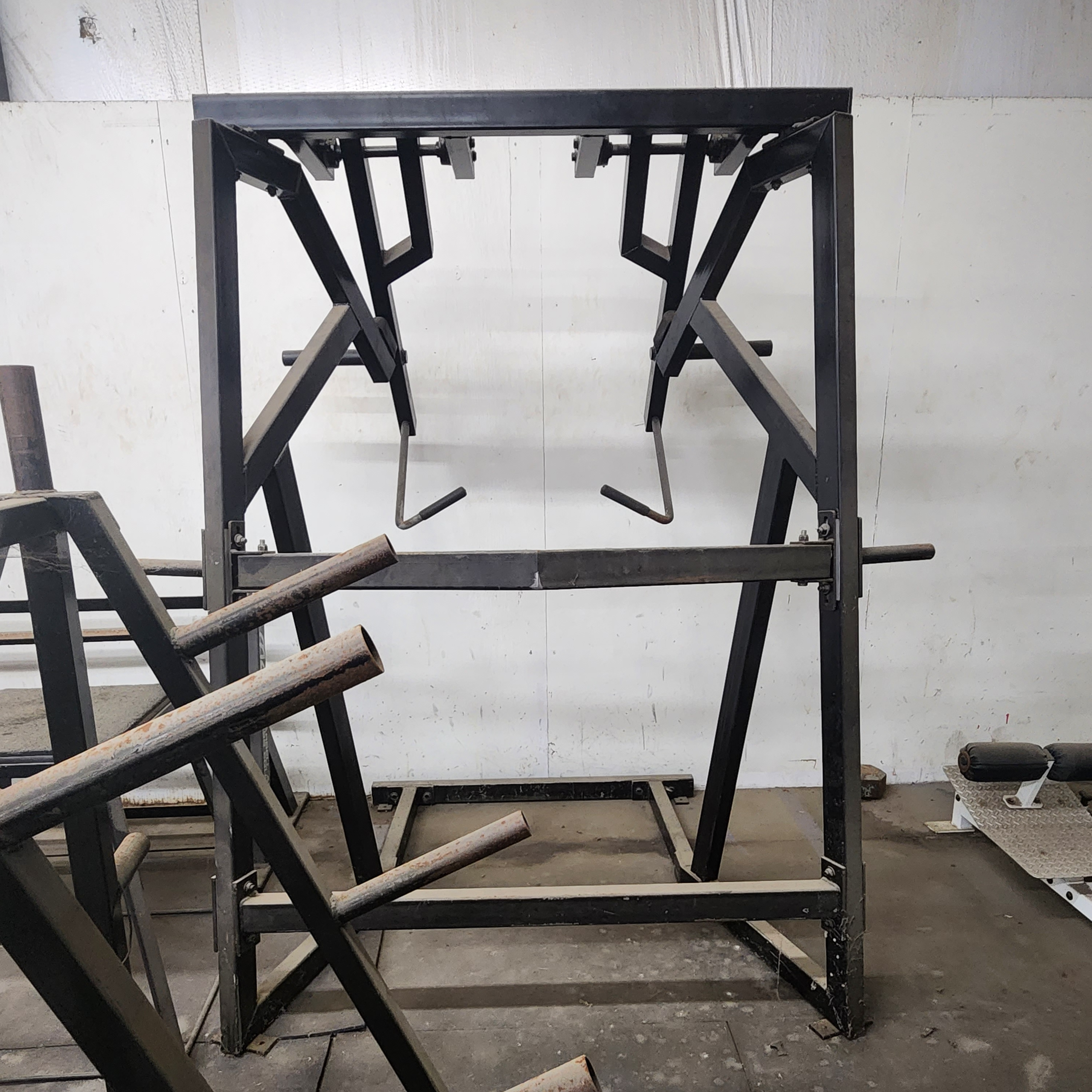 ITEM #: 108
CHEST PRESS MACHINE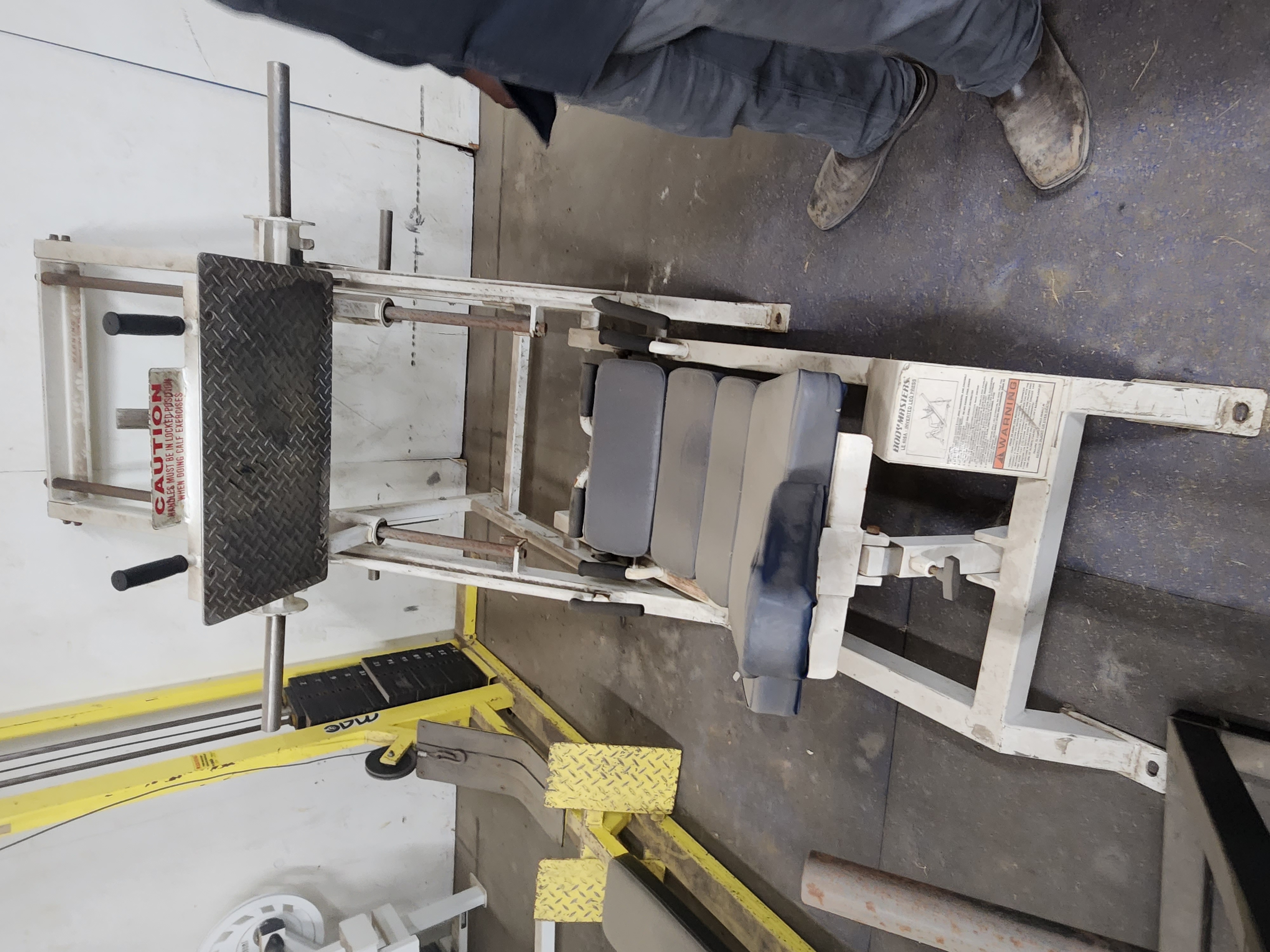 ITEM #: 109
LEG PRESS MACHINE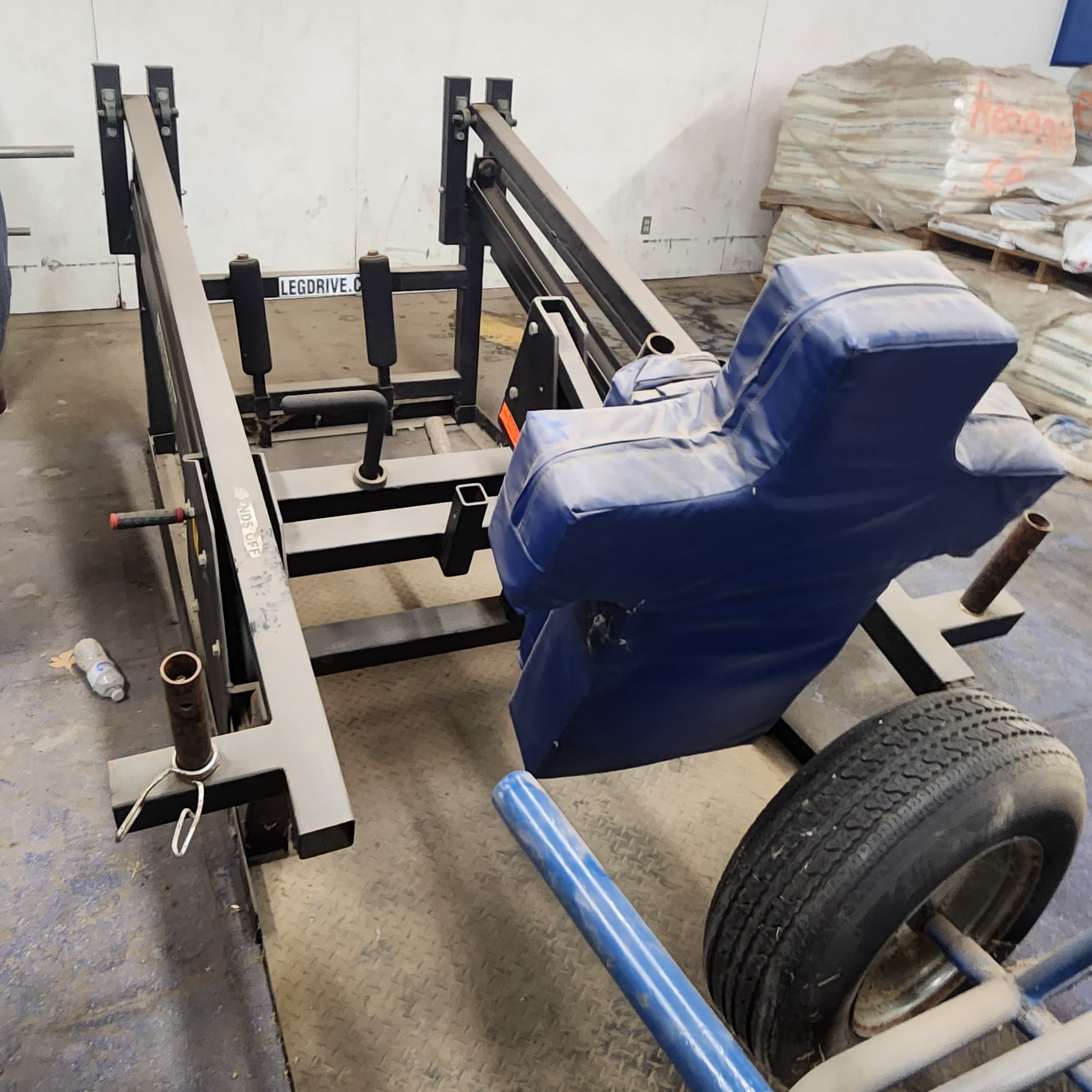 ITEM #: 110
LEG DRIVE MACHINE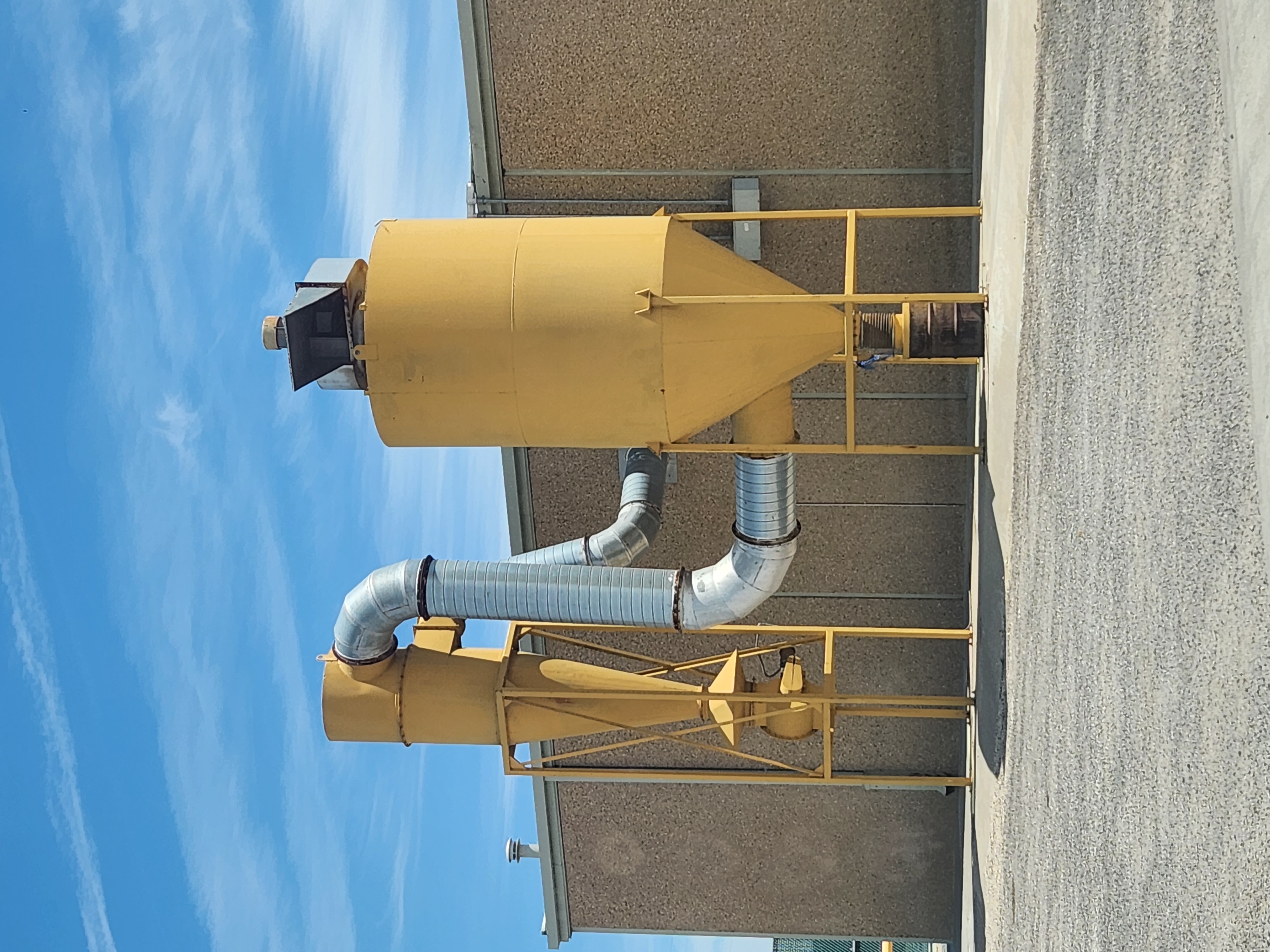 ITEM #: 111
SAW DUST COLLECTION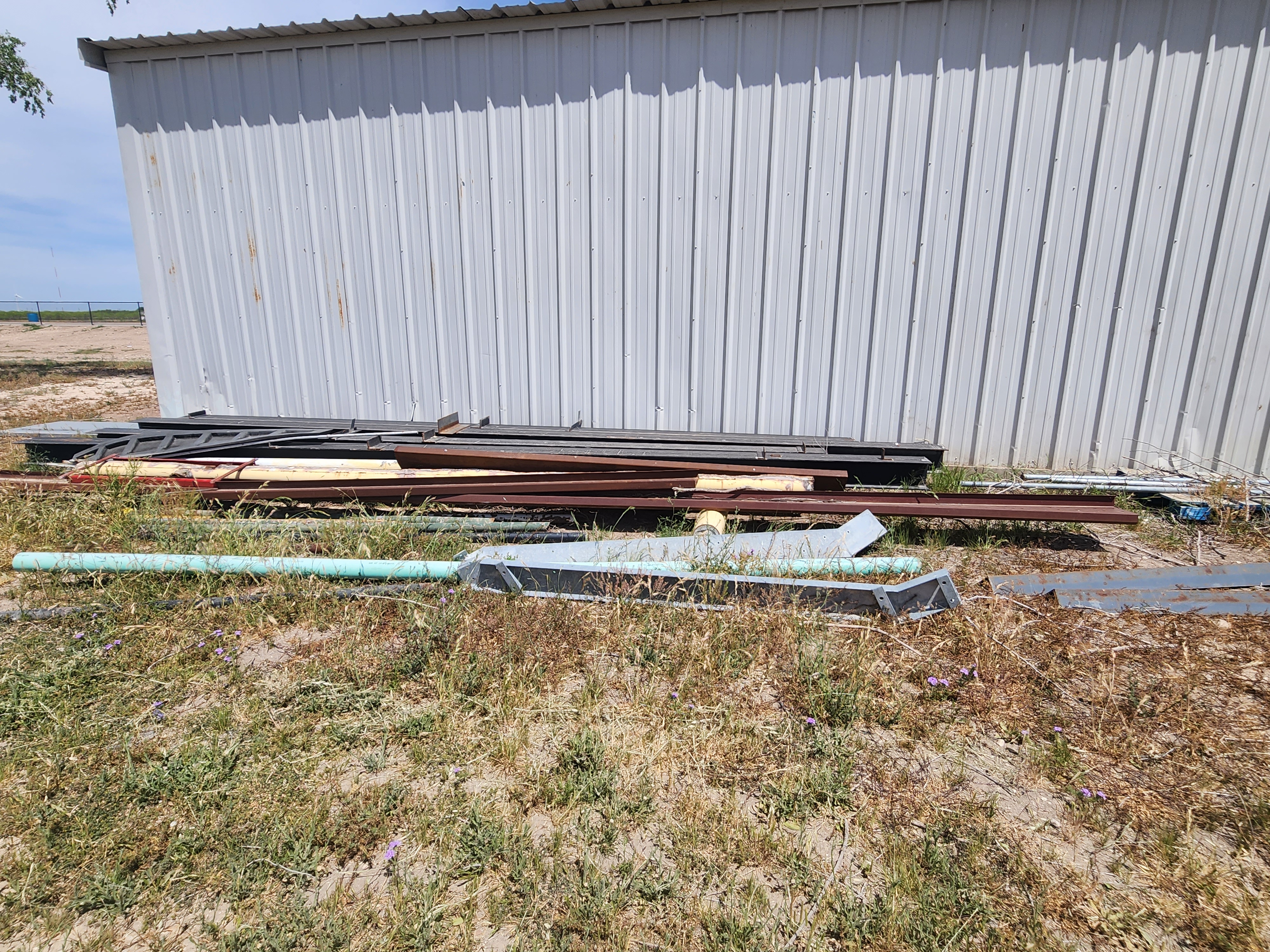 ITEM #: 112
VARIOUS JUNK METAL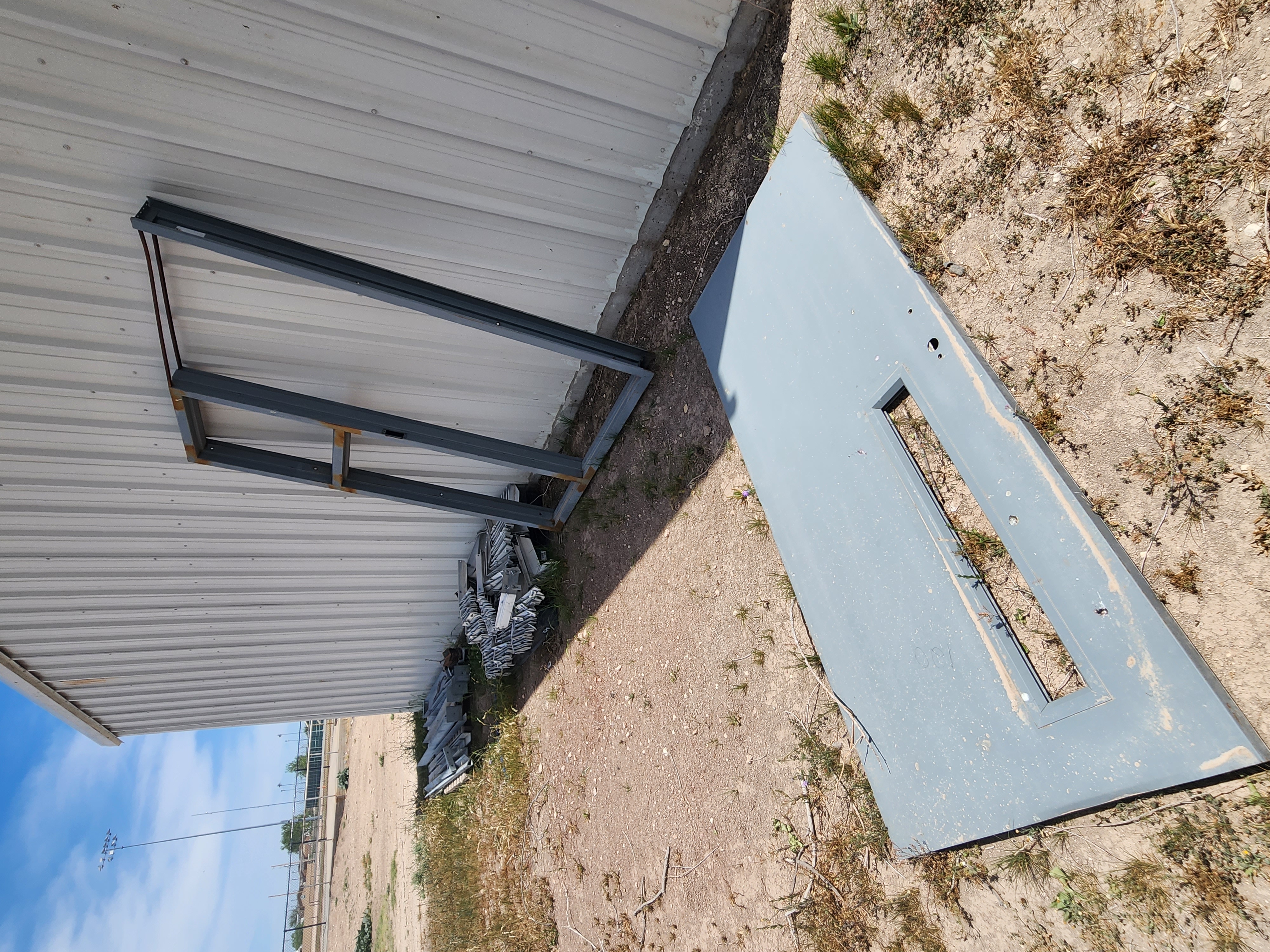 ITEM #: 113
METAL DOOR WITH FRAME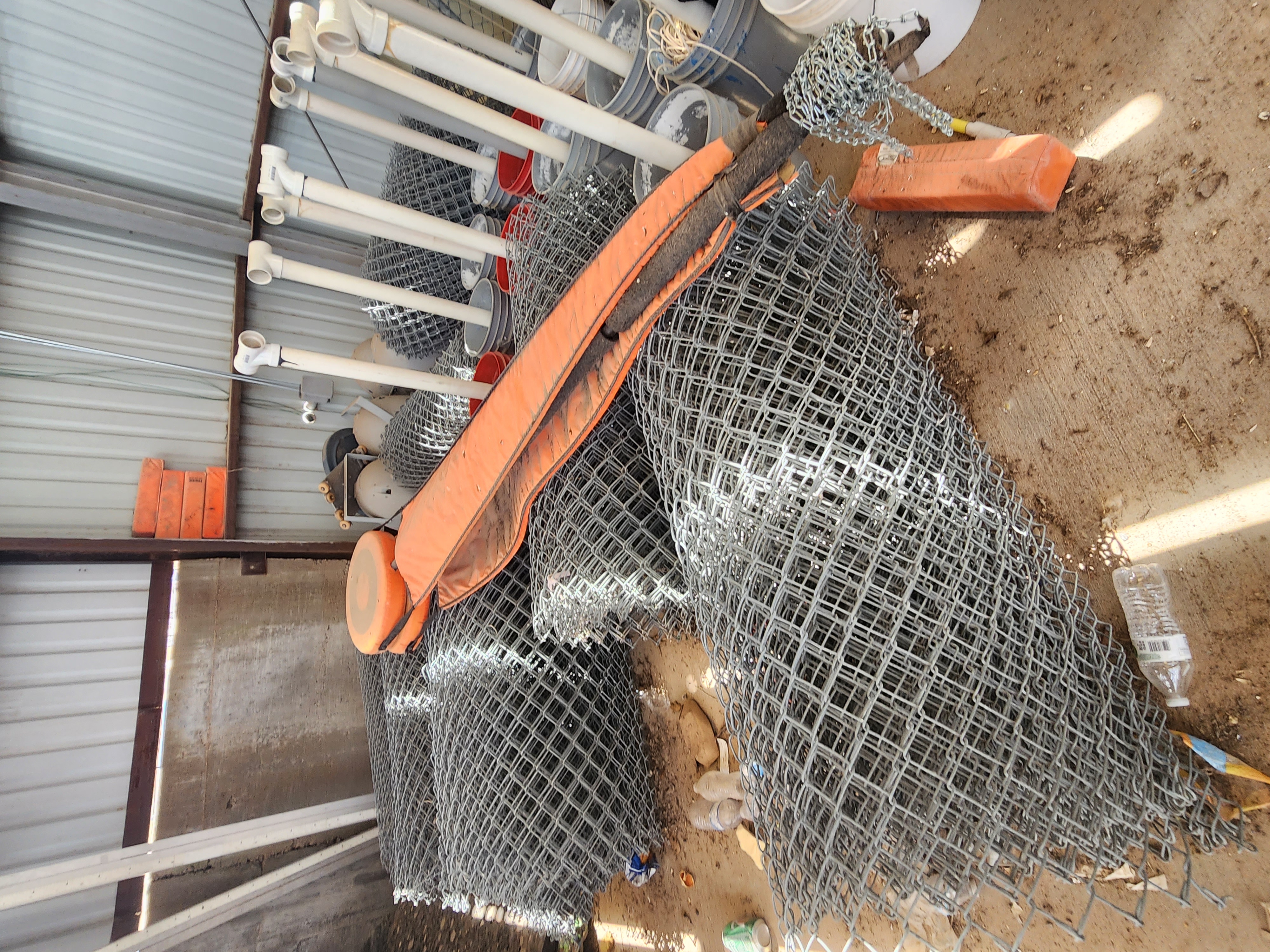 ITEM #: 114
CHAIN LINK FENCING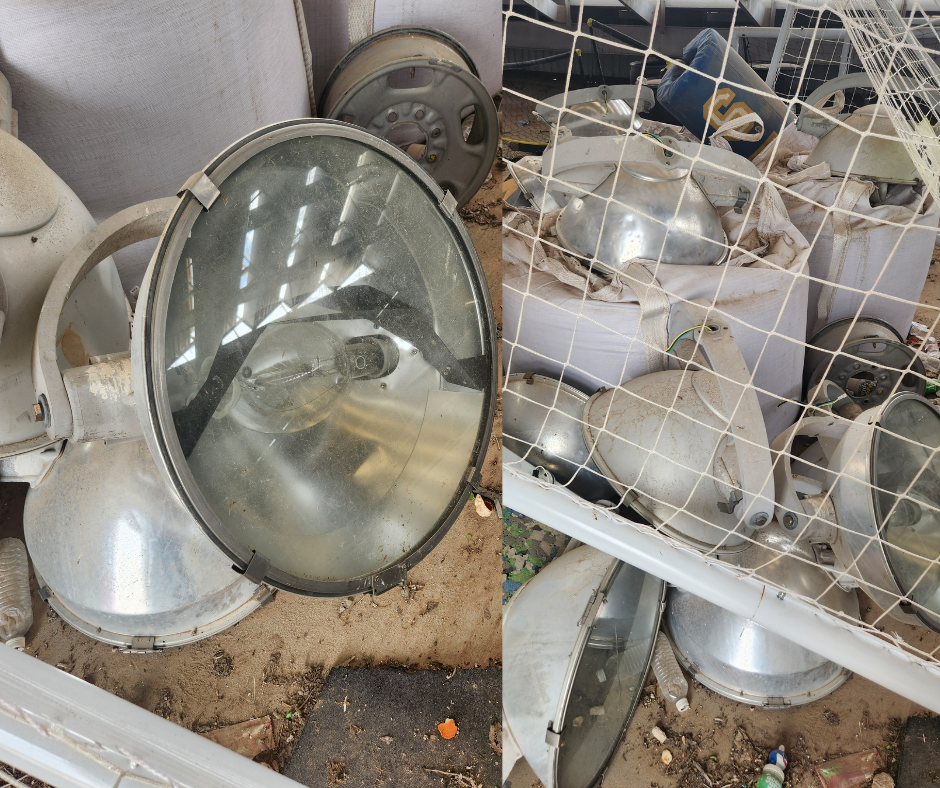 ITEM #: 115
STADIUM LIGHTS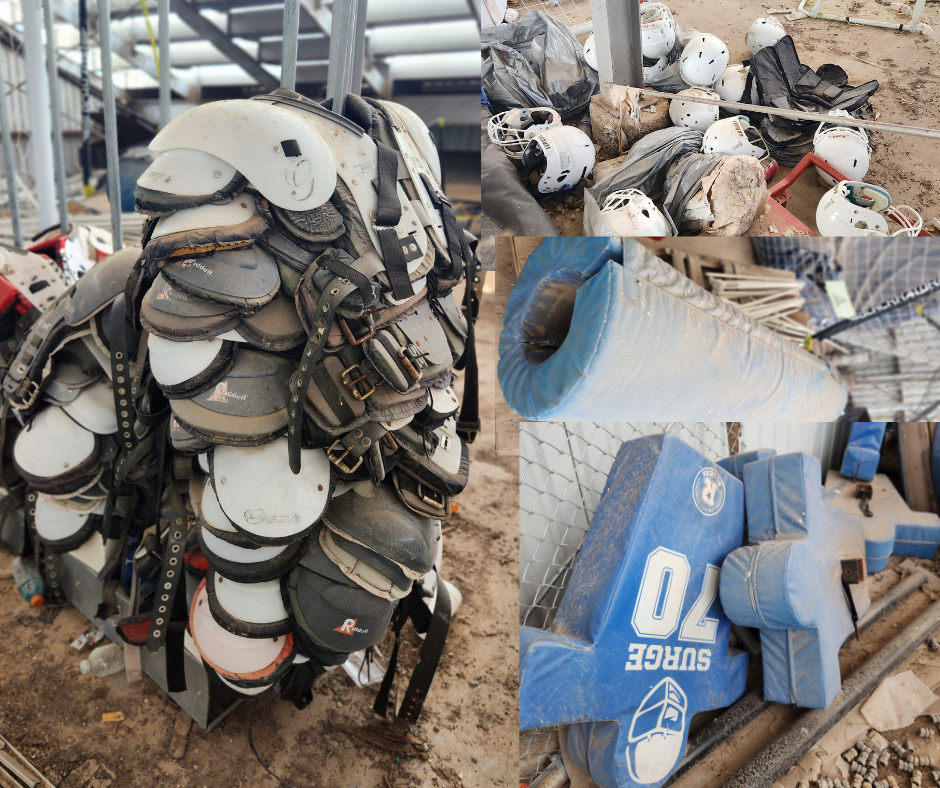 ITEM #: 116
VARIOUS FOOTBALL PRACTICE EQUIPMENT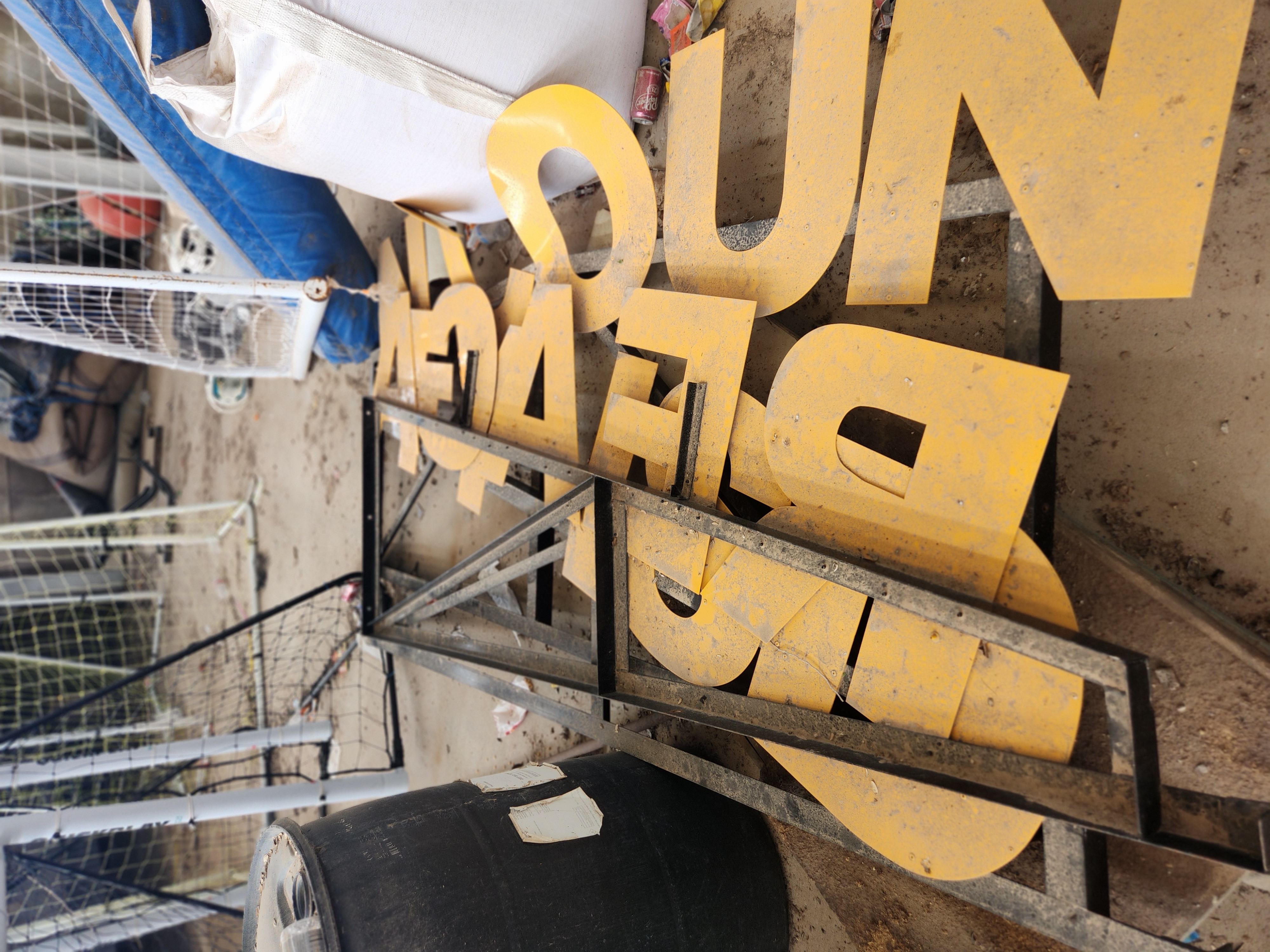 ITEM #: 117
METAL REAGAN COUNTY SIGN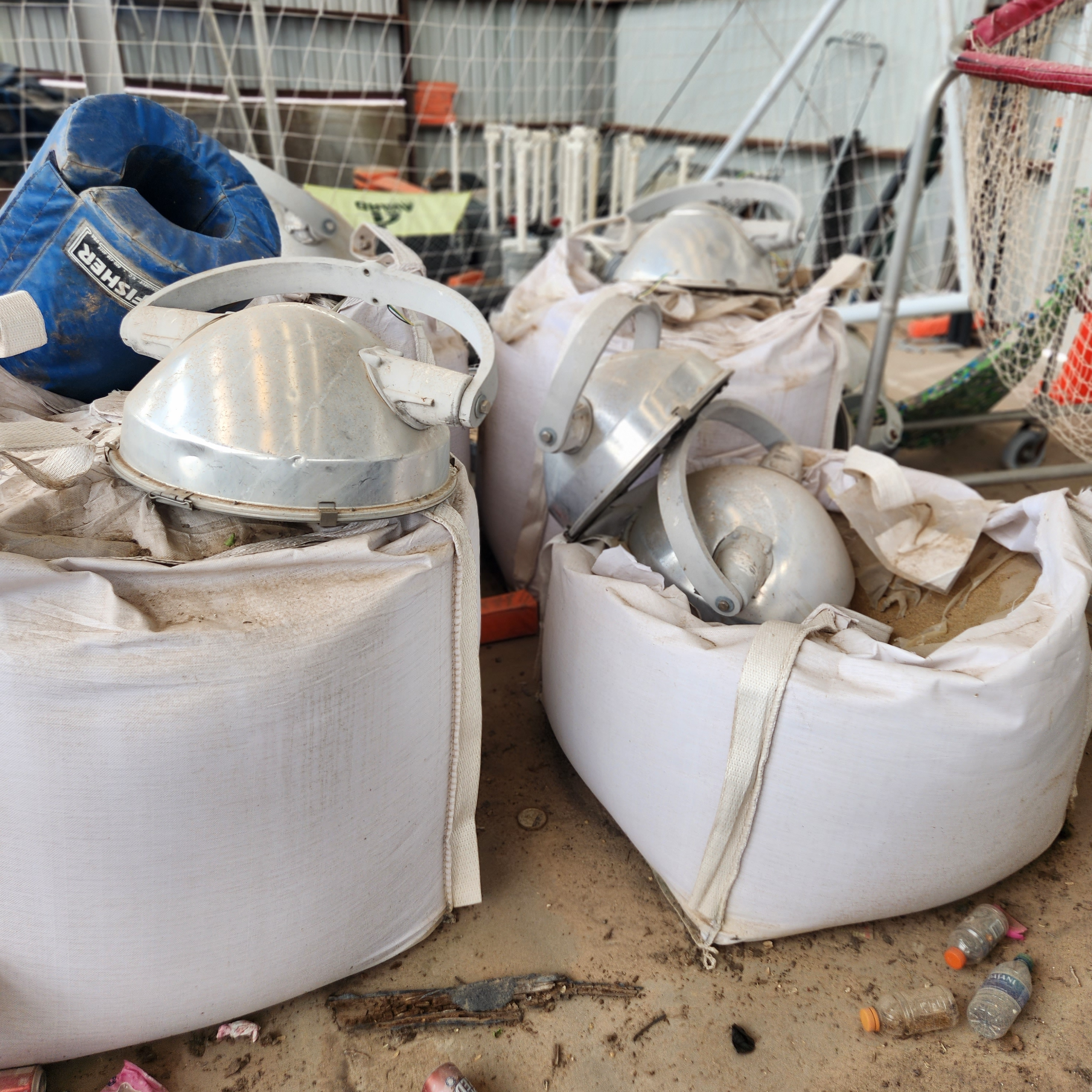 ITEM #: 119
4 BAGS OF SAND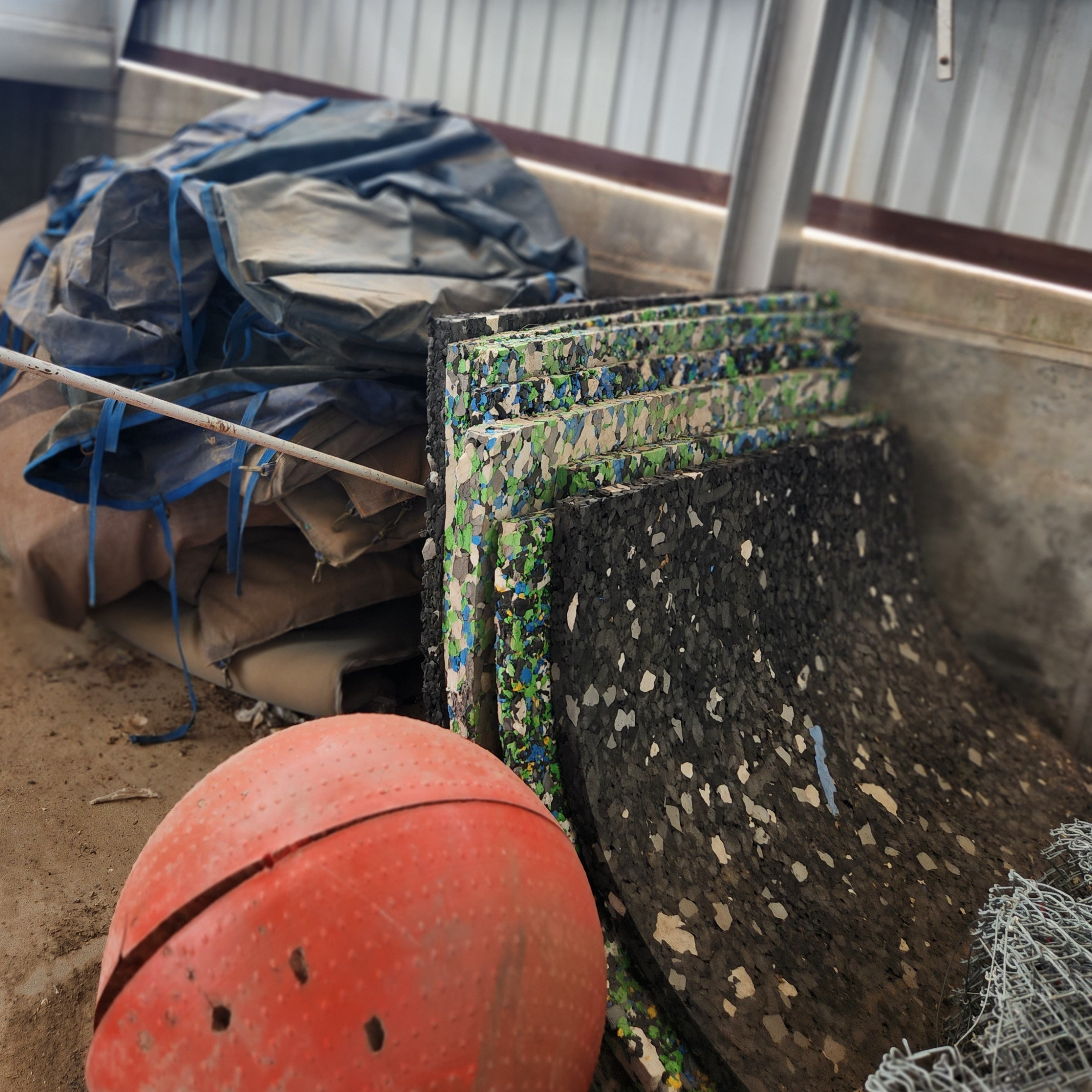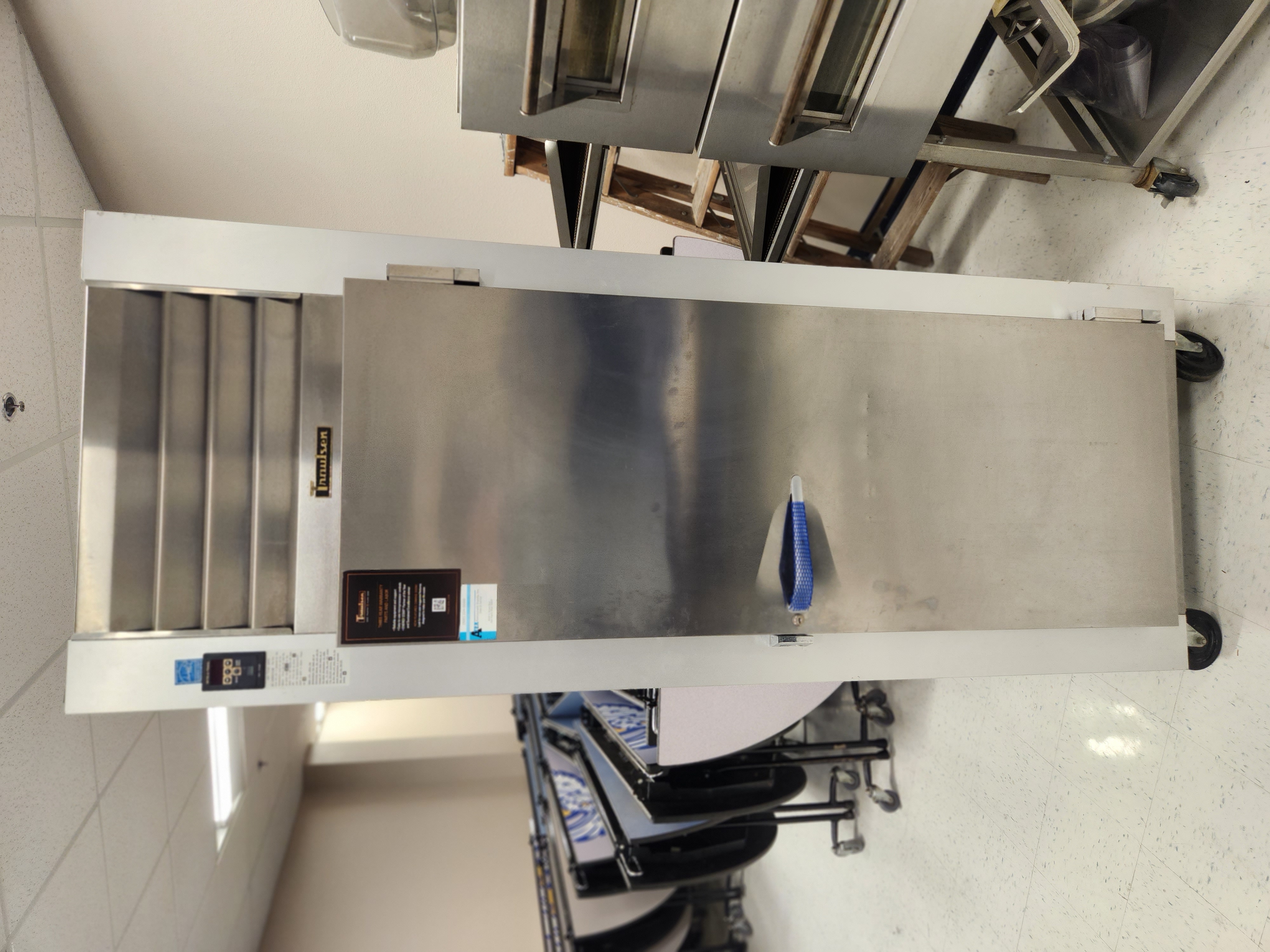 ITEM #: 121
TRAULSEN HOT FOOD HOLDING CABINET
Model #: G14310
Condition: Operational
Starting Bid: $2,000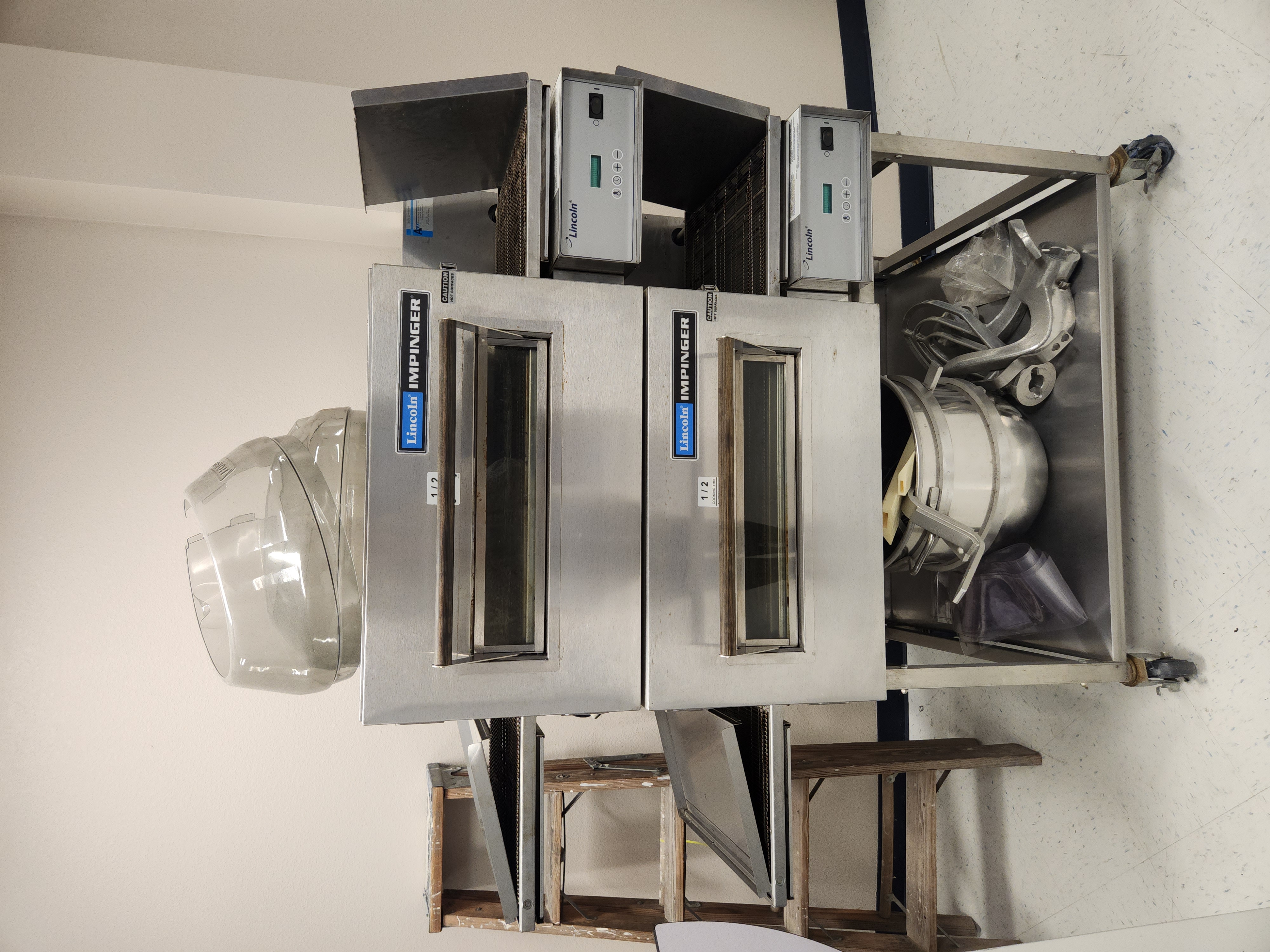 ITEM #: 122
LINCOLN IMPINGER PIZZA OVEN
Model #: 1132-000-U-K1835
Condition: Operational
Starting Bid: $2,000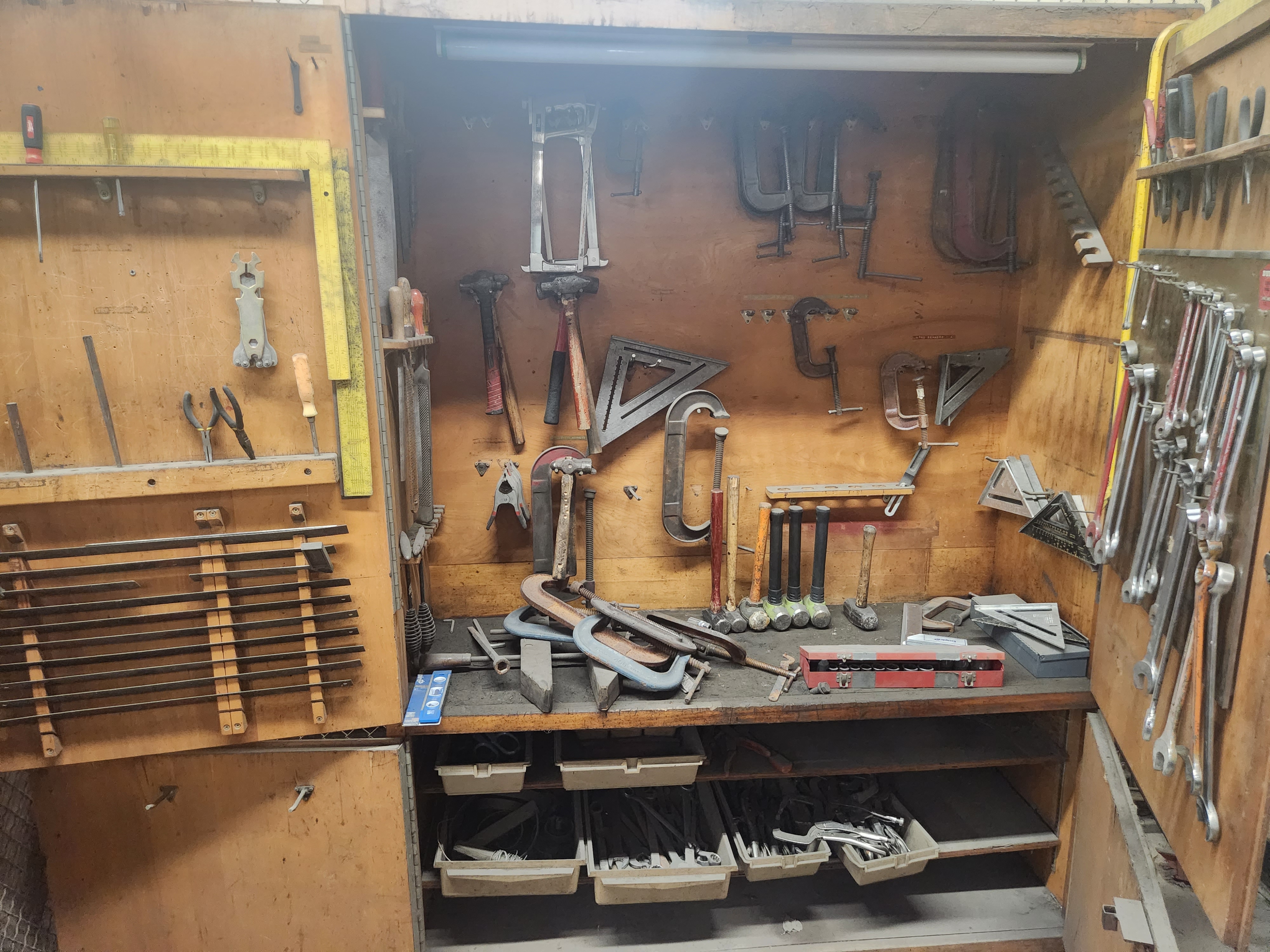 ITEM #123
VARIOUS HAND TOOLS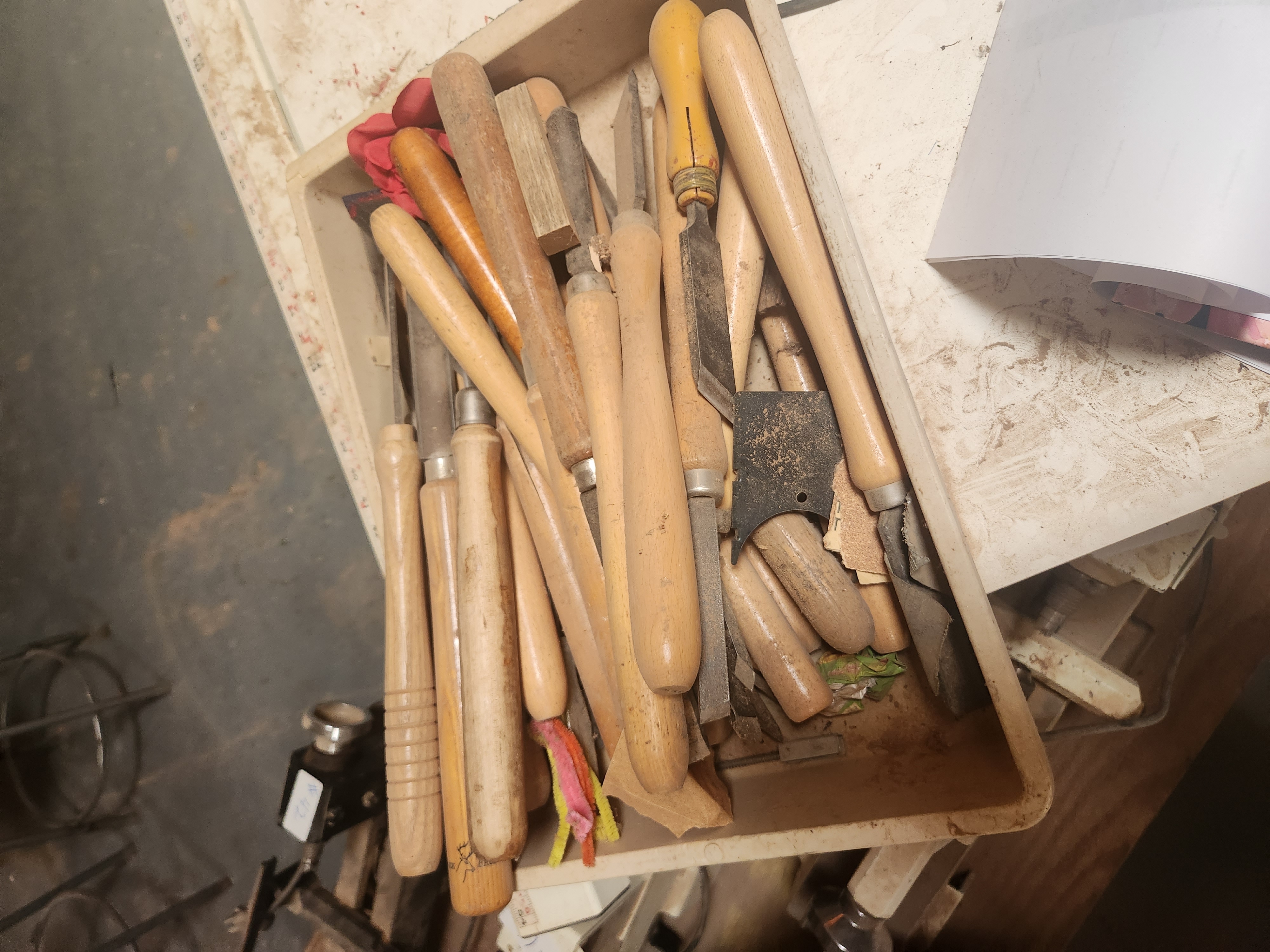 ITEM #124
WOOD CARVING TOOLS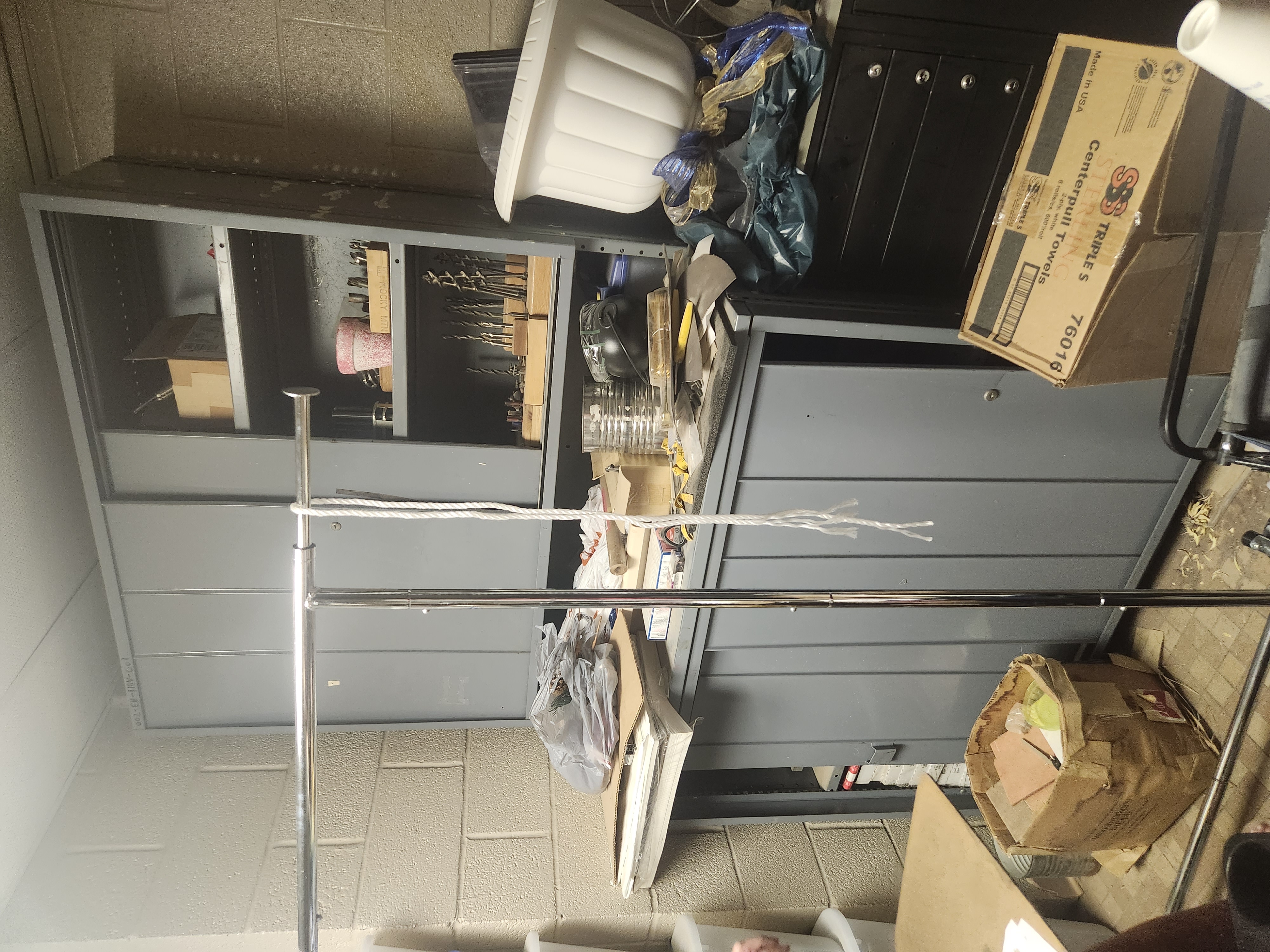 ITEM #125
GRAY TOOL CABINET WITH VARIOUS TOOLS